Got Your COVID-19 Vaccination? Still Stick to Masking
As vaccinations rise, here's what you still need to do to stay safe
Larry Gill knows that he's getting closer to enjoying a post-pandemic life. He also knows that there's still a long way to go.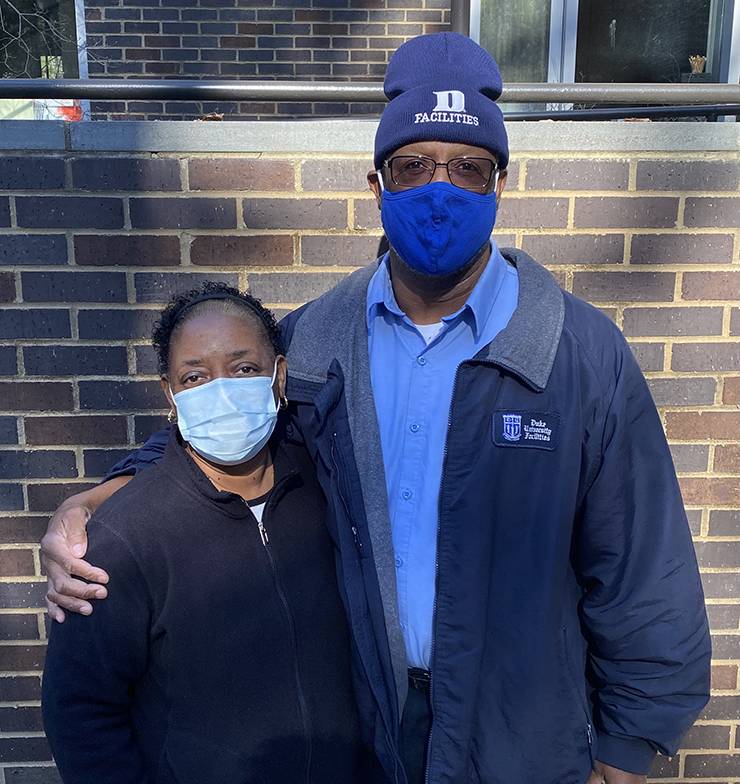 Gill, a University Environmental Services utility worker who serves at the Duke University School of Law School, will have had both doses of the COVID-19 vaccine by the end of March. His wife, Valerie Gill, a Duke Health financial care counselor, got her vaccinations months ago.
"I want to get it for my community and my job," Larry Gill said. "I'm just happy to get it."
While he feels a degree of relief, Gill said that getting the vaccine won't change much for him. The virus is still loose in the community, and with experts saying there's a chance that even vaccinated people can spread it, the steps he and his family – as well as the Duke community – have taken to stay safe will need to continue.
"I'm going to keep doing the same things that I was doing before I got the shot," Larry said. "I'm still wearing my mask. Still washing my hands, and spraying down surfaces. I think it'll be a while until we stop. I think everybody needs to be responsible and pull together and do what we need to do. It's not just about one family, it's all of us."
All Duke staff and faculty members are now eligible to receive the COVID-19 vaccine in the coming months and will enjoy the same dose of optimism that the Gill family has experienced. But while statewide data shows there's reason for hope as the numbers of total cases and hospitalizations decline for now, it's crucial to continue with your safety steps to keep the momentum going.
Dr. Kristen Said, a physician in Duke Employee Occupational Health & Wellness (EOHW) and assistant professor for Duke Family Medicine and Community Health, said that even with the positive signs, staff and faculty should stay focused on stopping the spread of the virus by sticking with masking, distancing and handwashing.
"This is a time to be encouraged and hopeful, but not to totally drop the ball," said Dr. Said.
As we try to keep up our progress against COVID-19, here's what to keep in mind.
Once You Get the Vaccine…
If you receive the first dose of the Pfizer or Moderna vaccine, nothing changes with regard to your ability to catch and suffer from COVID-19. After you receive your second dose, roughly three weeks after your first, you still need about two weeks before the vaccine takes full effect, and you're considered fully vaccinated.
Once you're fully vaccinated, you may still catch the virus, but according to the Centers for Disease Control and Prevention (CDC), you'll be protected from suffering severe symptoms that could lead to death. 
But even then, your behaviors shouldn't change too much. While Dr. Said said that small groups of vaccinated people can gather unmasked in a private space, if anyone in the group is unvaccinated, existing guidance about masks, distancing and handwashing still applies.
"When you're out in public, nothing changes," said Dr. Said. "You should still wear your mask, still keep your distance and still wash your hands."
This advice is important for several reasons. Dr. Said pointed out that there still may be a chance fully vaccinated people can catch and spread the virus without suffering any – or only having very mild – symptoms.
Also, with normal seasonal colds and influenza nowhere near as common as in the past, these safety habits have stunted the spread of other diseases.
How to Keep Variants at Bay
There's been plenty written about the threat posed by variants of COVID-19, which may challenge the effectiveness of vaccines or spread more easily than the existing versions of the virus.
Dr. Said said that the best way to minimize the development and potential reach of a variant is to cut down on the chances for the virus to spread.
"With the variants we have now, the vaccines have been very effective," said Dr. Said. "But the way to prevent the development of a variant is to continue reducing our ability to be exposed to the virus. By wearing a mask, washing our hands and being distanced, it limits the opportunities for the virus to change and transform and it can help keep any variant contained.
Even Outdoors, Keep Your Mask Handy
Now that the weather is warming up, getting outside for gatherings and exercise is becoming more inviting. While doing anything outside is less risky than doing it indoors, Dr. Said recommends that you still keep COVID-19 safety in mind.
She said that, even outdoors, the guidance to stay six feet away from another person still applies. And if you're that close to anyone, you should wear a mask.
"For example, when I'm walking around my neighborhood, I'll have my mask in my pocket," said Dr. Said. "If I see somebody coming, I'll put it on. If they go the other way, I can take it off. But if they pass by me, I'll have my mask on and I don't have to worry."
Learn more about why masking matters for vaccinated people in this video.
Help share the proactive and extensive work being done by all Duke community members during the COVID-19 outbreak. Send ideas, shout-outs and photographs through our story idea form or write working@duke.edu.