5 Pieces of Proven Work-Life Balance Wisdom
After a year of remote work, Duke colleagues share some lessons learned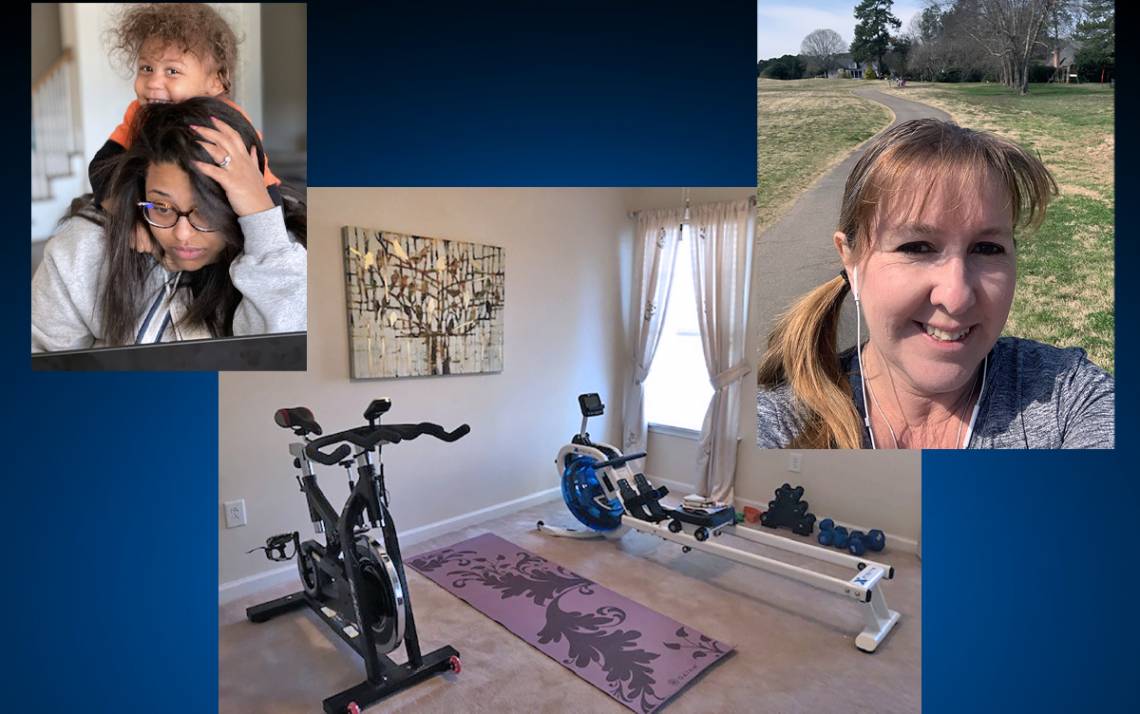 The early days of the COVID-19 pandemic were rough ones for Felice McNair, associate compliance officer for Duke Health. Figuring out how to manage remote work, while serving on a group tasked with building compliance protocols for Duke's rapidly expanding telehealth operations, she had a lot going on.
As a result, the line between McNair's work and life disappeared. She recalls logging on to her computer in the morning, working until late afternoon, taking a break for dinner and getting back to work again at night.
"I realized I needed to make a change or I was going to burn myself out," McNair said. "So one day I just told myself I was going to start working at this time, end at this time, and after that, I would get up, leave the home office and stay away until the next morning."
McNair found a solution, but for many others, a healthy balance between work and life, while working off-site, continues to be a challenge a year into the pandemic. A recent survey by work management platform Asana notes that, in 2020, 87 percent of workers reported working late and 71 percent experienced symptoms of burnout.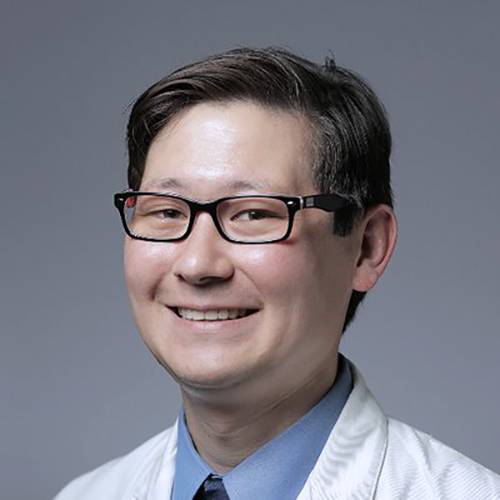 "Working from home during the pandemic has created a sort of crisis where we've blurred the lines of what is work and what is home life," said Associate Professor of Medicine Jon Bae, a co-convener for the mental and emotional well-being portion of Healthy Duke. "I think we've gotten better in the sense that we've grown more accustomed to the rhythms of remote work, but there are still problems.
But the challenges aren't insurmountable as, according to a Gallup survey last fall, about two-thirds of American remote workers would like to continue working from home once the pandemic-related restrictions end. 
We caught up with some Duke colleagues who have found strategies that have helped them craft a solid work/life balance while working remotely. Here are some lessons they've learned.
Let lines blur both ways
Since he began working from home a year ago, Duke Athletics Executive Director of Digital Strategy Ryan Craig has spent workdays in the home office on the second floor of his Durham home. 
While Craig's wife usually watches the couple's two children, ages 5 and 3, Craig regularly slips into dad mode at points when his wife needs to be freed up to do other things or when he wants to take a few minutes to nourish his spirit by being around his kids – something he wasn't able to do as much with his pre-pandemic schedule, which had him on campus often on nights and weekends.
"There's an innumerable amount of things that we have come across that we just weren't able to do when I was at work all the time," Craig said. "It has truly changed the dynamic of our family life."
Bae said situations like this show why it's important to remember that changes in work-life balance don't always have to go one way. When you work from home, if your individual situation allows it, it's OK to let home mix with work.
"If you do have this blurring of the lines where work is invading more home space, home life can invade, in a good way, the more traditional work spaces," Bae said.
Preserve Your Personal Time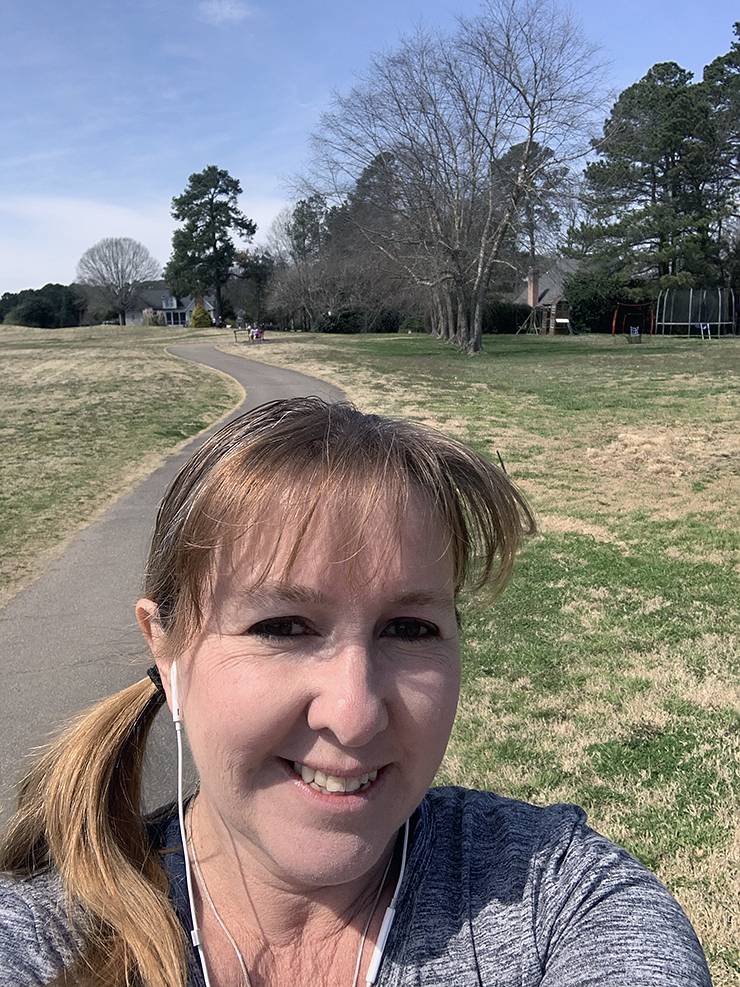 Remote work has turned out well for Kelly Trousdale, a program specialist in Duke Primary Care Human Resources, who feels productive working from home.
With time saved from not having to make the hour-long one-way commute to Duke from her home in Fuquay-Varina, she gets her workday started early – often logging on around 7:30 a.m. – and hops back on in the evening if a work task needs to get wrapped up
But there are some parts to her day that she's not as flexible about. Each afternoon, once work is done, Trousdale makes it a point to get out and run, often on the trails of parks near her home. She's intentional about unplugging from work during her afternoon exercise sessions, steering clear of email and trying to think about things other than work. 
By making this piece of her schedule a priority, Trousdale has lost around 10 pounds since the start of the pandemic and found a reliable way to relieve stress.
"I think getting that separation is very good for our well-being," Trousdale said. "I can see how that might be harder for some personalities, but it works well for me."
Extra time is golden
Duke Health Technology Solutions Application Analyst Jennifer Avery, who is also the mother of a 5-year old daughter, didn't have much free space in her schedule prior to the COVID-19 pandemic. 
But after saving around 90 minutes per day by not having a commute, Avery has found time she can spend in new ways.
"It's not that I wasn't intentional with my time before, but it was new to have time that I could decide what to do with," Avery said. "Before, from the time you wake up until you put your kids to bed, your time was decided. Now having that extra time, it's been really nice to choose something extra to do."
Avery has used her added time to get outdoors and move. After work, during the period when she would have been packing up at the office and driving home, she now rounds up her family for walks or goes on runs around her neighborhood. The afternoon outings left her feeling healthier and give her a ritual to transition away from work mode.
"My work/life balance is the best it's ever been," Avery said.
Don't neglect self-care
After Duke Health's Felice McNair drew hard boundaries for her workday, her next challenge was figuring out how best to use her personal time. With her resilience tested by a fast-paced workload, she doubled-down on activities that replenished her spirit.
Unable to go to the gym, McNair put together one of her own, moving exercise equipment into what was once a sitting area in her Durham home. She also revived her sewing habit by making colorful face masks for friends, and filled her garden with tomatoes, cucumbers, potatoes, lettuce, peppers and squash.
"I'd pretty much let these things go, but I knew I needed to go back to what that brought me joy," McNair said. "That gave me an outlet and helped me be more balanced in everything I was doing."
According to Bae, self-care practices not only improve mental wellbeing, they also signal to your body and mind that they're no longer at work, thus balancing out the stress of the workday.
"You have to be really intentional now," Bae said. "Without the physical cue of leaving the office, you have to draw a clear distinction for when you're doing work and when you're not."
Balance structure with flexibility
It took a few months before Amber Rogers, an administrative assistant in the Office of the Provost, figured out the right way to construct her day while working remotely. With two sons, ages 12 and 2, in the house and a need to work with colleagues at Duke Kunshan University, where there's a 13-hour time difference, sticking to standard business hours isn't always an option.
That's why, on most days, she'll start work at 7:00am., work until around 8 a.m., and then take a break to help get her children's day started. And if she's required to work in the evening to help coworkers in China, she'll often block off time to spend with her kids in the afternoon.
"It looks crazy, but it works," Rogers said.
Building, and adhering to, a structure like this is best way for Rogers to balance the needs of her job and her home life. But her team understands that her schedule isn't ironclad. When life at her house goes sideways – as it occasionally does with a 2-year old around – Rogers said her understanding colleagues allow her the flexibility to shift her schedule even more if needed.
"There has to be wiggle room because I have kids and I'm a real person," Rogers said. "When I need to use that wiggle room, it's frustrating. But it happens."
Help share the proactive and extensive work being done by all Duke community members during the COVID-19 outbreak. Send ideas, shout-outs and photographs through our story idea form or write working@duke.edu.