Lessons from Experts: How to Clean Your House In COVID-19
Duke's housekeepers offer tips on keeping coronavirus out of your household
For 26 years, Ralph Gill has spent workdays keeping Duke's campus clean. Now serving the Duke University Law School, he sanitizes the school's building, making sure students, staff and faculty who pass through remain safe from COVID-19.
And when he leaves work, that commitment to cleanliness extends to the home he shares with his family.
"A lot of times, I'll get home and spray stuff down there, too," said Gill, a utility worker for University Environmental Services who earned a Presidential Award for his work in February 2020. "I'll clean door handles, cabinet doors, refrigerator handles, faucet handles. I always did that before the virus, but now I do it a lot more."
Across Duke, the pandemic has changed the way we clean, and housekeepers from University Environmental Services and Housing and Residence Life have undertaken enhanced protocols that make campus safer. And in many cases, the new cleaning habits they use on campus continue when they get home.
We asked Duke's housekeeping experts for advice on how to translate their cleaning lessons from Duke's campus to your home.
Focus on the Surface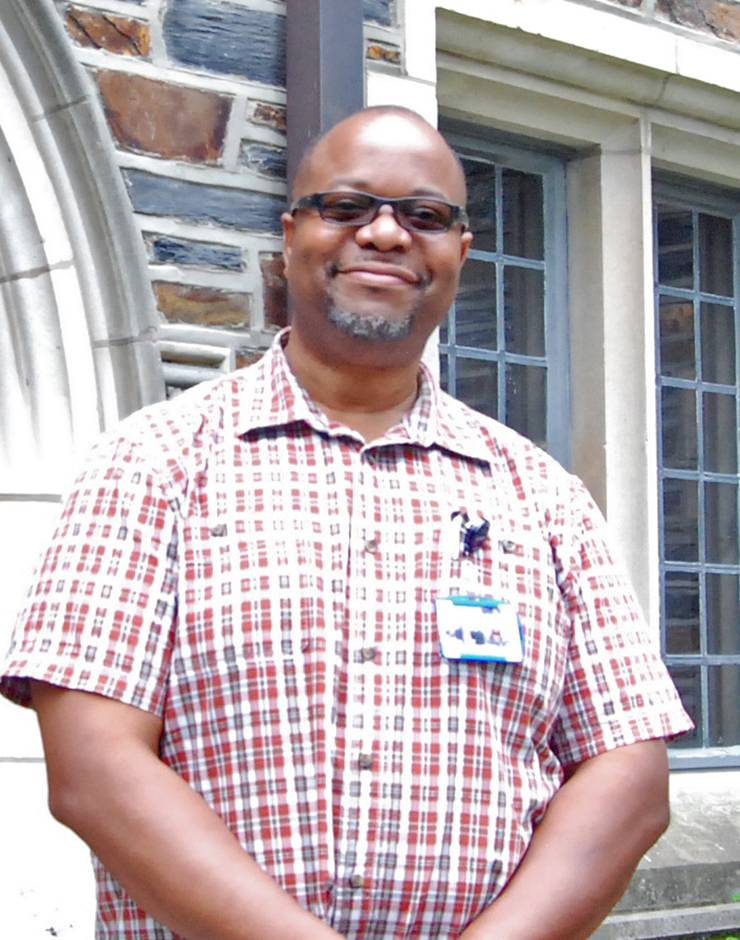 On campus, Duke's housekeepers frequently wipe down hard surfaces and touchpoints such as doorplates and handrails.
Associate Director of Residence Hall Operations with Duke Housing and Residential Life Bernard Smith said he does the same thing at home.
"I just try to be as thorough as possible," said Smith, who works with housekeepers who cover the residential portions of campus. "You can't be too safe. And with my level of cleaning, I've been in the cleaning industry for 37 years, it's just what I do."
COVID-19 is spread by droplets of secretions from the nose and mouth, which can collect on surfaces such as tables, countertops and door handles. The virus can live on surfaces up to 72 hours, meaning cleaning high-touch areas is crucial.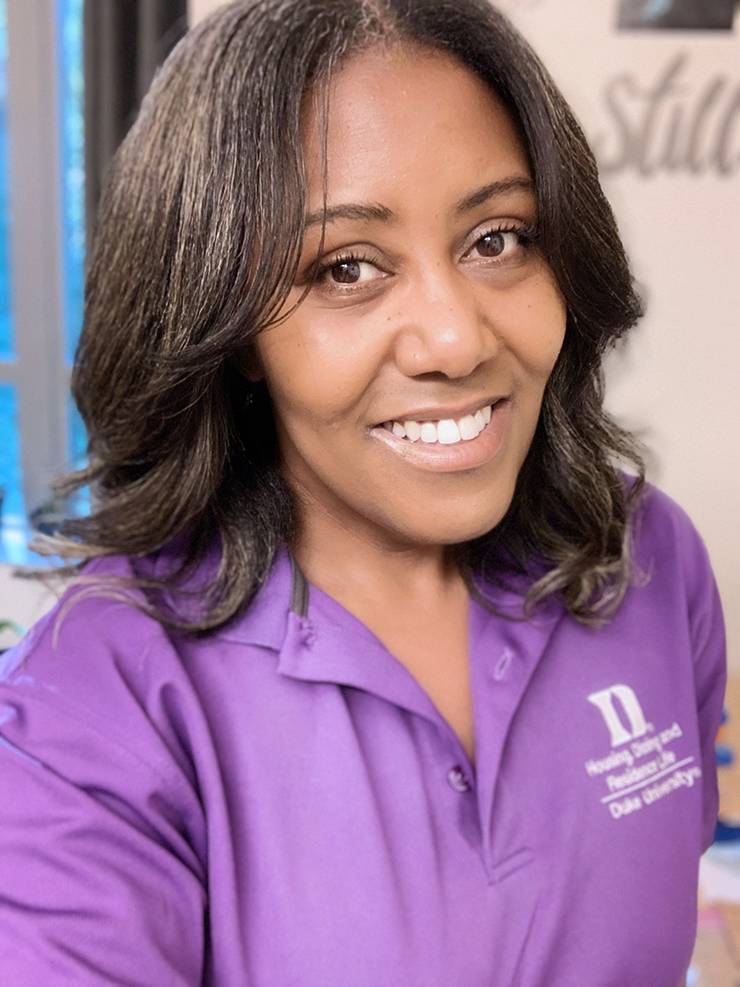 "This is what we have to do for this type of virus," said Duke Assistant Professor of Family Medicine and Community Health Satish Subramaniam "The regular flu virus doesn't live on this type of surface for more than a few hours. But this virus can stick around for a little while."
At home, increasing the frequency of using disinfecting cleaners to wipe down hard surfaces such as countertops and tables, and high touch items such as doorknobs and faucets, is a smart step toward limiting any potential spread of the virus.
"I've been wiping off my door knobs more than I ever have before," said Marilynn Sanford a senior supervisor for the housekeeping team at Duke Housing and Residence Life. "When I get in my car, I'll wipe down my steering wheel. You can't be too careful."
Use Cleaning Products Properly
For most surface cleaning, Duke's housekeepers apply hospital-grade disinfectant from spray bottles and let it sit for a few minutes to eliminate any trace of the virus before wiping the solution away.
"It just needs a few minutes of dwell time, and it kills what's on the surface," Smith said.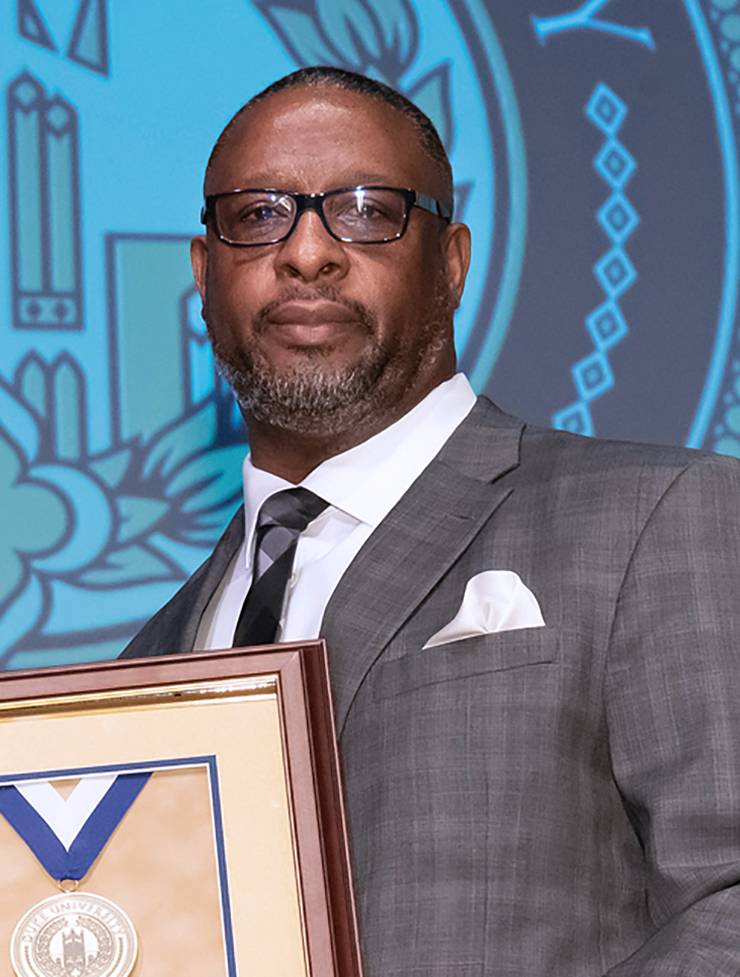 For those trying to keep homes clean, there are plenty of products that can kill the virus that are available to consumers, provided you use them as intended.
Reading instructions on the label of cleaning products will ensure you don't miss out on important steps – such as letting disinfectant spray sit on a surface for a short time in order to thoroughly sanitize it. For instance, Lysol disinfectant spray recommends that users leave a sprayed surface untouched for three minutes, while Clorox Clean-up spray with bleach needs to stay on a surface for at least 30 seconds to kill COVID-19.
"It's amazing how many people never look at that stuff," said Gill, who gives his cleaning products time to work whether he's cleaning surfaces in the Duke Law School or in his Durham home. "They buy it at the store and never take time to look at directions to see how long it's supposed to sit or what it's supposed to do."
It's All About You
COVID-19 won't end up in your home unless someone brings it there. That's why one of the most important things to keep clean is yourself.
Experts everywhere say proper hand hygiene is crucial to slowing the spread of the virus. When on campus, Duke's housekeepers said they wash their hands with soap and water, or use hand sanitizer, every chance they get. They also wash their hands when they return home.
"If you go out and come into contact with things that may be an issue, upon return, you want to make sure you're washing your hands, cleaning them thoroughly and wiping down anything you touch," Subramaniam said.
Duke University Environmental Services Director Leslye Kornegay, who oversees housekeepers who maintain Duke's classroom buildings and public spaces, said it's important to think of what you could be introducing into your home whether on you or on the things you bring with you. At home, she often wipes down groceries or other items to cut down on the risk that the virus might come along, too.
"With things like groceries, you don't know who's handling it," said Kornegay, who washes her hands, takes off her shoes and often changes clothes when coming home. "I just make sure I don't bring anything in with me."
Help share the proactive and extensive work being done by all Duke community members during the COVID-19 outbreak. Send ideas, shout-outs and photographs through our story idea form or write working@duke.edu.