Keep Calm and Create On With Art
Duke colleagues de-stress during the pandemic with art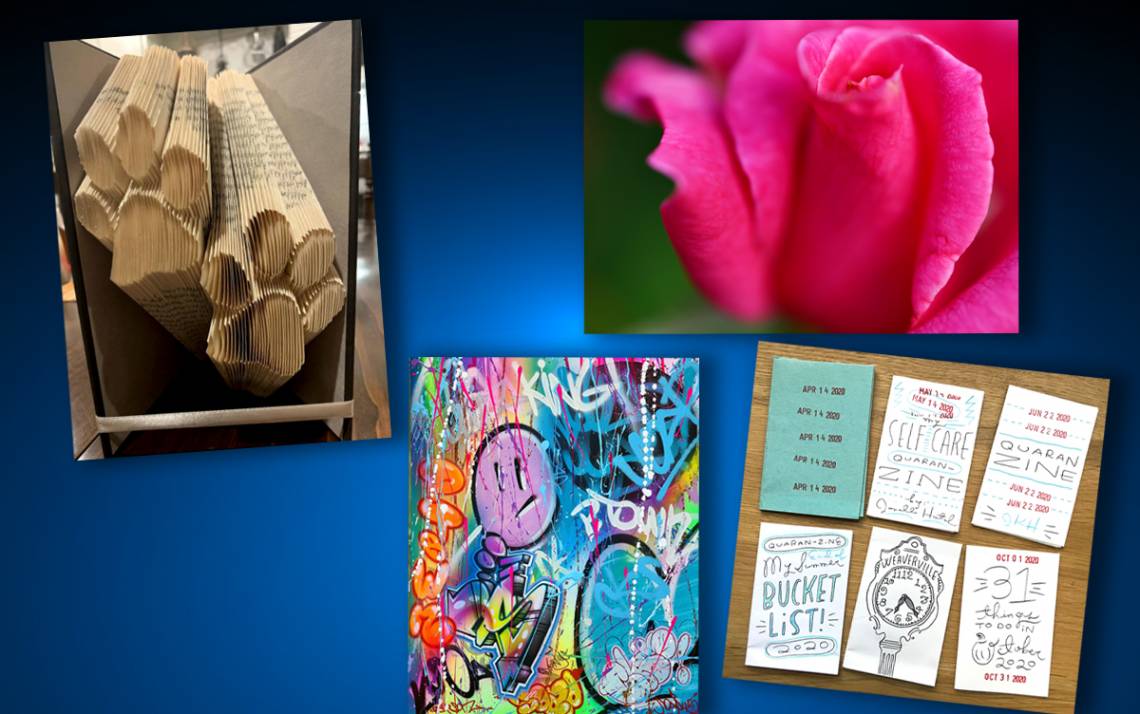 Janelle Hutchinson found pocket-sized joy during the pandemic by making "zines," small paper publications decorated with drawings, doodles and text.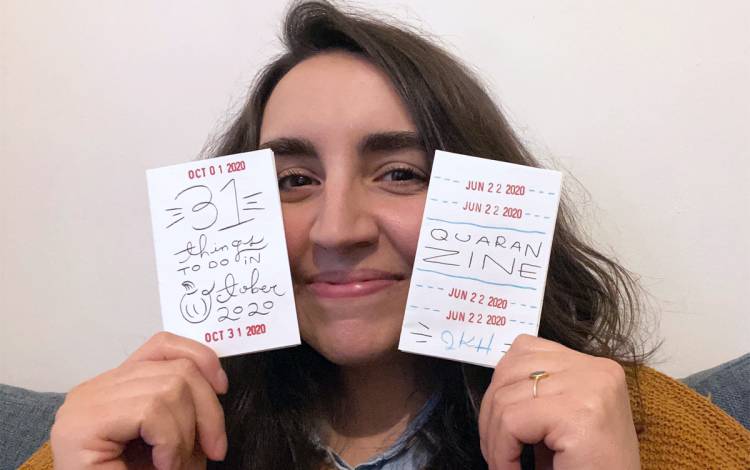 Some of her zines have touched on such topics as a trip to the Blue Ridge Parkway with her husband, movies to watch and bad days. She's taught zine-making to others through online DukeCreate classes.
"Zines are just this beautiful way to unwind and express something that you haven't seen somewhere else in the world," said Hutchinson, lead designer and photographer for Duke University Libraries. "They're not meant to be perfect things. They're to help you unwind."
Bill Gregory, coordinator of arts programming for Arts & Health at Duke, said arts and crafts provide a calming effect. The activities shift our brain away from negative triggers like the news and stress about the future and improve emotional well-being, a core area of the Healthy Duke initiative.
"We've had such little control over what happens this year," Gregory said. "Making art can help you find some order and purpose."
Discover the arts and crafts colleagues are creating to unwind with during the pandemic.
Johnny Vega
Supply Chain Team Lead for Duke University Hospital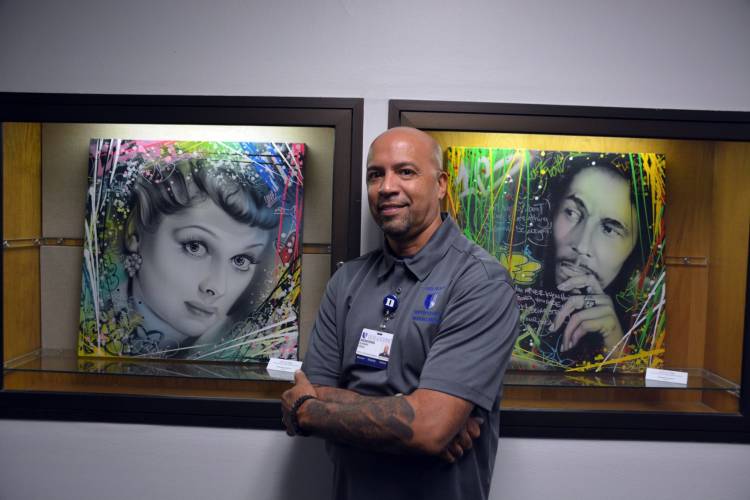 Johnny Vega is using spray paint to add pops of color to a dreary year.
Vega started spray painting in the 1970s by decorating jean jackets and creating murals on the sides of gas stations and grocery stores. Today, to relax, he's making portraits of family members and celebrities such as Lucille Ball, Marilyn Monroe and Bob Marley.
"It was a struggle to motivate myself to paint at the start of the pandemic," Vega said. "Once I got going, I couldn't stop. It snowballed. I get deep into my work and find a state of serenity."
The John P Holland Chart School in Woodland Park, New Jersey, near where Vega grew up, commissioned him to paint a hallway mural in July. The mural depicts two kids surrounded by dinosaurs, rocket ships and submarines.
Vega enlisted the help of colleague Misha Price, a clinical nurse in Duke University Hospital's Immediate Care unit, for the project. The two met at work and connected over their love of art.
Price drew the roughly 12-foot mural while Vega spray painted it.
"We've all felt so isolated this year," Vega said. "It's been amazing to collaborate with someone on a project that will hopefully bring some joy."
Kelly Gordon
Clinical Coordinator, Department of Speech Pathology & Audiology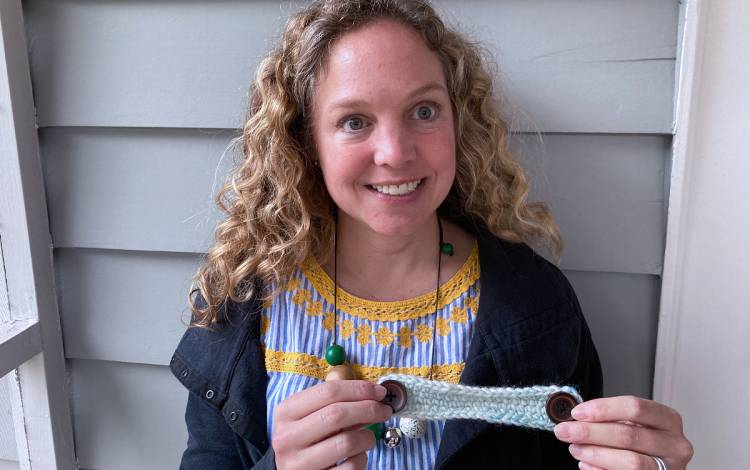 Kelly Gordon spends less time scrolling on her smartphone to crochet clothing as a way to decompress.
Gordon learned to crochet two years ago by watching YouTube videos. While she's made baby blankets and scarves sporadically over the past couple of years, she began to crochet more in March as a way to take her mind off the state of the world.
"Crocheting helps me focus because it keeps my hands occupied," Gordon said. "Otherwise, I catch myself mindlessly scrolling through social media or email and completely check out from whatever I was doing."
Gordon brings a ball of yarn and a needle with her wherever she goes. She'll create a work of crochet while waiting at a doctor's office, watching TV or during work breaks. Gordon is now working on ponchos and a crochet photo of the late U.S. Supreme Court Justice Ruth Bader Ginsburg.
"We're not experiencing a lot of normal life right now," Gordon said. "I find comfort in completing crochets."
William Hanley
Electronic Resources Management Specialist, Duke University Libraries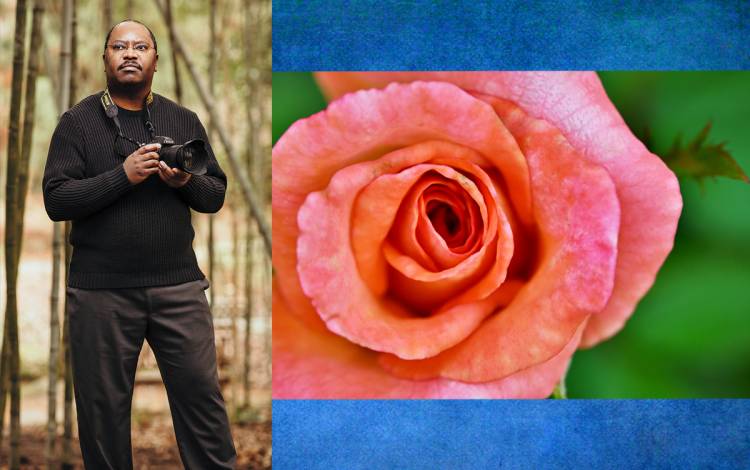 William Hanley is making sense of the world by taking a closer look at it.
On weekends, he takes long walks around Duke's campus, downtown and American Tobacco Campus with a Nikon camera to capture close-up pictures of plants and wildlife. Hanley captures veins of leaves, gnarled tree branches, ripples in water and ducks resting in the Duke Reclamation Pond.
"Nature is really spiritual for me," he said. "A lot of it is about quieting my mind. I begin to see the beauty in mundane things."
His photos have appeared on the Sarah P. Duke Gardens social media accounts and in Duke Libraries exhibitions. You can also view Hanley's photograph on his Instagram.
"When you view nature in a micro way, you can't pay attention to anything else," Hanley said. "It's a reprieve from the pandemic. I'm just completely focused on where I am in that moment."
Anna Jackson
MR Technologist, Duke University Medical Center
Anna Jackson can lose herself in the comfort of a good book but not always by reading it.
Jackson makes "folded book art," which involves folding pages of a hardcover book so the open novel forms a three-dimensional phrase or design from the pages. Jackson learned to make folded book art after an aunt gave her one with her wedding date – March 18, 2017 – on it.
"It took a minute for me to figure out the pages were spelling something," Jackson said. "Once I realized it, I almost cried. I thought it was so beautiful."
Jackson makes folded book art for friends and loved ones' anniversaries, birthdays and other commemorations. She buys books from thrift stores with titles that fit along the theme of the gift and purchases digital pattern makers that help her identify which pages to fold. She folds pages to form anniversary dates and even a friend's golden retriever.
"I've been home a lot more than normal," Jackson said. "The book art has given me a lot of purpose with my free time. It gives me a lot of happiness and satisfaction to make a personalized gift for someone."
Got something you would like for us to cover? Send ideas, shout-outs and photographs through our story idea form or write working@duke.edu.