See-Through Face Masks Help Communication
Duke has provided at least 600 transparent masks for communicating with people with hearing loss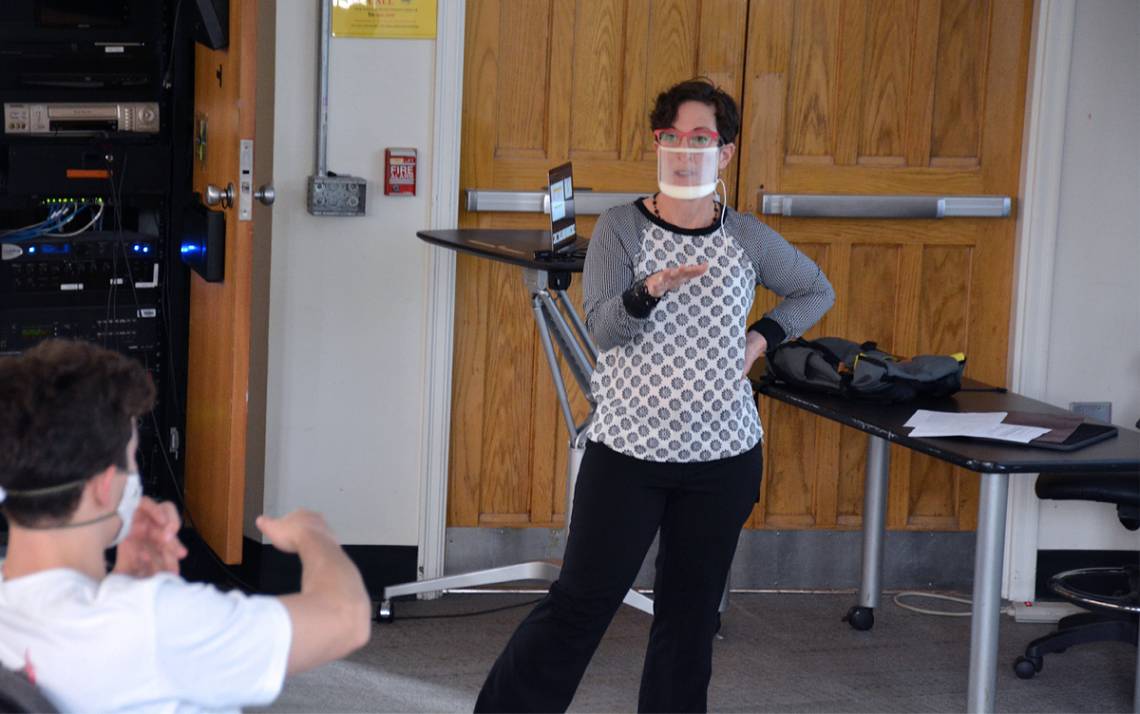 April Henry was explaining German phrases for dining in a recent session of her "German 101" class when she stopped and enunciated the word "mädchen," which translates to "girl."  
Henry, who was wearing a transparent face mask, pointed to her mouth as she pronounced the vowel "a" in mädchen as an "e."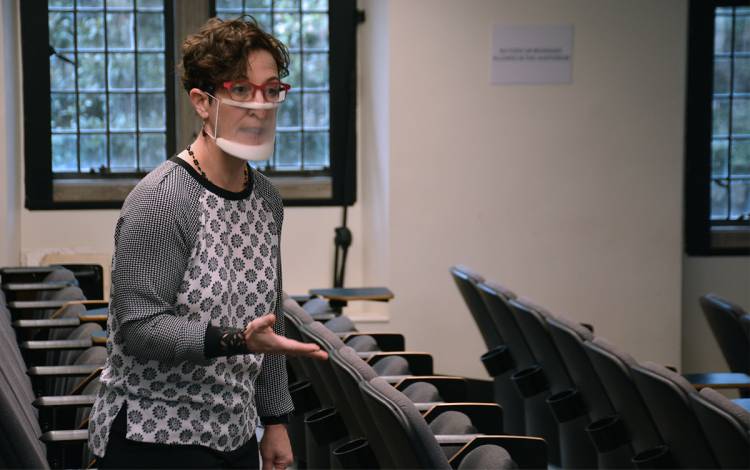 "If students cannot see exactly what my mouth is doing, they cannot reproduce the sound," said Henry, lecturing fellow of German Studies. "The clear mask has made a huge difference." 
Henry secured two transparent masks through Duke's Disability Management System, which provides the see-through ClearMask for staff, faculty, students and guests to wear when communicating with people who are hard of hearing. The transparent masks allow people to see facial expressions and emotions, catch visual cues and communicate with people.
In July, Duke distributed 150,000 masks to university staff, faculty and students as part of its return to work protocols, which require all members of the Duke community who come to campus to wear a mask and complete daily symptom monitoring. 
Offices and individuals in need of a transparent face covering can contact Duke Disability Management System for the spring semester. So far, Duke has distributed about 600 see-through masks to employees and students. 
"A clear mask can be the positive difference in a student comprehending a lecture or a visitor communicating safely with their doctor," said Leigh Fickling, director of Duke Disability Management System. "The clear masks facilitate understanding and keep everyone safe." 
Daniel King, clinical director in the Duke Department of Speech Pathology & Audiology, said visual cues such as facial expressions and lip reading are critical for people who are hard of hearing to effectively communicate. 
On its website, ClearMask notes the importance of being able to see a smile.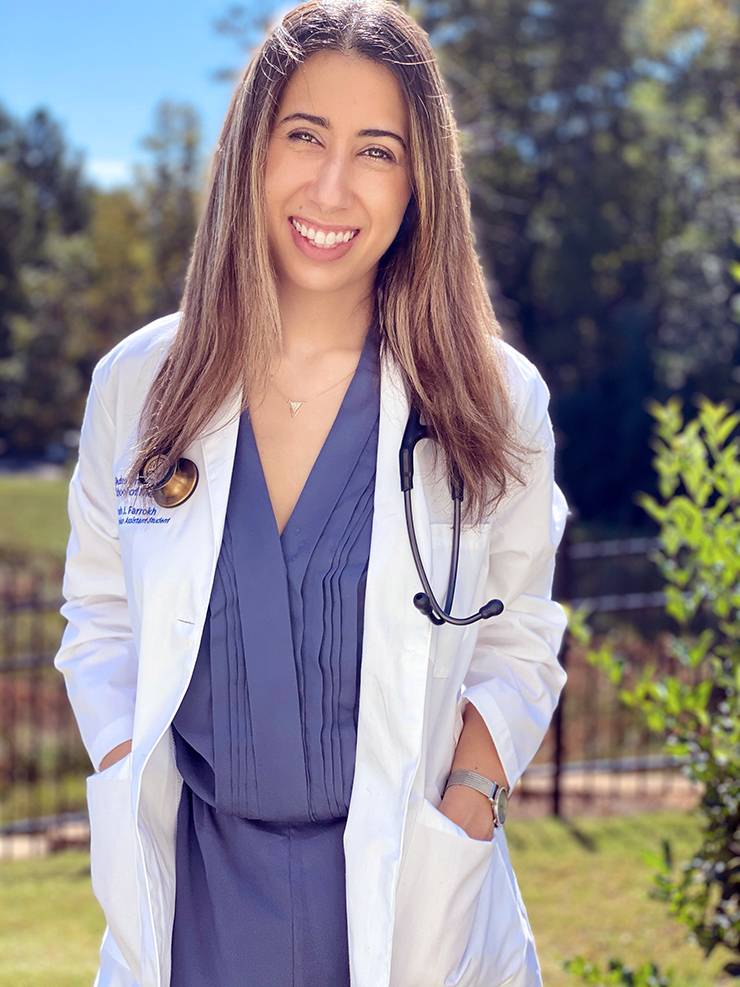 "Even people who have hearing aids, cochlear implants or full hearing ability may struggle in understanding someone who has their mouth covered," King said. "They hear a sound but can't decipher it. They're left filling in the blank if they can't see the person's mouth."
Sarah Farrokh, a first-year student in the Duke Physician Assistant Program, is hard of hearing in her left ear. Ambient noise, like quiet chatter during her lab, make it difficult for Farrokh to hear when someone is speaking to her, so she relies on reading lips to understand. Her classmates and professors wear transparent masks to communicate with her during weekly anatomy labs. 
"I can only process about half of what someone is saying without lip-reading, so my mind starts guessing what they said," Farrokh said. "When I'm in a classroom or clinical setting, I don't want to guess what someone is saying to me."
Ezra Miller, a Duke professor of mathematics, wears a transparent mask during his "Linear Algebra and Applications" lectures, which students attend in-person and online.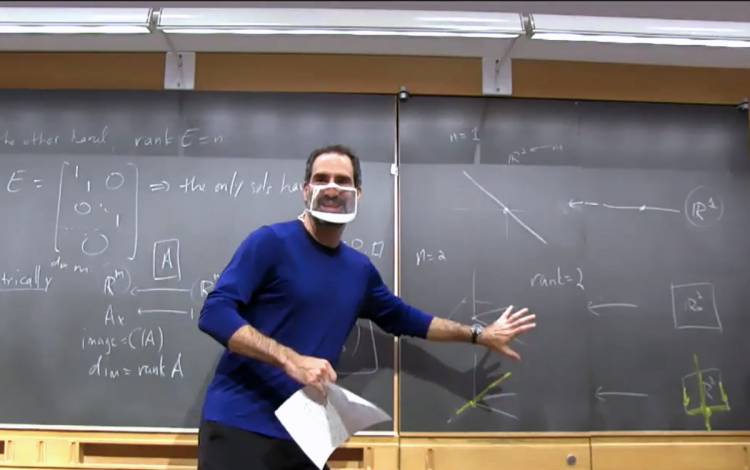 Miller wanted to wear a clear mask because he was concerned that students attending class would struggle deciphering information from his facial expressions. 
"Students in the room can see my body, posture and facial expressions," Miller said. "I wanted my online students to have the same experience, to see when I'm smiling and encouraging them to answer a question. The clear masks complete the picture."
Help share the proactive and extensive work being done by all Duke community members during the COVID-19 outbreak. Send ideas, shout-outs and photographs at this link or write working@duke.edu.