New Outdoor Seating Encourages Safe Distancing
About 300 Adirondack chairs are added to campus to provide an incentive to get outside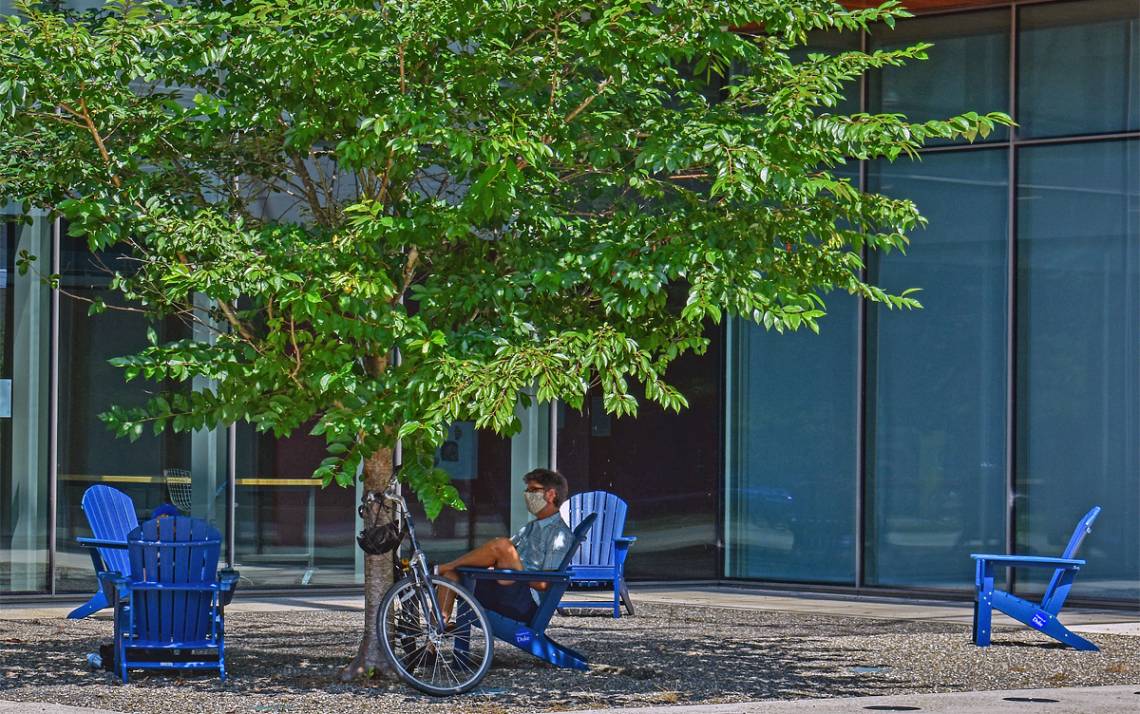 As part of the effort to de-densify buildings, Duke has added about 300 new chairs on campus to encourage community members to spread out and safely enjoy the outdoors.  
The initiative, led by Student Affairs and Facilities Management, involved procuring and placing new navy blue and khaki-colored Adirondack chairs on East and West campuses for relaxing, studying or enjoying a take-out meal while maintaining physical distancing.
"We've brought extra chairs to campus to encourage students to go outside," said Chris Roby, assistant vice president for Duke Student Affairs. "We want to de-densify the spaces where students typically hang out, like the Brodhead and Bryan centers. We created spaces to encourage them to be outdoors as much as possible and hang out and socialize more safely." 
The navy and khaki-colored chairs are placed in physically-distanced groups outside residence halls, Perkins Library, French Family Science Center, Rubenstein Arts Center and other popular gathering spaces such as the Bryan Center Plaza and Crown Commons. 
"The Adirondacks are particularly good because they recline backward," said Mark Hough, Duke's university landscape architect. "They're configured for distancing." 
Hough selected the naturally shaded spaces to place the chairs when possible, as well as under some of the 35 tents Duke University Center Activities and Events (UCAE) installed on campus in August. In the tents, the chairs sit at each corner to allow at least 6 feet of distancing.
At night, solar-powered lights light up to create a beautiful ambiance for conversation and relaxing. 
Rich Kless, associate director of UCAE's Venue and Production Management team, selected the lights after he purchased some for his backyard. 
"This is an unprecedented time, but we can still do our best to provide an enjoyable experience on campus for students and employees," Kless said. "The chairs and lights certainly make it appealing to sit outside."
Help share the proactive and extensive work being done by Duke community members during the COVID-19 outbreak. Click here to submit ideas, shout-outs and photographs or write working@duke.edu.