A New Style of Campus Tenting During COVID-19
Tents go up across campus, giving the Duke community safe outdoor spaces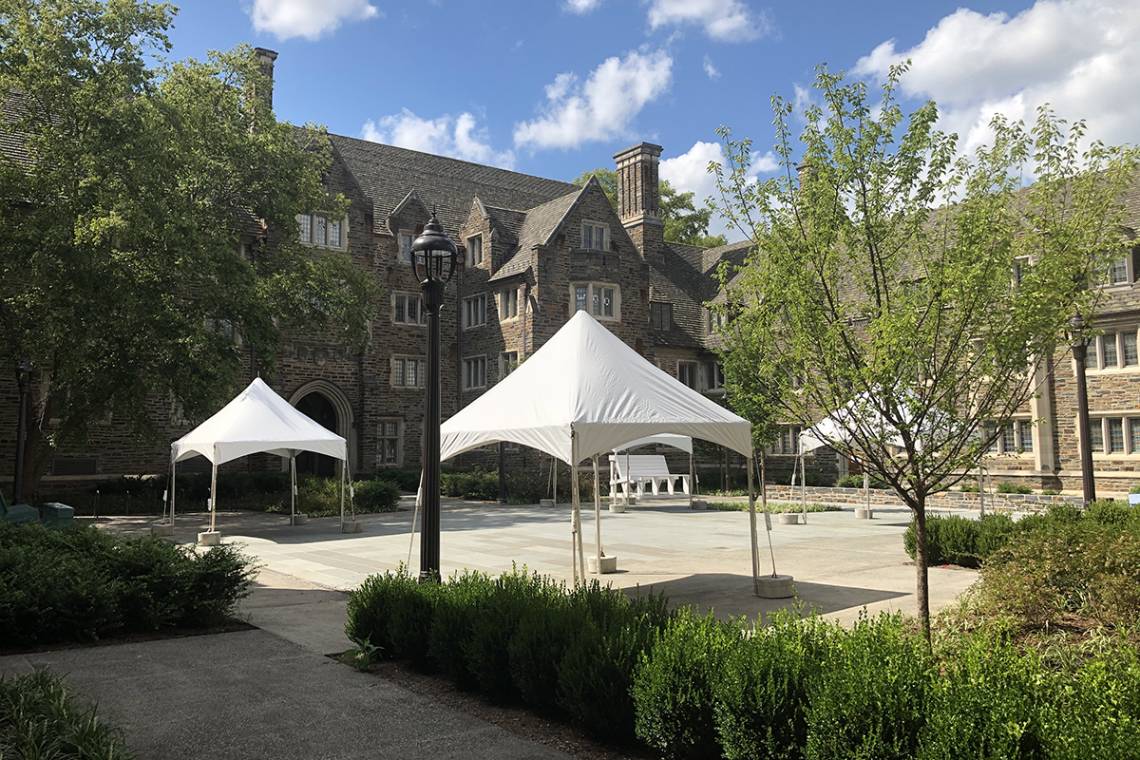 If you spend time in Duke's Fuqua School of Business, you'll quickly realize that some of the most important work students and faculty do at the school isn't in the classroom. It's among the tables in the airy atrium or in the sleek, modern team rooms where projects take shape and ideas get sharpened.
So when the threat of COVID-19 meant members of the Fuqua community couldn't linger and meet in the school's shared spaces, Jill Tomlinson, Fuqua Associate Dean for Finance and Administration and her colleagues knew they had to figure out an alternative.
That alternative is coming together as Fuqua, like several other areas of Duke, will use tents to provide places where the Duke community to eat, study and relax while observing distancing and staying out of buildings.
"Our team rooms, which previously could seat a whole team of six, now have an occupancy of one," Tomlinson said. "We do expect that most meetings will be held virtually, but if you do have a group of students who are there, on campus, we think it's important to demonstrate the lengths to which Fuqua will try to provide a safe environment for those conversations."
Tents are nothing new to Duke's campus as Krzyzewskiville – a tent city of students camping out for tickets the basketball game against University of North Carolina at Chapel Hill – is a beloved campus tradition. But the 42 tents which will stand across campus to give campus community members space to spread out, is a new twist.
"This is something totally new," said Jim Hodges, director of Conference and Event Services for University Center Activities and Events (UCAE). "Thanks to COVID, we're in a position where we need to spread people out. This is unique. We've had tents before for special events, but they would only be up for one or two weeks. We've never had anything like this."
These simple tents, which feature no walls or electricity, will give members of the Duke community places to spread out and lessen the number of people in campus buildings. Anyone who uses the tents must maintain appropriate physical distance and wear a mask in accordance to campus policy.
The tents, which range in size from 10-by-10 feet to 110-by-50 feet, will be rented from, and installed by, an outside vendor. They are expected to remain in place for the whole fall semester.
Hodges and his team are overseeing the installation of the 35 tents requested by the Office of Student Affairs on East and West campuses. Among those are 33 tents – measuring 10-by-10 foot – that are placed in residential quads on West Campus and near residence halls on East Campus. The other two are larger tents that will stand on Bryan Center Plaza to provide a safe space for campus diners.
"Since the seating in the Brodhead Center is being so curtailed, we need places where people can sit and eat that's socially distanced and not necessarily in the sun," Hodges said.
Most of the tents will feature solar-powered lights installed by University Center Activities and Event's Venue & Production Management team.
In addition to the tents for Student Affairs, the Sanford School of Public Policy will have two tents which will be erected by the end of the month, and another will be set up for Athletics.
At Fuqua, work will begin this week on the three large tents that will be built around its sprawling building. One tent is 75-by-40 feet and two will be 60-by-40 feet. Meanwhile, a 100-by-50 foot tent will be erected on top of what was an outdoor basketball court near the JB Duke Hotel to also serve the Fuqua community.
"We know that not all students will be on campus, but we expect our capacity will be exceeded when people are on break and want to drink their coffee or perhaps have a small team meetings," Tomlinson said. "Now, they can do that outside in the tents more safely."
Help share the proactive and extensive work being done by all Duke community members during the COVID-19 outbreak. Send ideas, shout-outs and photographs here or write working@duke.edu.