Putting Sanitizer into Hands at Duke
Creativity and resourcefulness fuel team effort to outfit campus with sanitizer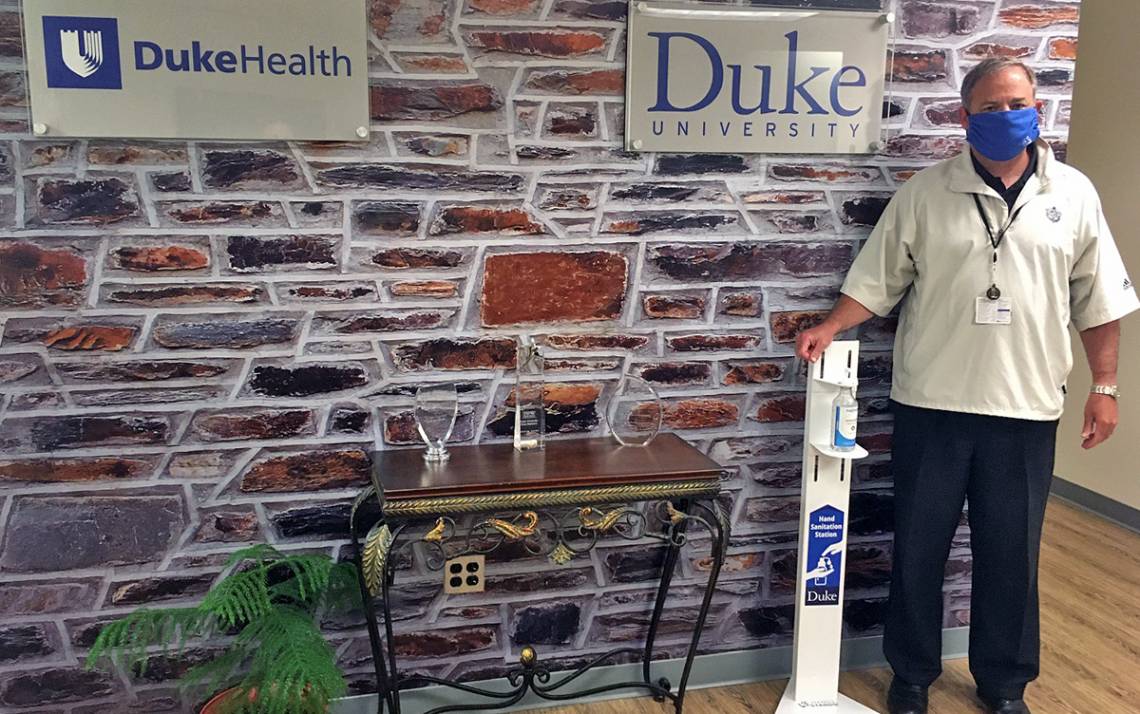 When he walks through the lobby of his office on Trent Drive, Adam Barnes, a senior sourcing manager with Duke Procurement, passes a waist-high metal stand holding a container of hand sanitizer. With a quick pump, he cleans his hands and takes a small step toward staying safe from COVID-19.
The gesture is a reminder of one of the more challenging and satisfying projects that Barnes has been a part of.
"There were a lot of long days and restless nights, but when you do find success, it's extremely gratifying," Barnes said.
In the coming weeks and months, as students and some staff and faculty gradually return to campus, they won't go far without having a hand sanitizer station nearby.
Widespread availability of hand sanitizer in campus buildings is a central piece of the University's reopening plan. Making that goal a reality presented Duke Facilities Management, Duke Procurement and other campus entities with a challenge. Now with roughly 2,000 hand sanitizer stations being deployed around campus buildings and leased spaces, the resourcefulness and creativity of this team has paid off.
"This is a team effort," said Steve Palumbo, director of facility operations for Duke Facilities Management. 
The Centers for Disease Control and Prevention says that proper hand hygiene is a simple and effective way to combat the spread of COVID-19, and frequent use of alcohol-based sanitizing rubs is an easy way to keep hands clean. But with both sanitizer and dispensers in demand everywhere, and a need to outfit a variety of campus environments with sanitizing stations, the process of bringing that sanitizer to campus wasn't easy.
"Everyone had to improvise and bring their problem-solving and engineering backgrounds to the task, whatever it was," said Russell Thompson, director of utilities and engineering for Duke Facilities Management.
The first step bringing the stations to campus was finding the sanitizer itself. That was a challenge since the pandemic created a widespread need for both sanitizer solution – which can both a gel and liquid – and the vessels that dispense it.
That's where Barnes, senior sourcing manager with Duke Procurement, came in. He already helped track down personal protective equipment, sanitizer and other needs for Duke Health during the early phases of the pandemic response. But in late April, Barnes was asked by John Noonan, vice president for Facilities Management, to help his team find sanitizer, which must be a minimum of 70 percent alcohol, and distribution systems for Duke University's buildings and leased spaces.
"We didn't know how much sanitizer we needed, we just started buying it," Barnes said. "We knew we needed a lot."
It wasn't long before Barnes had secured roughly 2,800 gallons of sanitizer for Duke University, 2,400 of which coming from an Ohio-based supplier that also provided dispenser bottles for its gel, and 400 gallons from Durham's Mystic Distillery, which produces liquid sanitizer in bulk. Barnes expects the distillery to handle most of Duke's future sanitizer needs.
"Mystic was a no-brainer," Barnes said. "They're local. They have an unlimited supply."
At the same time the sanitizer was being sourced, Duke Facilities Management was busy setting up a distribution and refilling network for campus buildings and spaces Duke leases.
The Duke Occupational & Environmental Safety Office provided guidelines on where to install stations inside the buildings.  Facilities Management removed around 1000 hand sanitizer dispensers from restrooms around campus – where they'd been placed several years  ago to serve as a more water-conscious way to clean hands during a drought – and mounted them in hallways and entries in campus buildings.
But the process wasn't without complications. Pump bottles and dispensers designed for sanitizer gel don't work with the more easily obtainable liquid formula. And high traffic areas where sanitizing stations would be most effective don't always have surfaces where dispensers can be mounted.
So Duke enlisted the help of Eric Richardson, associate professor of the practice in the Department of Biomedical Engineering, and Chip Bobbert, digital media and engineering technologies engineer for Duke's Office of Information Technology and one of the driving forces behind the Innovation Co-Lab to create solutions to these problems.
"It all sounds very simple, but when you get into the details, you realize there's a lot more to it," said Palumbo, director of facility operations for Facilities Management.
Richardson led efforts to solve the issues of efficiently dispensing and refilling sanitizing stations. Meanwhile, Bobbert used the Innovation Co-Lab's state-of-the-art machine tools to create and refine prototypes for stands that could dispense sanitizer with a foot pump or quick hand tap.
The stands will be placed across campus in coming weeks.
"We want to give people sanitizing opportunities everywhere that we possibly can," Bobbert said. "If you're walking in a building, you should see one of these. When you get out of an elevator, you should see one. We're trying to put these everywhere."
Help share the proactive and extensive work being done by all Duke community members during the COVID-19 outbreak. Send ideas, shout-outs and photographs here or write working@duke.edu.