Employees Share What They're Cooking During the Pandemic
From ramen to chicken pot pie, these chefs are cooking up a storm at home
Like many of us, Lindsay Gordon-Faranda is spending more time in the kitchen during the coronavirus pandemic.
Gordon-Faranda and her husband Jon Faranda find themselves in the kitchen nearly every night trying out new recipes from Bon Appétit magazine. They've made focaccia bread, tofu and vegetable curry and roast chicken. A favorite: vegetable ramen, a dish of noodles, vegetables and eggs in a flavorful broth.
"Jon and I went to Japan last year after years of planning," said Gordon-Faranda, senior public relations specialist for Duke Children's Development. "Cooking Japanese food and other cuisines has been a way to transport us while we're stuck at home."
Many of us are cooking at home more than ever during these stressful times. That includes Duke's Science & Society, which hosted its own The Great S&S Bakeoff. Hunter Public Relations, a firm in New York City, Los Angeles and London that works with food, beverage and retail brands, published a study in April noting that 54 percent of Americans are cooking more than they did before the pandemic. Of course, cooking at home saves money and brings comfort. Home cooks have been busy documenting their creations using hashtags on social media such as COVIDCooking and QuarantineCooking.
Here's what some Duke employees are cooking at home during COVID-19.
Tiarra Wade
Assistant Dean of Students, DukeReach

Tiarra Wade didn't let COVID-19 stop her tradition of making a bunny cake.
Ever since her 7-year-old daughter Amaya was born, Wade has made a cake and decorated it into the shape of a bunny for Easter.
Wade begins with two chocolate cakes. She slices one into the shape of ears and uses another for the bunny's face. Amaya then spreads her mom's homemade buttercream on the cakes and sprinkles shredded coconut on the icing. Wade and Amaya top it off with jelly beans, sprinkles and Twizzlers for the face and bow-tie.
"It's been really fun to watch my daughter get more involved with baking every year," Wade said. "I'll always cherish our time together in the kitchen."
Rupal Vora
Senior Associate for Contracts Management, Duke Clinical Research Institute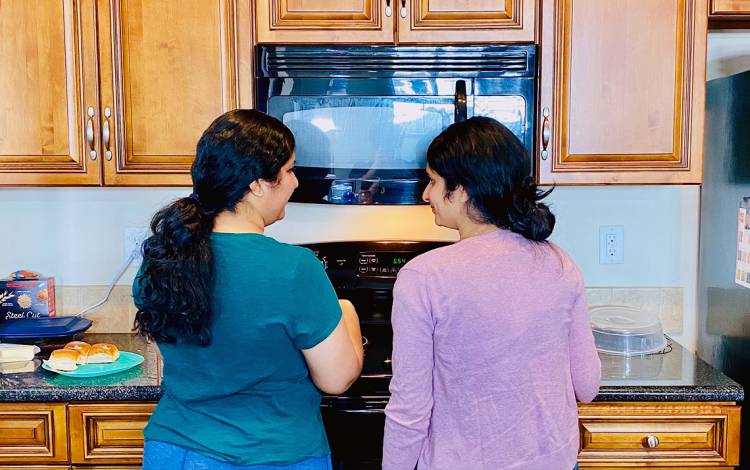 Rupal Vora has been creating her favorite restaurant meals at home.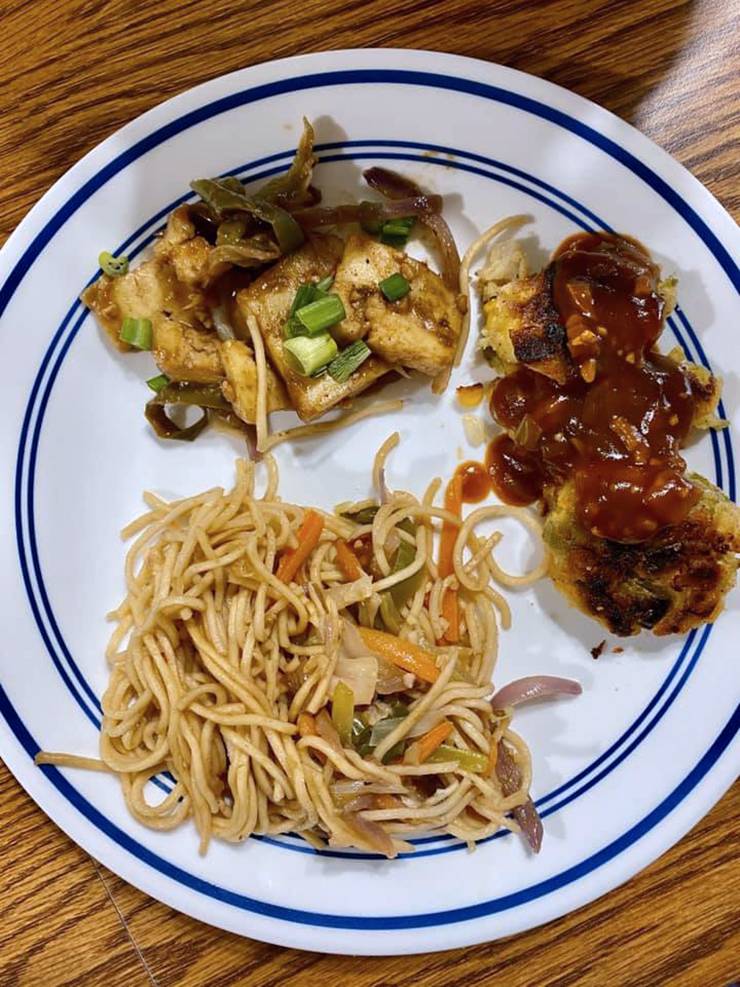 Vora has made spinach lasagna, vegetarian tacos and grain bowls with corn, black beans and avocado. But her favorite meal has been a replication of her go-to dishes from the Indo-Chinese restaurant, "Wok on Fire," in Cary.
Indo-Chinese dishes merge the spices and cooking techniques of Chinese and Indian cuisine.
Vora whipped up Hakka noodles, boiled noodles stir-fried with vegetables and sauces; vegetable Manchurian, minced vegetables that are formed into balls, fried and covered in a sweet or spicy sauce; and chili paneer, a stir-fried dish with Indian cheese.
"These are all dishes I would normally pick-up as takeout," Vora said. "Being at home has made me a more adventurous cook."
Matt Cloues
Director of Alumni and Leadership Giving, Duke Annual Fund

Matt Cloues' favorite kitchen tool is his cast-iron skillet.
Cloues fries eggs, cooks strip steak and makes chicken pot pie topped with Pillsbury biscuits in the 10-inch skillet he bought five years ago.
"If I was stranded on a desert island, I would take my skillet," Cloues said. "I can cook almost anything on it."
In May, he made a skillet shepherd's pie. The traditional British dish is a mix of ground beef, peas, carrots, green beans and mashed potatoes.
"I think everyone is looking for little rays of sunshine right now," Cloues said. "For better or worse, mine is cooking and eating."
Ginny Lee
Manager for Release of Information, Health Information Management Department of Duke Health System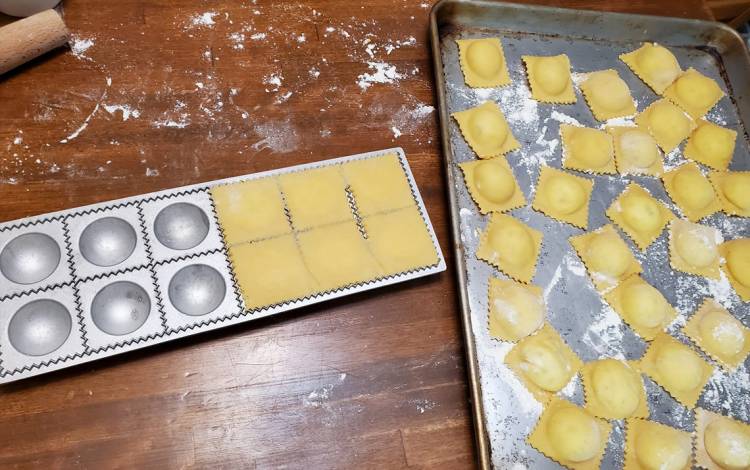 Cooking has been a bonding experience for Ginny Lee and her 8-year-old daughter, Mary.
A few nights each week they turn off the TV, Lee leaves her phone behind and they gather in the kitchen to make pretzels, sourdough bread and, their favorite recipe so far, ravioli.
Lee made the ravioli dough using flour and eggs and filled the pasta with ricotta, parmesan and broccoli. Lee shaped the pasta using a stamping mold her grandmother, Virginia Beattie, gave her.
"It's a great feeling to know the ravioli making was such a family process," Lee said. "It's a way to remember my grandmother while creating new memories with my daughter."
Maggie Nguyen
Biostatistician, Duke Molecular Physiology Institute

Despite making cheesecakes and various cookies for friends and colleagues for years, Maggie Nguyen stayed away from bread.
"I was intimated by the kneading," said Nguyen, referring to the process of working the dough with your hands to develop structure in the final product.
She found a way to bypass that step with a no-kneed Dutch oven bread recipe from The New York Times. Nguyen has made the bread three times during the pandemic. She eats it with homemade honey butter, makes a grilled cheese sandwich or tops it with tomatoes and olive oil for bruschetta.
"My world will never be the same," Nguyen said. "The bread is so delicious."
Ashley Lunn
Program Coordinator for Disability Services and Program Management, Duke Divinity School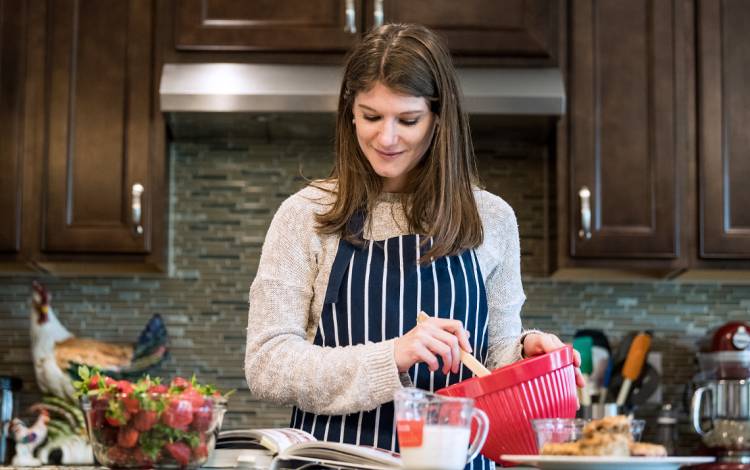 Ashley Lunn's favorite meal during these challenging times came about by mistake.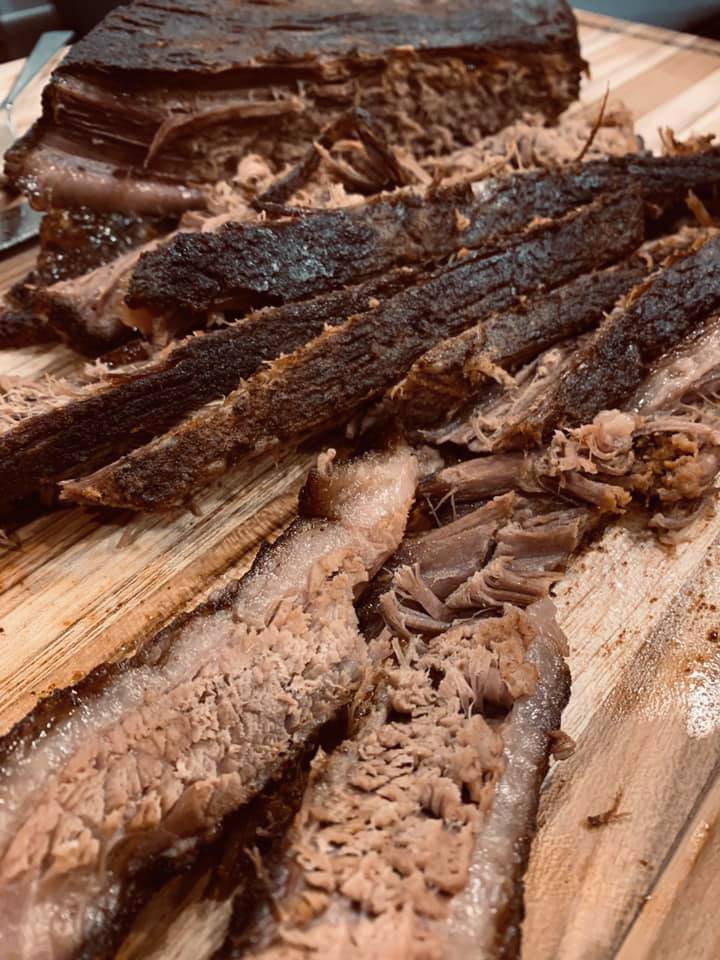 Lunn's husband went to the grocery store to pick up a chuck roast and came back with a 6-pound beef brisket. Lunn called her dad, who lives outside Dallas, for help.
"Brisket is a big thing in Texas so I knew he would have some tips," Lunn said.
Lunn's dad gave her a homemade recipe that required overnight seasoning and a 7-hour cooking process. The final product instantly became a family-favorite recipe.
"It's a perfect dish to make when you're stuck in the house since it cooks for so long," Lunn said. "It was so good that my husband went and bought another."
What are you cooking and baking while isolating? Let us know below:
Help share the proactive and extensive work being done by all Duke community members during the COVID-19 outbreak. Send ideas, shout-outs and photographs with us here or write us at working@duke.edu.