Get Your Bike Repaired for Free
Duke community members are invited to pop up campus shops in February and April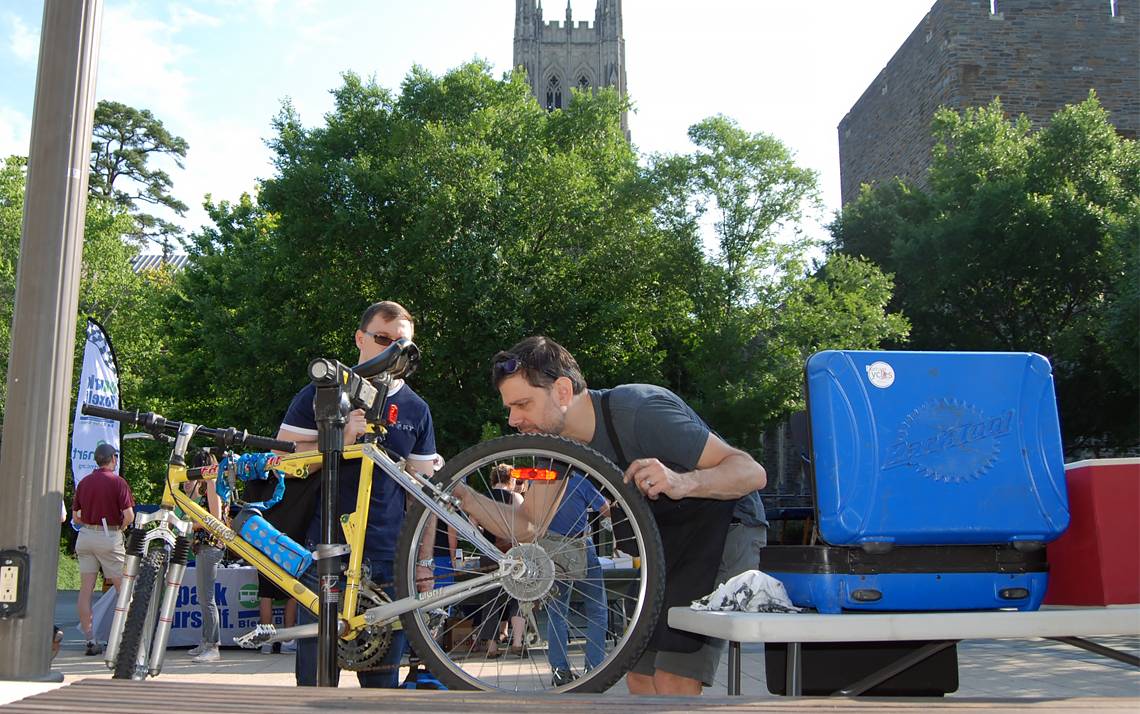 Beginner to experienced cyclists are invited to Pop Up Bike Shops on campus in February and April.
Duke Parking & Transportation Services and Sustainable Duke have organized events with Bike Durham and Durham Bike Co-op from 3 to 6 p.m. on Feb. 28 at the Bryan Center Plaza and 12 to 4 p.m. on April 17 at Grainger Hall.
The Pop Up Bike Shops offer Duke community members a chance to get their bikes fitted and repaired. Attendees can also shop for bicycles and accessories such as helmets, locks and lights. Members of the Duke University Police Department will offer engraving services to record a unique serial number on each bike. The number is stored in a database that helps Duke Police recover lost or stolen items.
"This event will help get your bike in shape for the season and stock up on anything you need to make alternative transportation work," said Tyler Dewey, a full-time bike commuter and alternative transportation lead for Duke.
Duke currently has about 1,000 registered bike commuters on campus. Enrolling in Duke's occasional or full-time bike commuting program means a better chance of recovery if a bike is stolen, discounts at local businesses, access to showers on campus (and for for full-time commuters, two free parking passes per month).
Rebecca Hoeffler, communications coordinator for Sustainable Duke, said biking also has health benefits.
"Biking to work saves you money from maintaining a personal vehicle, incorporates daily exercise into your routine and eliminates air pollution associated with commuting," Hoeffler said.
Have a story idea or news to share? Share it with Working@Duke.