Duke Moves Toward a Greener Future
The numbers show sustainability progress, but people behind the changes tell the story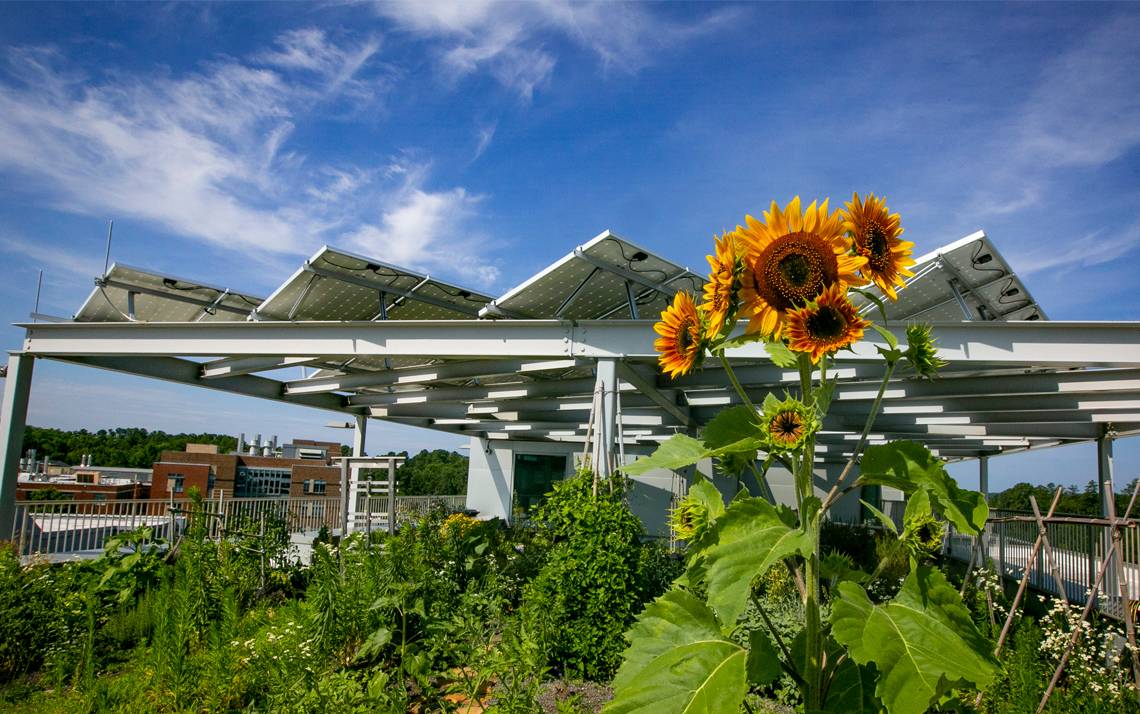 When looking at data, Duke's sustainability advances are hard to miss.
Since 2007, greenhouse gas emissions dropped by 20 percent and energy use per square foot of building space is down 19 percent. Around 3,000 employees work in certified green offices, and nearly a quarter of food served in Duke's residential dining program is locally sourced.
These advances are the product of changes in the way Duke and its community members behave and think.
"Duke's sustainability achievements have been the result of senior leadership support, shared accountability among many different departments and grassroots efforts from the campus community," said Tavey Capps, Duke's Sustainability Director.
While Duke's sustainability numbers are impressive, the stories of people helping push for change paint a full picture.
Emissions
Each month, Zach Johnson gets a home energy bill filled with useful data. It shows energy use by month and compared to area homes.
Johnson began to wonder, with Duke's goal of climate neutrality by 2024, why can't decision makers in departments, schools and units receive similar reports showing their share of Duke's overall carbon footprint?
"This could be a way to make those big goals applicable to the local level," said Johnson, a financial analyst at the Sanford School of Public Policy.
Johnson's idea became the subject of his group project during the 2018 Duke Leadership Academy, which produced an easy-to-read two-page report for the Sanford School.
The next step involved expanding the idea to cover other parts of Duke, where energy use and monitoring methods get complex. For that, teams of students and faculty from the Bass Connections and Data+ programs have taken up the challenge. If all goes well, leaders at schools across Duke will soon have data they can use to craft their unit's sustainability plan.
"Working toward those huge goals of emission containment starts with doing something, even if it's something small," Johnson said.
Infrastructure
From Grainger Hall's roof garden to the Brodhead Center's built-in compost system, Duke has woven sustainability into constructing and renovating campus buildings, 44 of which have been recognized by Leadership in Energy and Environmental Design (LEED) for green features.
As campus building energy and water use trend downward, Duke is raising the bar by creating and adopting a new High Performance Building Framework, approved by the Board of Trustees. The plan takes a holistic view of green building that includes outlining an improved process for planning campus buildings; a rigorous sustainable design standard for all new buildings and major renovations; and a new tracking and rating system to examine how facilities perform. The approach differs from LEED certification, which scores individual buildings based on number of sustainable features.
Future projects, such as the Garden Gateway welcome center at Sarah P. Duke Gardens, will be among the first projects under the new framework.
"We hope this process challenges Duke to think harder about what it wants to do with its buildings," said Casey Collins, Duke Facilities Energy Manager. "It's intended to make Duke develop more information and spend more design time making sure buildings are going to perform after we build them."
Campus Operations
Marcus Carson, Duke Dining's assistant director for sustainability and quality control, is used to studying how responsibly sourced food affects places where it comes from. With a growing focus on food production's carbon footprint, he's also looking at how it affects the planet as a whole.
"There's been a lot of high-level research and an increased focus on the relationship between food production and climate change," Carson said.
According to the United Nations' Food and Agriculture Organization, livestock production accounts for 14.5 percent of all greenhouse gas emissions, a segment that's larger than all the world's transportation-related emissions combined.
It's against this backdrop that Carson is leading Duke's Climate Conscious Dining initiative. The campaign will include special meals created with help from Student Health dietitians featuring a reduced carbon footprint through use plant-based proteins or less meat.
Carson is enlisting Nicholas School of the Environment students to provide a thorough accounting of the carbon cost of ingredients as part of the initiative.
"My goal is for Duke Dining to be an expert in food and sustainability issues," Carson said. "So if we can stay ahead of the curve on this, that's the goal."
Outreach
While efficient buildings and operations make Duke greener, the community's embrace of sustainability drives change.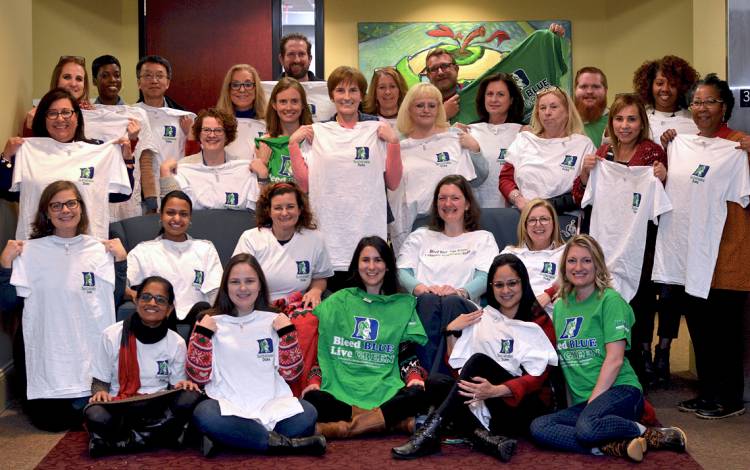 Few embody that commitment like the Duke Clinical and Translational Science Institute's Translational Population Health Research (TransPop) group. Last January, TransPop staff members started the process of earning Sustainable Duke's Green Workplace Certification, a checklist of 58 ecofriendly actions.
Green Certification – also available for classrooms, labs and dorm rooms – requires community members to learn about the environmental toll of decisions and consult with Sustainable Duke experts on ways to lessen their footprint. To get certified, a workplace must achieve 40 of the 58 criteria.
The twist here is that, unlike on-campus workplaces that can easily collaborate with Sustainable Duke staff, the TransPop workplace is roughly two hours from Durham in Kannapolis.
"It wasn't exactly an easy process," said Office Management Assistant Mary Lou Perry, who teamed with Staff Assistant Selina Baker to lead the push at TransPop offices.
The TransPop team took sustainability to heart, supplying recyclable plates and cutlery at workplace functions, using web conferencing to reduce travel and exploring options with building management for more efficient operation.
Said Perry, "I feel like we're doing our part for the environment."
Find ways to make Duke greener at sustainability.duke.edu