Department Spotlight: Preserving the Past at Rubenstein Library
Rubenstein Library builds a collection of 41 million items to preserve for use on campus and around the world
Department: David M. Rubenstein Rare Book & Manuscript Library
Number of employees: 43
History: In 1892, a group of students and faculty members formed the Trinity College Historical Society, to study and preserve the history of North Carolina and the South. The materials they collected were transferred to Perkins Library in the 1930s.
By that time, Perkins Library staff were managing rare materials in the Manuscript Department, Newspaper Department and Treasure Room, which housed rare books.  These collections were later brought together to form the Special Collections Department, later known as the Rare Book, Manuscript and Special Collections Library.
The Medical Center Library staff collected works on the History of Medicine from its beginning in 1931.  The substantial Josiah Charles Trent History of Medicine Collection, donated by Mary Duke Biddle Trent Semans, substantially enhanced those holdings. The Medical Center Library's History of Medicine Collections moved to the Rubenstein Library in 2012.
In 1972, President Terry Sanford created the Duke University Archives. University Archives moved to the Duke Libraries in 2002 and became part of the Rubenstein Library in 2006.
Duke renamed the special collections in 2011 to the David M. Rubenstein Rare Book & Manuscript Library, in honor of Duke graduate and philanthropist-financier David Rubenstein, who provided a $13.6 million gift to Duke Libraries for renovations.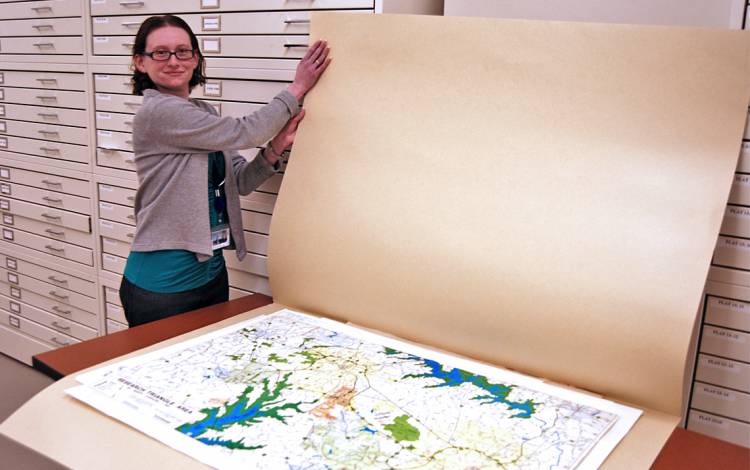 "We work with communities and scholars to preserve the stuff of history and make it findable and usable for researchers today and for future generations," said Naomi L. Nelson, Associate University Librarian and Director of Rubenstein Library.
What the Rubenstein does: The Rubenstein Library collects the past to keep stories alive for the future. 
Staff members build collections of original materials and preserve them for use on campus and around the world. The Rubenstein Library has about 41 million items in its collection, including 350,000 rare books and 10,000 manuscript collections. These holdings include records in almost every format imaginable, from ancient papyrus fragments to photographs and films to social media posts.
The Rubenstein focuses on eight collecting areas: the University Archives; the Sallie Bingham Center for Women's History & Culture; the Human Rights Archive, the John Hope Franklin Research Center for African and African American History and Culture; the John W. Hartman Center for Sales, Advertising and Marketing History and Culture; the Archive of Documentary Arts; the Economists' Papers Archive; and the History of Medicine Collections.
J. Andrew Armacost, head of collection development and curator of collections for Rubenstein Library, works with a team of about 10 librarians to manage and grow the collections. They decide what to acquire based on whether the item will fit into one of the eight collections, if a faculty member needs the material for research, and if the materials have a connection to Duke.
"Our goal is to make sure things are in a place where they're most useful," Armacost said. "It's useful for researchers to have materials in multiple formats gathered together in a single place. It doesn't do any good for a researcher to come to Duke to look at one book then have to travel to other archives to complete their research."
The four staff in University Archives collect and share the history of Duke University, from 19th century handwritten letters to the digital records of today's campus departments.
"The University Archives is the place we can see where our institution has been, and chart where we're going next," said University Archivist Valerie Gilisipie. "By exploring the history of our spaces, organizations, and communities, we bring Duke's many stories to light."
Rubenstein Library's Technical Services unit handles the new acquisitions when they arrive on campus. The team of 15 archivists and catalogers describe the materials in Duke's online catalog so patrons can find items such as Civil War amputation kit, 18th-century diaries and political campaign buttons on Duke Libraries' website. Technical Services cataloged 3,212 individual items and over 1,800 boxes of manuscripts and archives in 2019
"Technical Services is trying to emphasize the specialness or uniqueness of each item Rubenstein collects," said Meghan Lyon, head of Technical Services.  "You have to be curious because every day leads to a fun discovery." 
What Rubenstein can do for you: Rubenstein Library's Research Services handles items once they are cataloged and available to the public. 
Research Services works with Duke classes, scholars from around the world, and individuals doing personal research. Roughly 60 percent of Rubenstein Library's researchers are Duke students while the rest are scholars from campus and around the globe.
Patrons visit Rubenstein Library's reading room to search through, read, photograph and scan materials. Before visiting, guests create an account with the library which they can use to request materials
Last year, 4,800 patrons visited Rubenstein Library's reading room. Research Services taught an additional 250 classes to Duke students and employees on how to use original sources in their research.
"Our collections are vast and it can be difficult to find items in if you're not used to searching through a collection of this size," said Katie Henningsen, head of Research Services. "Research Services is here to help to find and contextualize material for your research."
The Records Management Program works with offices across campus to help them manage their paper and digital files and to transfer historical materials to the University Archives. Contact Hilary Gatlin to arrange a consultation.
Significant achievements: Naomi L. Nelson points to the library's exhibitions and digital collections.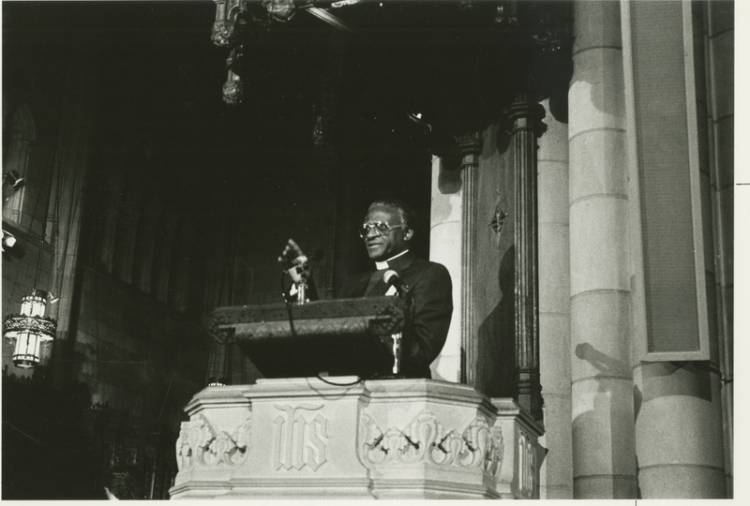 Head of Exhibitions Meg Brown works with faculty, staff and students to curate exhibits that share Duke's treasures and showcase research and teaching on campus. The current Tobaccoland exhibit curated by staff from across the Rubenstein was developed to coincide with Duke's announcement that the campus will be tobacco-free. It draws on Rubenstein Library's rich holdings related to tobacco, advertising, medicine, the Duke family, Duke University and Durham.
University Archives staff partnered with the Duke University Chapel and the Libraries' Digital Collections Department to digitize more than 3,500 sermons preached in the Chapel between 1954 and 2002. The Duke Chapel Recordings collection includes a number by notable African American and female preachers. Freely available online, the collection can be used to study of the art of preaching, research spiritual response to social changes, musical study and simple inspiration.
There are people who cannot travel to Duke or who may not know about our collections," Nelson said.  "But they can search the web and discover this wealth of information in the Rubenstein. Our digital spaces are critical to our efforts to democratize the archive."
Big goal: An ongoing goal for the Rubenstein Library is to digitize the materials in its collections.  The Library's Digital Collections program has digitized about 120,000 of Rubenstein's 41 million items.
A recent addition to the Rubenstein is the "Consumer Reports" archive. The John W. Hartman Center for Sales, Advertising and Marketing History and Culture in the Rubenstein acquired the 83-year-old nonprofit consumer organization's archives in 2019. The collection included some 2,800 linear feet of books, photographs and artifacts like toothbrush and lipstick testers. 
"Curiosity is very important trait to have in Rubenstein," Nelson said. "We are here to work with anyone interested in these rare materials. There are so many stories waiting to be told." 
Have a suggestion for a Department Spotlight? Let us know here.