Blue Devil of the Week: Building Bridges at Duke Campus Farm
Emily McGinty oversees community workdays and gets her hands dirty building partnerships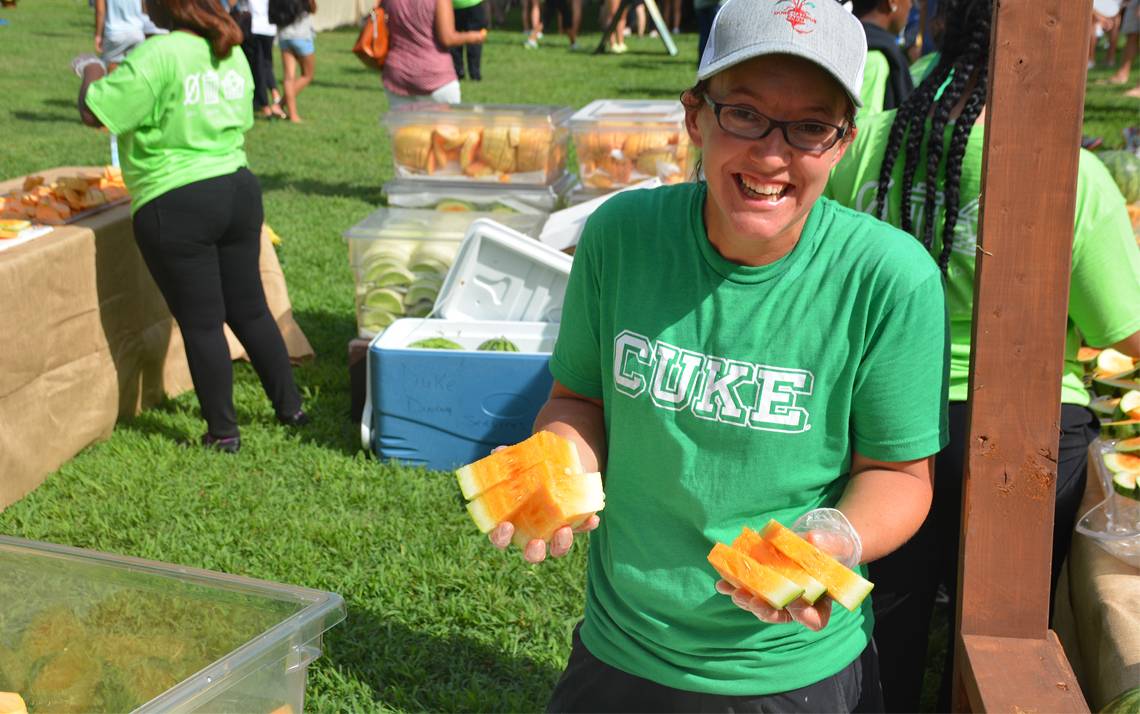 Name: Emily McGinty
Title: Assistant Program Manager, Duke Campus Farm
Years at Duke: 6
What she does: Emily McGinty spends part of her week working alongside students to plant and harvest produce such as kale and tomatoes, pulling weeds and building compost at Duke Campus Farm. The one-acre farm, which opened in 2010, is full of seasonal produce and flowers that are sold to the Marketplace on East Campus and sold to nearly 70 community supported agriculture (CSA) subscribers.
McGinty also oversees community workdays, an opportunity to get your hands dirty and learn about food systems and sustainable agriculture from 3-5 p.m. every Thursday and Sunday.
"I like to joke that I'm the one walking and talking when other people are working," McGinty said. "I like to check in with each visitor and student worker at the farm to make sure they're comfortable in the space. I seem to always be talking and moving."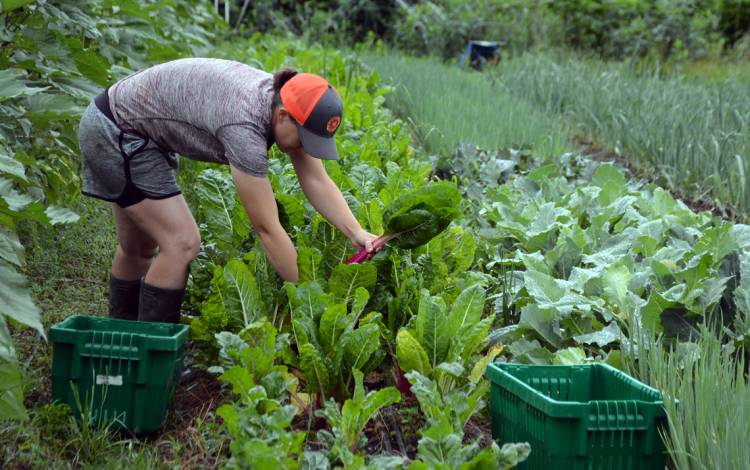 When McGinty is on campus, she's usually hopping from classrooms to meetings with student organizations to discuss food systems issues, academic or co-curricular projects, and volunteer opportunities on the farm.
She works with community organizations such as the Durham County Beekeepers Association, which has kept beehives on Duke Campus Farm since 2011. McGinty orchestrated the partnership so the farm could have a robust pollinator supporting the crops.
"The farm is a highly relational space. Food is a highly relational thing," McGinty said. "I want to build connections with students, employees and community organizations. We can all benefit from a space like the farm."
What she loves about Duke: McGinty was a sophomore at Duke when she helped start Duke Campus Farm in 2010. Her friends in the class "Food and Energy," taught by Charlotte Clark, assistant professor of the practice of sustainability ecosystem science & conservation, started building the site plan and relationships necessary to create an actual campus farm.
McGinty remembers sitting around tables in Perkins Library with founding farm director Emily Sloss and friends until 3 a.m. brainstorming how the land could support Duke's educational mission and community before the farm opened.
Nine years later, she's thrilled by partnerships the farm has formed with groups such as the Duke Outpatient Fresh Produce Program. The program, run by Duke School of Medicine students, provides produce from Duke Campus Farm to food-insecure patients.
"It's energizing to see how much the farm can help," McGinty said. "I love building bridges to the community."
Meaningful object at the farm: The Duke Campus Farm has a 16-foot by 8-foot banner hanging on a fence that honors North Carolina farmworkers.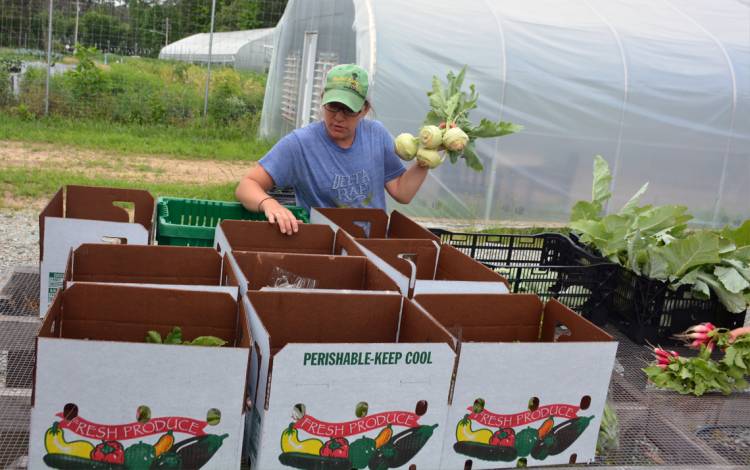 The banner is a replica of a 2018 mural in the Rubenstein Arts Center made by Duke students, local artist Cornelio Campos, and Charlie Thompson, professor of the practice of cultural anthropology and documentary studies. The work of art depicts Native American, African American and Hispanic communities' involvement in North Carolina agriculture.
"It has become a great educational tool for us to show much of the history and present politics of farm work," McGinty said. "It represents so many stories of how the food systems work in North Carolina."
Memorable day at work: McGinty's favorite day of the year is seeing the dozen students who work on the farm return from summer break for the fall semester.
"I get this feeling of our flock coming home when I see everyone together again," McGinty said.
Best advice received: One of McGinty's friends lives by the motto, "have courage and be kind."
McGinty keeps the motto in mind when interacting with new guests at the farm.
"It inspires me to engage boldly and thoughtfully with every person around me," McGinty said.
First ever job: McGinty and her brother and sister – they are triplets – started a summer camp in middle school. They hung fliers around the neighborhood advertising games and activities at "McGinty MiniCamp." Price of admission: $2.
"We were quite entrepreneurial," McGinty said. "We ran around the woods with like a dozen kids, playing capture the flag, hopscotch and Red Rover."
Something most people don't know about her: Three of four McGinty siblings have a Duke degree. McGinty and brother John earned undergraduate degrees from Duke. Her sister Anne attended the Duke Doctor of Physical Therapy program.
"Our blood might run blue," McGinty joked.
Is there a colleague at Duke who has an intriguing job or goes above and beyond to make a difference? Nominate that person for Blue Devil of the Week