Find A Campus Dining Spot
Looking for a meal? Pick from 33 venues on campus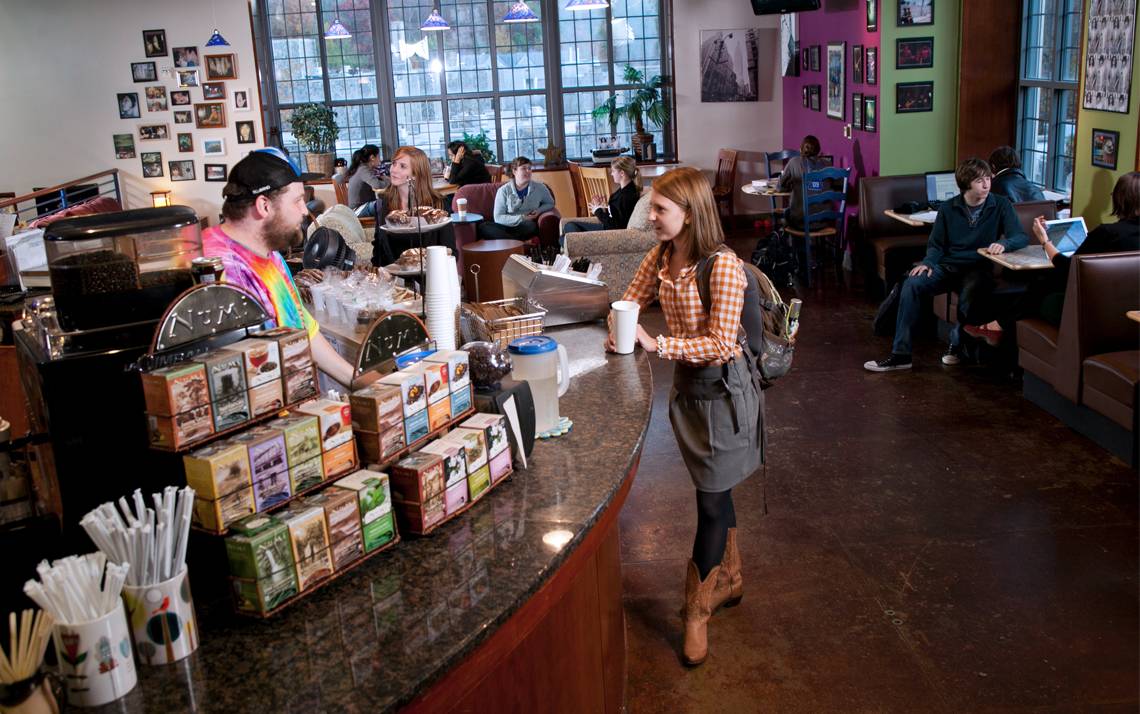 Tucked away in McClendon Tower Residence Hall, Bella Union is a short walk from the busy heart of West Campus. With coffee, muffins, cookies and grab-and-go snacks, the cozy eatery is worth the extra steps.
For Kristin LoBiondo, staff assistant in Resource Administration for the Office of Student Affairs, the short trek from her Bryan Center office to Bella Union provides a satisfying break during her work day.
"That's where I like to go and get coffee in the afternoon," LoBiondo said. "And sometimes I'll pick up a little snack for when I get back to the office."
Duke Dining oversees an average of around 22,000 meals daily across 33 campus venues. Most of the meals are served from eateries in the Brodhead Center, the Bryan Center and Marketplace on East Campus. Dining spots are scattered across campus and some are off-the-beaten path.
"Having such a variety of venues, and the number of spots, sets us apart from most universities," Duke Dining Executive Director Robert Coffey said. "Universities will often have a lot of eating facilities, but they're in one building. But we're kind of spread out."
If you're willing to explore, here are a few places to add to your dining rotation.
Café De Novo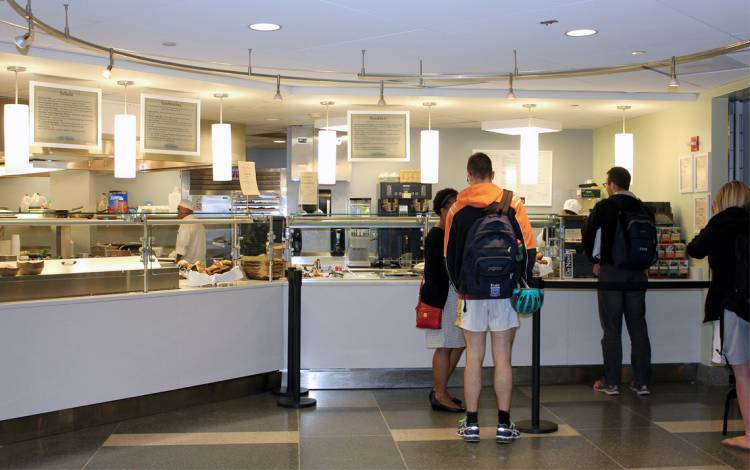 When Duke Dining opens or refreshes a campus dining spot, the department doesn't do it alone.
Committees of students, staff and faculty from the area where the new dining venue will be located are formed, providing an understanding of the type of establishment that part of campus desires.
"It's a creative process," said Coffey, who has used this approach since arriving at Duke in 2012. "We want them to tell us everything they'd like to have and then, once we know all that, we can put the pieces of the puzzle together."
Café De Novo in Duke Law School answered the law school community's need for a full menu of freshly prepared breakfast and lunch items – such as egg scrambles, sandwiches and salads – and pre-made sandwiches and salads for diners on a tight schedule, as well as a robust selection of coffees.
Like all venues operated by Duke Dining, Café De Novo offers Daily Devil Deals, which feature a rotating combination of food and drink options for $5.
Katie Rosso, assistant editor of Faith & Leadership, a publication from the Duke Divinity School, declared that Café De Novo has "the best fries in the entire world."
Divinity Café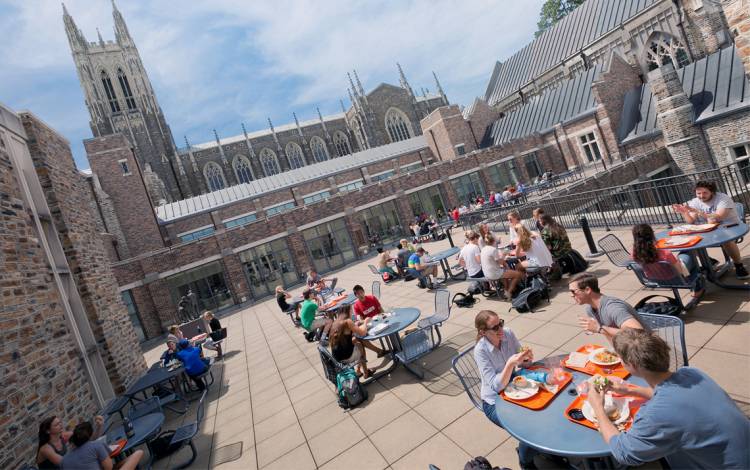 Divinity Café is in heart of the Duke Divinity School with tables that spill out onto a sunny patio. The café strikes the balance of providing convenient grab-and-go items and a changing menu of made-to-order soups, salads and pasta dishes, such as potato and leek soup, hummus and vegetable sandwich, and buffalo chicken macaroni and cheese. Divinity Café's menu also features certified halal items.
"It's a place everybody in the Divinity School knows," said Blaise Mercadante, a Duke Divinity School student and regular visitor since beginning studies at Duke three years ago.
A defining feature of Divinity Café is its long communal tables, selected as a way to help turn strangers into dining partners.
"The Divinity School is big on community," Coffey said. "They wanted the community to come together over food."
Trinity Café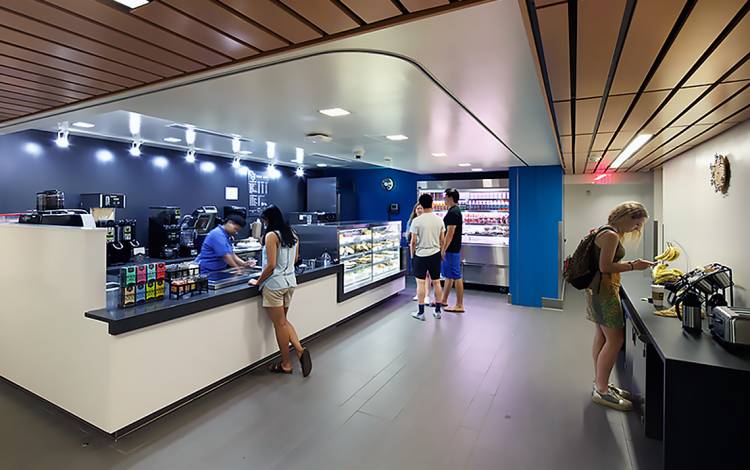 The hub of East Campus life is the East Campus Union. And the centerpiece is the Marketplace, the bustling dining facility that serves breakfast, lunch and dinner items to its clientele of mostly first-year students.
But just downstairs is Trinity Café, which offers a wide variety of options as well as a taste of student life.
Trinity Café traces its roots to 2015 when a renovation to the East Campus Union cleared out space for the more casual dining spot. The goal was to create a comfortable space with a diverse menu to meet to varied needs of students.
"Trinity Café is open from breakfast to midnight, so we wanted to have a menu that could hit all of those parts of the day," Coffey said. "We really listened to the students and what they were wanting. And we've grown that menu to meet those needs."
The result is a dining spot that features a deep lineup of coffee and tea options, as well as grab-and-go sandwiches, salads and sushi. Diners can grab fruit cups or local yogurt, or hot pizza, made-to-order breakfast burritos, or kosher items such as a hummus platter.
"There are many offerings at the Trinity Café," said Duke Dining Executive Chef for Dining Services Mark Turner. "We have a large variety of folks that frequent Trinity Cafe. We have students, professors and guests, so we don't want to miss anyone."
Duke Integrative Café
Not far from the busy stretch of Erwin Road, the Duke Center for Living Campus sits among peaceful pine trees. And in the midst of this calm is Duke Integrative Café, which provides a relaxing dining option.
Open each weekday for lunch, the café offers a small and ever-changing menu that leans heavily on locally-sourced ingredients, including produce from Duke Campus Farm.
And just as alluring is the location. With free parking, plenty of outdoor seating and a nearby labyrinth which offers a chance for quiet meditation, lunch at Duke Integrative Café can help relieve stress, as well as hunger.
"What's unique about it is that it's a special setting," said Cat de Montjoye, the marketing manager for Duke Integrative Medicine. "It's just a beautiful, serene place and it's open to all."
Have a story idea or news to share? Share it with Working@Duke.