Coffee Mugs of Duke
Duke employees share stories behind their favorite coffee mugs
Alistar Erickson-Ludwig's coffee mug invites attention.
"Cool Person Mug" is printed in red sparkle letters next to a "Boofle," a knitted wool pup wearing sunglasses. 
Erickson-Ludwig's husband gave her the mug two years ago after they discovered the "Boofles" on greeting cards. She sips black and green tea from the mug at work. 
"I can't help but smile when I see the mug," said Erickson-Ludwig, associate director of the Master of Quantitative Management program at Fuqua School of Business. "Mugs are such great gifts. They evoke strong memories of the person who gives them to you."
For International Coffee Day, we asked Duke colleagues to share photos of their favorite mugs. Here are the stories behind some of the eclectic, endearing and somewhat odd selections. 
Ieshia Flynn
Staff Assistant, Retinal Ophthalmology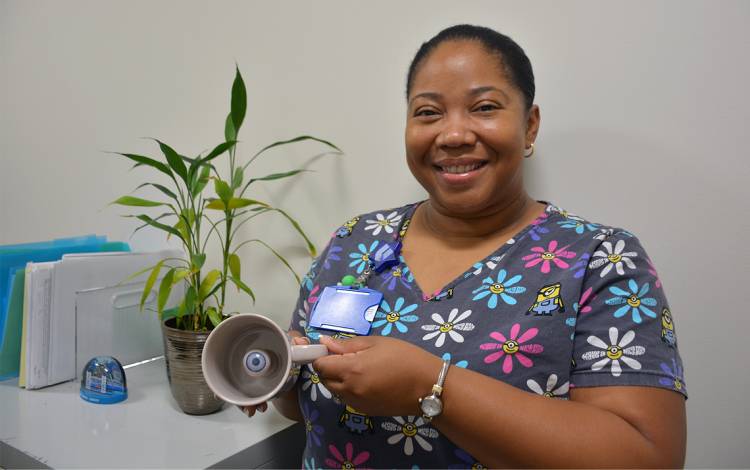 Ieshia Flynn's office in the Duke Eye Center is full of miniature snow globes, mugs and photos. 
Most items are from trips home to St. Croix in the U.S. Virgin Islands or gifts from coworkers from their travels. 
One gift has a lasting impression: a mug with the message, "Here's to looking at you." Inside is a surprise: an eyeball.
"It certainly goes with the theme of the eye center," Flynn said. "The eye never fails to surprise me."
Michael Kelly, clinical operations supervisor, gave Flynn the mug this summer. 
"I knew she would get a laugh out of it," Kelly said. "She is a customer service rock star.  All the patients and employees love her."
Todd Dumke
Executive Sous Chef, Duke Dining Services
With an alarm sounding at 4 a.m., Todd Dumke's morning routine always involves coffee. 
He fills his Grateful Dead to-go mug with a dark French or Italian roast before heading to East Campus Marketplace for the breakfast shift at 5:30 a.m. 
"My dad jokes that if coffee is not black enough to put hair on your teeth, then it's not strong enough," Dumke said.
The mug features the rock band's logo of a blue and red skull with a lightning bolt. 
Dumke attended his first Grateful Dead concert in 1990 and since attended nearly  100 shows across the United States. 
Beth Gracey
Director of Network Services & Enterprise Monitoring, Duke Health Technology Solutions 
Beth Gracey's coffee mug is often her sanctuary at the office.
When Gracey is feeling stressed, she takes a sip of coffee from the mug her 13-year-old daughter, Savannah, made in preschool. 
Savannah painted the mug light and dark blue, yellow and purple. The signature mark on the mug is a purple tiger paw to represent Gracey's alma mater, Clemson University.
"I feel more grounded when I hold the mug," Gracey said. "I intentionally use it at work to remind me to balance my time and energy between work and life."
Claudia De La Cruz
Senior International Student and Scholar Advisor, Duke Visa Services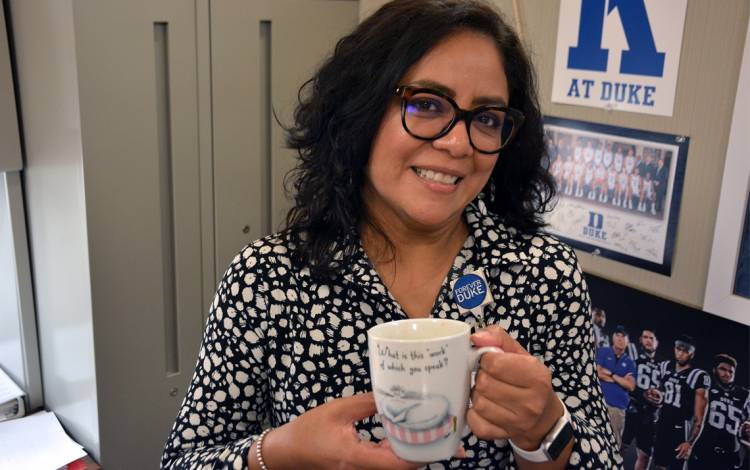 Claudia De La Cruz settles in at work with a coffee mug from her sister. The mug shows a sleepy cat with the phrase, "What is this 'work' of which you speak?" 
De La Cruz loves cats, especially her orange tabby cats, Sebastian and Max.
"My heart is happy when I see the mug because it makes me think of my family," De La Cruz said.
De La Cruz's sister, Maria De La Cruz Bunce, is a medical interpreter for the Duke Health System. They see each other often over dinner, yoga class or shopping. 
"She's always getting me gifts," De La Cruz said. "It makes me happy knowing she's thinking of me."   
Tracy Henderson Bethel
Project Planner, Child and Family Mental Health and Developmental Neuroscience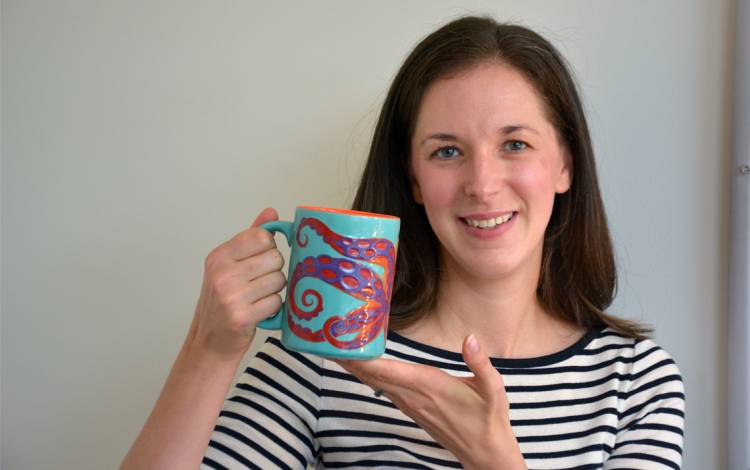 Tracy Henderson Bethel's octopus mug had an ink-redible journey to her office. 
Bethel's friend found a collection of octopus mugs at a thrift store near her home in Columbus, Ohio. She planned to give a mug to Bethel.
Through a round-about way, Bethel's octopus mug ended up in the basement of a mutual acquaintance in Durham for four years. 
"I completely forgot to pick it up until she called me this year," Bethel said. "She was cleaning out her basement and found the mug."
Now Bethel fills the "octo-mug" each morning with a shot of espresso and half and half. 
"Lots of miles later, this giant mug is the best way to remember old and new friends every morning at work," Bethel said. 
Lupita Temiquel-McMillian
Assistant Dean, Pratt School of Engineering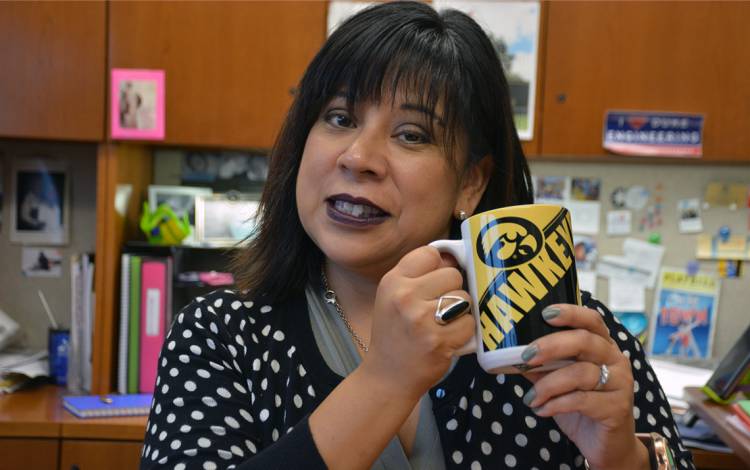 Lupita Temiquel-McMillian shows off her Midwest pride with a bright yellow and black mug representing the colors of her alma mater, the University of Iowa.
Temiquel-McMillian lived in Iowa, Ohio and Illinois before moving to North Carolina 13 years ago. The cup sits empty unless she treats herself to hot chocolate in the winter.
The mug has the University of Iowa mascot, the Hawkeye, and the "Star Wars" character Chewbacca. Temiquel-McMillian saw the original "Star Wars" trilogy in theaters as a kid. The mug was a gift from Heather Rabalais, staff assistant for the Office of the Dean in the Pratt School of Engineering. 
"Heather, who is the farthest thing from a Hawkeye, thought of me when she saw that mug," Temiquel-McMillian said. "It meant a lot that she would buy it for me as a gift."
Share your favorite coffee mug on our Facebook story:
Have a story idea or news to share? Share it with Working@Duke.