Blue Devil of the Week: Managing Construction Jobs at Duke
Hector Hernandez oversees construction projects for Duke Facilities Management
Name: Hector Hernandez 
Position: Project Manager, Duke University Facilities Management Department
Years at Duke: 4
What he does at Duke: You've seen Hector Hernandez's work around campus. 
As part of the Office of Project Management, he's worked on some of the biggest construction projects on the university campus in the past four years: the Hollows Residence Quad, Central Campus demolition and installation of solar panels on Research Drive Garage.
Hernandez is responsible for planning, managing and coordinating construction, renovation and repair projects around campus. This includes estimating costs, overseeing budgets and schedules and doing daily check-ins with architecture firms, construction companies and other parties involved in projects assigned to him. He also oversees the day-to-day planning, maintenance and construction of jobs involving skilled crafts – carpentry, painting and plumbing, for example. 
Two of his current assignments include working on the design for the future Garden Gateway Project, which will create enhanced facilities and spaces at Sarah P. Duke Gardens, and the removal of Central Campus apartments.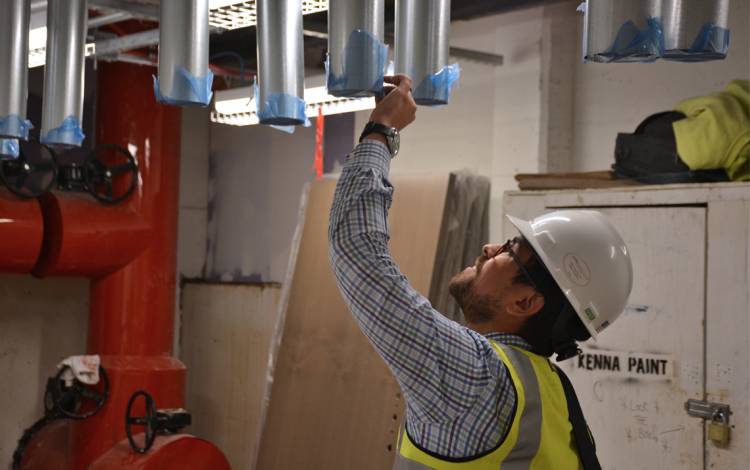 At any given time, Hernandez manages about a dozen projects. He views his role chiefly as customer service. Hernandez tries to respond to emails within 24 hours, answer every phone call and always keeps a smile on his face because he is excited to see the projects he's involved with walking around campus.
"It's still very cool to have your work so visible," Hernandez said. "I'm very lucky to be part of Duke's beautiful campus." 
What he loves about Duke:  At Duke, Hernandez appreciates the camaraderie in Duke Facilities – how the department works together to build, renovate and make the university look beautiful and run effectively. 
"In the last four years, I have gotten out of bed every day and looked forward to coming to work," he said. "I attribute that to my colleagues and our mission."
Memorable time at Duke: Hernandez's first major project at Duke was overseeing the renovation of the OIT-Telecommunications Building from 2015-17. The project included updating one of Duke's data centers and designing a space in the Co-Lab Studio for 60 3-D printers. 
"You would never know what's inside that building by looking at it," he said. "It's like a piece of buried treasure."
Hernandez added another memorable experience: WRAL interviewed him about the Central Campus demolition in August.   
"We recorded the segment at home, and my 2-year-old daughter played the video over and over again," he said. 
A special object in his workspace: Hernandez found a 3 feet by 6 feet hand-painted campus plan from 1981 during the renovation of the OIT-Telecommunications Building. The plan shows Duke University Chapel, Abele Quad and the Health System Campus. Missing are more recent additions like Grainger Hall, the Rubenstein Arts Center and the Student Wellness Center. 
He keeps the map pinned to a wall in his cubicle.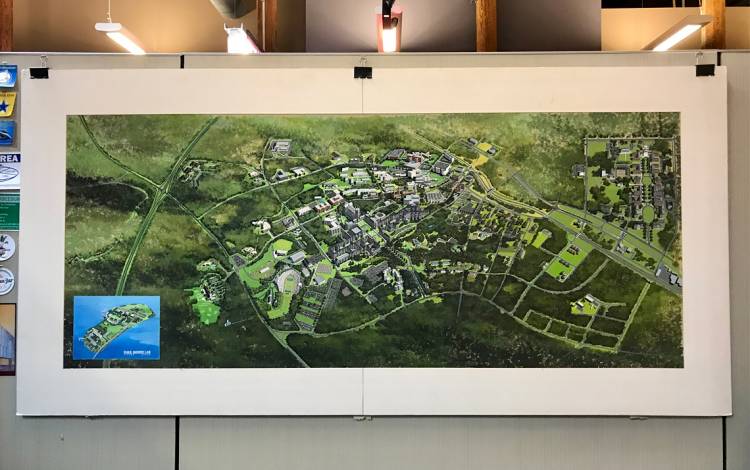 "Everyone that stops is always amazed by the amount of growth this campus has seen since then," Hernandez said.
First ever job: Hernandez worked at Ace Hardware in Franklin Park, Illinois, while in high school. He credits the job for sparking an interest in architecture. Hector earned both a Bachelor of Science in Architectural Studies and a Master of Architecture from the University of Illinois at Urbana-Champaign. 
"The job taught me about customer service, home improvement and construction," he said. 
Best advice received: When Hernandez was young, his parents often told him the Mexican proverb "El flojo trabaja doble," which translates to "the lazy one works double."
"I have learned to try and do things right the first time, even if it takes a little more effort," he said. "Don't try to take shortcuts. You will end up spending more time redoing your work." 
Something most people don't know about him: Hernandez moved from Torreón, in northern Mexico, to the suburbs of Chicago when he was 13. He has stickers of the Mexico and U.S. flags attached to the back of his hard hat. 
"Being Mexican is a huge part of my culture," he said. "I'm very grateful to be here in the United States. I wouldn't change anything in my life." 
Is there a colleague at Duke who has an intriguing job or goes above and beyond to make a difference? Nominate that person for Blue Devil of the Wee