Duke in Pics: Building the Hollows Quad
Scenes from the new residences, which opened to 703 students last week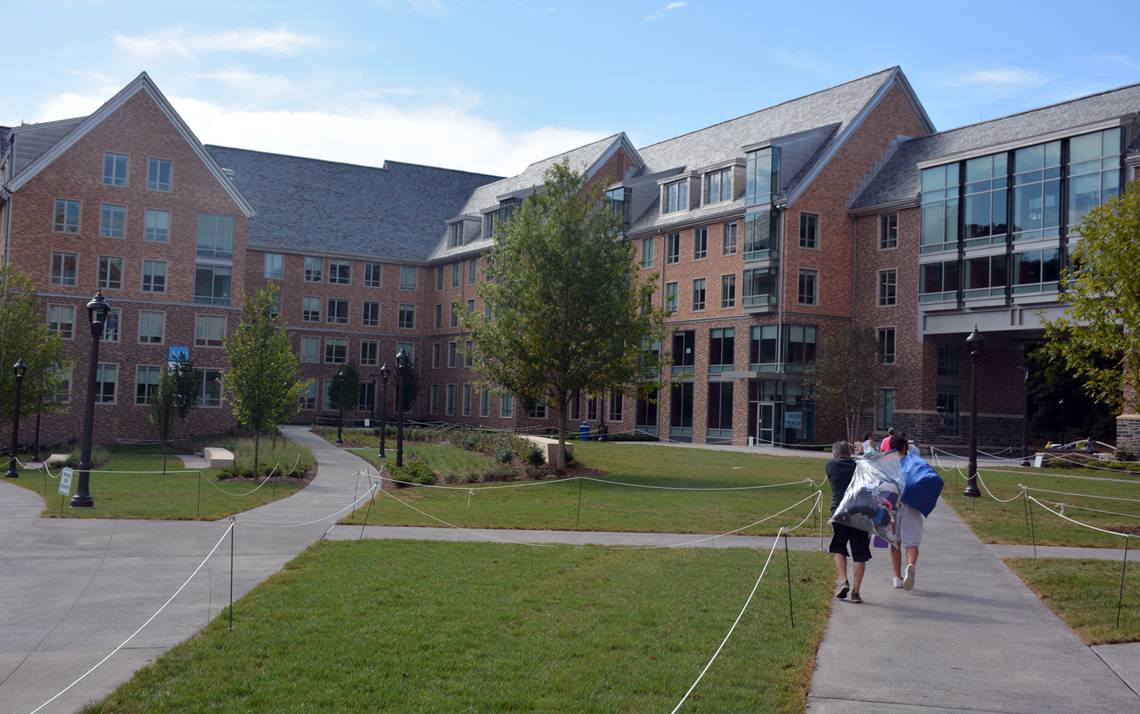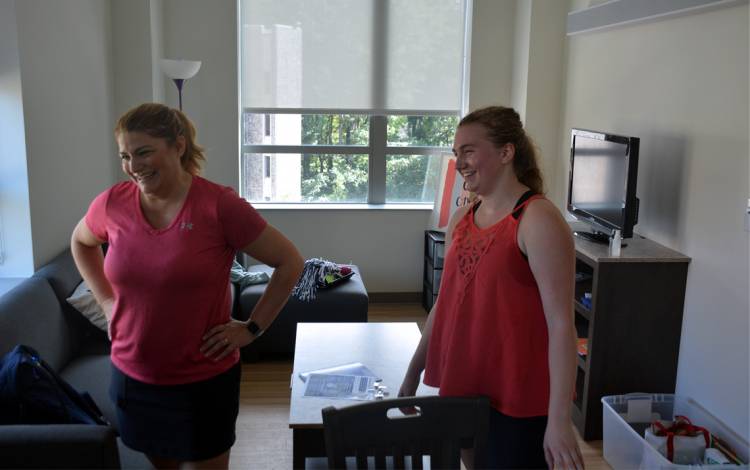 Victoria Johnson, with her mother Michelle at her side, took a much-deserved break from the frenzy of moving into the new Hollows Quad residence hall on Friday by peering out the living room windows in her suite.
The second floor suite offers unobstructed views of intersecting sidewalks, lamp posts and trees in Hollows Quad. 
"It's just so gorgeous," said Victoria, a Duke senior studying psychology and economics.
After nearly two and a half years of construction, the Hollows Quad opened this past week to nearly 700 upperclass students. Take a tour through some of the work leading up to the opening.
Home for 700 upperclass students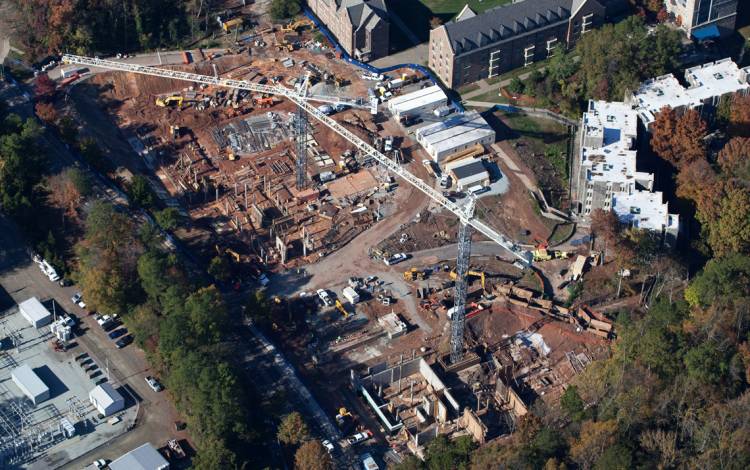 An aerial photo by Skanska, the construction company that built the $92-million Hollows Quad Residence Hall, captures the site at Towerview Road in November of 2017. 
Construction began on the 265,000 square-foot facility in March 2017. The project includes two buildings called Hollows A and Hollows B, which are connected by an enclosed bridge but physically separated by a firewall. The Hollows Quad offers 147 suites with each unit featuring one to five bedrooms, one or two bathrooms, a living room and kitchenette. 
The opening of Hollows Quad, as well as the re-opening of Craven Quad after completed renovations, moves Duke closer to its goal of housing all upperclass students on West Campus. About 700 students live in the Hollows. 
"It's exciting to add a different housing option to West Campus," said Joe Gonzalez, assistant vice president of student affairs and dean for residential life. "The suites offer students a new way to live, go to class, socialize and work on campus."
Nearly 300 construction workers on site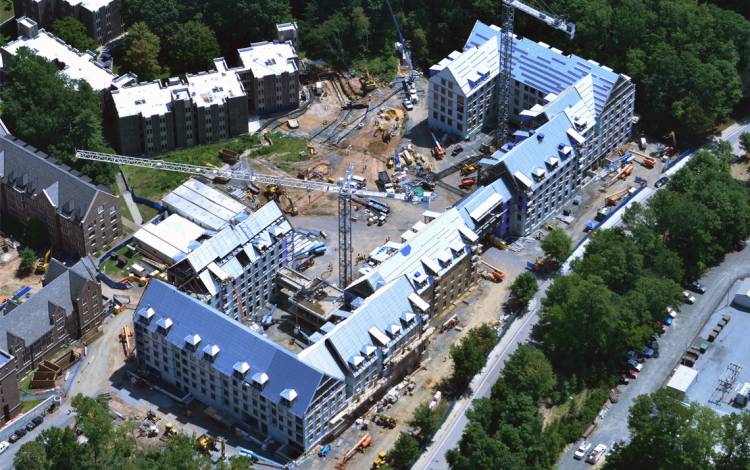 On Aug. 10, 2018, Skanska captured cranes, vehicles and crews at the Hollows Quad site. 
The framing was nearly complete at this time, including the bridge that contains the third and fourth-floor common rooms spaces of Hollows B. Skanska crews continued work on the slate roof and began the brick exterior of the buildings. 
Nearly 300 construction workers, project managers and other utility specialists worked at the Hollows Quad in the past year. 
"When I look at buildings of this size, I just think of all the effort it takes to complete it," said Hector M. Hernandez, Facilities Management Department's project manager for the Hollows Quad.
Plenty of natural light

This summer, Briana Enty, residence coordinator for Housing & Residence Life, and Joe Gonzalez, assistant vice president of student affairs and dean for residential life, examine a window in a four-bedroom suite.
The Hollows Quad has 837 windows in total, which bring in plenty of natural light to the common spaces and suites. 
As residence coordinator, Enty lives in a private Hollows apartment and will organize social activities, plan room assignments, provide counseling on housing concerns and conduct training sessions for Hollows Quad students and resident assistants. 
"It's cool to be part of a new neighborhood," she said. "You don't often get a chance in residence life to create a community at a brand new residence hall."
Eco-friendly features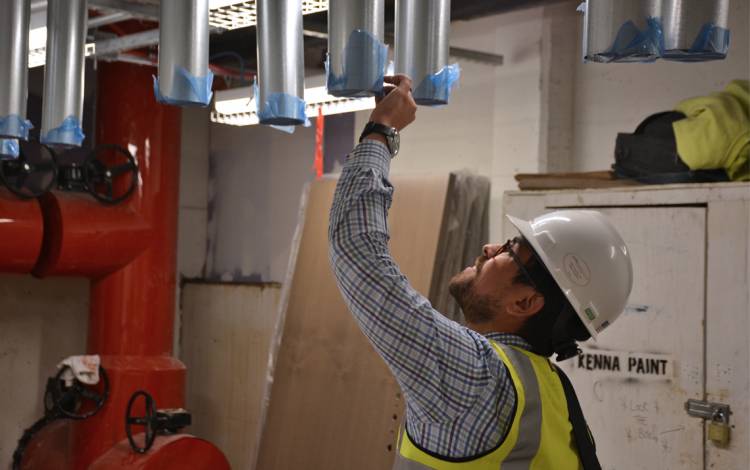 Hector M. Hernandez, Facilities Management Department's project manager for the Hollows, inspects dryer ducts in the first-floor laundry room of Hollows A this summer. 
It is anticipated that the US Green Building Council (USGBC) will certify the Hollows Quad with the Leadership in Energy and Environmental Design (LEED) Silver status, which considers the structure's location, water efficiency, energy use, materials, innovation and more.
Skanska constructed the Hollows Quad with dual flush toilets, lights with vacancy sensors, windows coated with a clear film to reduce heat, and elevator shafts with heating and cooling to avoid temperature loss. 
Appliances await installation

Fridges and ovens await their final destinations in the first-floor common room in Hollows B.
Workers attached sheets to appliances to direct movers where to take each appliance. About 140 fridges and 75 ovens are in Hollows A and B, combined.  
"It can look a bit like a department store in here some days," Hernandez said. "Just stainless steel appliances everywhere." 
9,000 pieces of furniture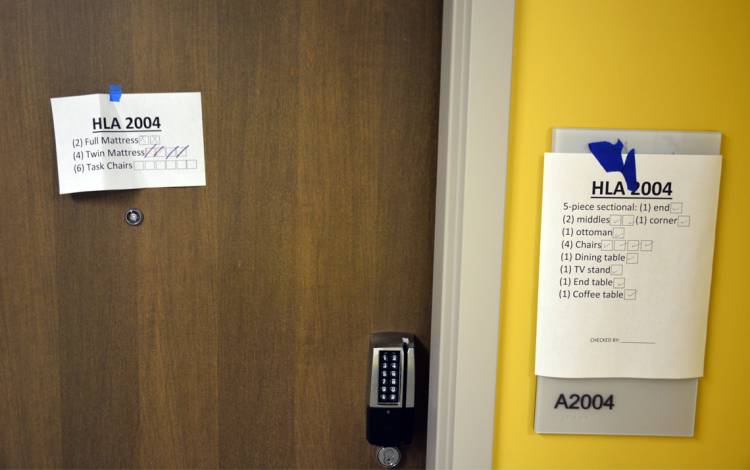 With about two weeks remaining before student move-in, Trosa crews ensure the correct furniture is in every room with a checklist taped next to each door. 
Roughly 9,000 pieces of furniture outfit Hollows Quad. 
Interesting fact: See the swipe on the door lock? Each suite in the Hollows Quad is accessible with the resident's DukeCard. Housing & Residence Life has been adding card access to new residence halls and renovation projects for the past three years. 
9 common rooms across Hollows Quad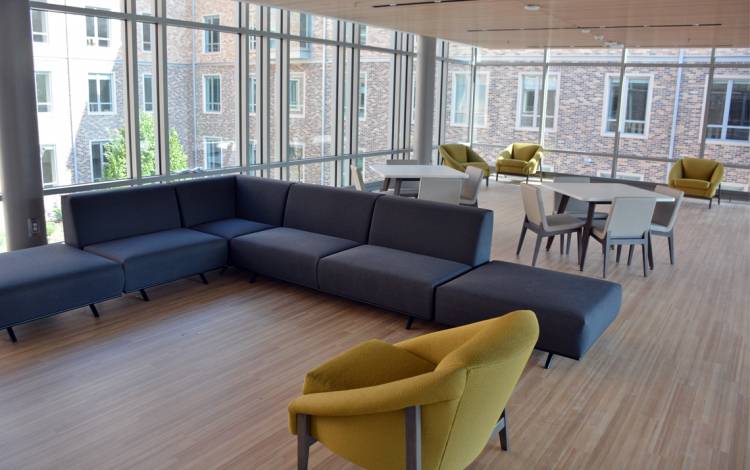 One of the signature architectural features of the Hollows is a two-story glass pavilion attached to Hollows A. 
The structure contains common spaces on the first and second floors with sectional couches, chairs and tables. There are 9 common rooms and multiple study rooms and nooks across the Hollows Quad. 
Hernandez refers to the glass enclosures such as this one, the Brodhead Center and the Ruby as "jewel boxes."  
"It's the showstopper of the building," he said. "They let in so much natural light. It'll be a very bright space for students to hang out in." 
Moving in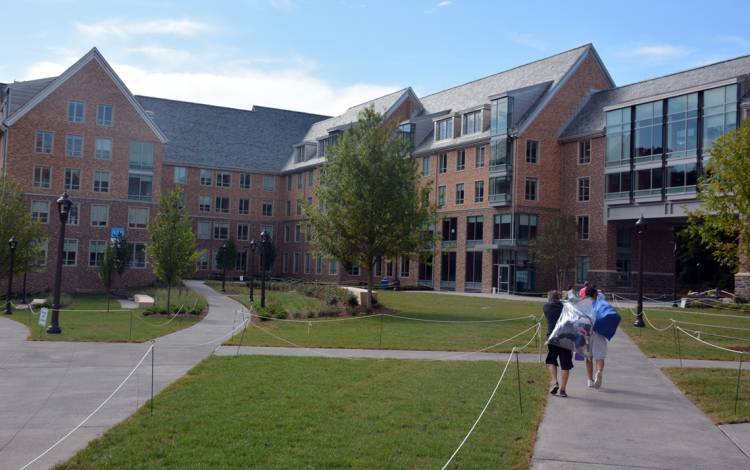 Students and parents carry clothes, furniture and other essentials into the Hollows Quad last Friday.  In the video below, explore how The Hollows came to be and the philosophy behind this new style of living arrangement for undergraduates.
Have a story idea or news to share? Share it with Working@Duke