A New Home for All Things Duke
The Karsh Alumni and Visitors Center provides a stunning setting to welcome the community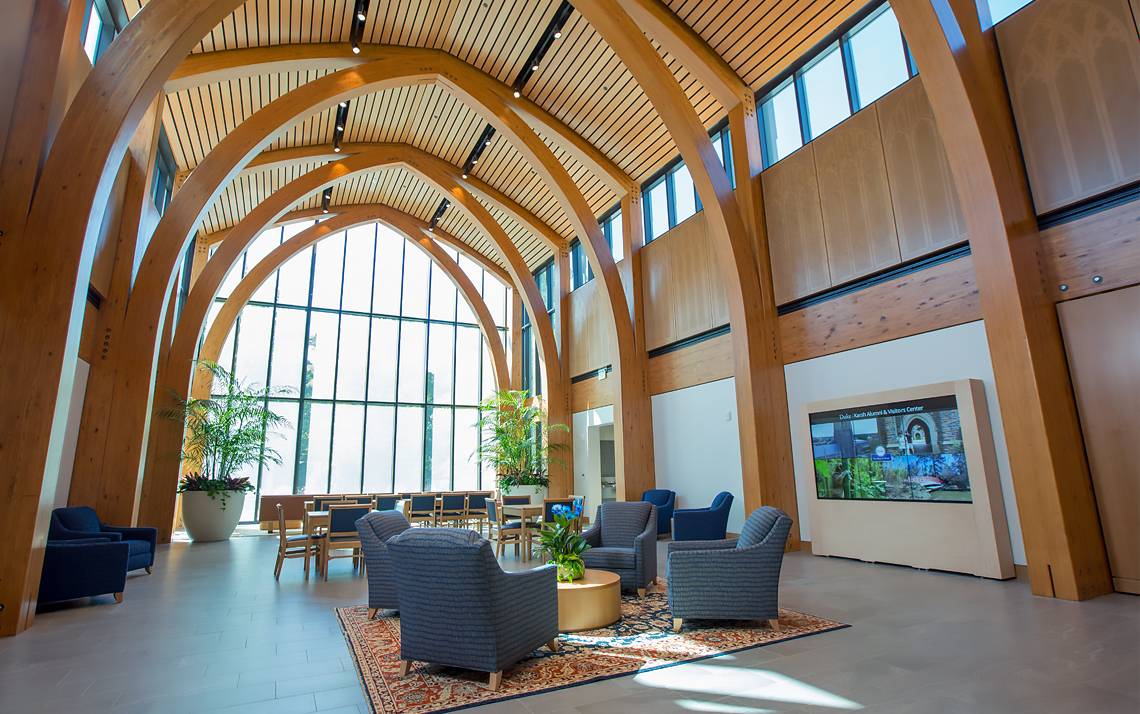 Like many of her colleagues in the Duke Alumni Association, Charlotte Timberlake has worked at the Karsh Alumni and Visitors Center since the building opened to employees in July.
The staff assistant said she was immediately taken by the new facility, which features a collection of old and new buildings situated around a grassy quad. And as the pace of life at the center, which celebrated its grand opening on Saturday, begins to pick up, the Duke community will get to know the place, too.
"I think they're going to be just like we are and say 'Wow, this is nice,'" said Timberlake, who has worked at Alumni Affairs for 40 years. "I think people are going to feel the same way we do."
For the past several decades, Alumni Affairs was based in the stone Forlines House at 614 Chapel Dr. In 2015, when a portion of the plaster ceiling collapsed on the second floor, staff moved to office space at the American Tobacco Campus. For the next few years, the group worked downtown while its new home rose at the corner of Chapel Drive and Duke University Road.
"We enjoyed American Tobacco, but we needed to be on campus," said Claudia Attarian, senior manager for Alumni Relations. "We were really excited to get back. It's satisfying to be closer to our colleagues and have students around all the time. You really have a sense that you're back at Duke."
While staff members from the Duke Alumni Association and the Duke Office of Undergraduate Admissions began occupying parts of the center in July, the finishing touches were still being put on the facility into September.
After a grand opening on Sept. 28, the Duke community can fully appreciate the facility, which is a university-wide resource.
The 48,000-square foot complex situated near the tree-lined intersection of Duke University Road and Chapel Drive, features new meeting and event spaces made of the wood, glass and stone. The two-story Forlines House has been renovated on the site. Built in 1930 of Duke stone, the house is a tangible reminder of Duke's past. 
Among the impressive features of the Karsh Alumni and Visitors Center are the Pitts Family Atrium, an airy space designed to echo the lines and soaring height of Duke University Chapel. It has walls of glass and reclaimed wood from Duke Forest. The walls are decorated by ornate pieces of the gutter system salvaged from Duke Chapel and designs in the acoustic paneling that sketch the outlines of the gothic-style windows on West Campus.
"Everyone that walks in here says that it just looks and feels so much like Duke," Attarian said.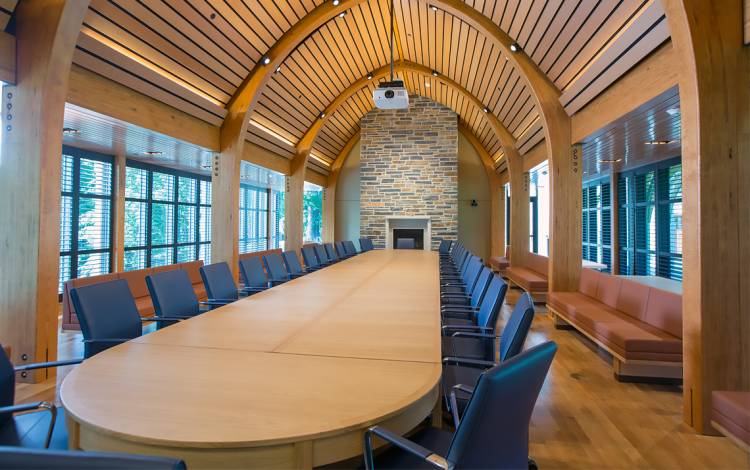 A few steps away is an event space that can hold dinners for nearly 200 guests and receptions and meetings for even larger crowds. Not far away is a state-of-the-art video wall that showcases Duke's history, its global reach and can generate personalized content for alumni.
There's also a large, glass-lined meeting space, the Moyle Board Room, with an English-made table that seat 30 and nearby benches that seat 28. The room features a Duke stone fireplace and shutters, which can easily turn the sunny open space into a private retreat.
Nearby, the Forlines House, which was built in 1930 and designed by the Office of Horace Trumbauer, has been refreshed as clusters of small downstairs offices have been replaced by welcoming lounges and meeting spaces for visitors to Alumni Affairs.
"The charge here was to return this house to as much of its original glory as possible," said Attarian, senior manager for Alumni Relations, whose office is in Forlines. "I think they did an amazing job."
While some Alumni Affairs staff work upstairs in the Forlines House, others work a few steps away in a subtle office building constructed of dark brick that echoes the color palette of Duke stone.
At the center of it all is an open quad, a versatile space meant to capture the feel of the lush lawns of West Campus and, for the staff who now call the facility home, another reminder of being back on campus.
"It definitely makes you feel connected to Duke," said Mark Wienants, Operations Coordinator for Regional Engagement for Duke Alumni Association. "And to be surrounded by architecture and materials that are distinctively Duke, that's very grounding and nice to be reminded of Duke in that way."
Watch this Karsh time-lapse video:
Have a story idea or news to share? Share it with Working@Duke.