Rent a Picnic Shelter at Duke Forest
Grill, play volleyball and connect with friends or colleagues
It's common to see attendees at the Department of Physics' annual welcome picnic in Duke Forest throwing a frisbee, playing volleyball, making homemade ice cream and attempting to walk on a tight rope suspended a foot above the ground.
During the activities around the Duke Forest picnic shelter, faculty, staff and students get to know each other.
"It is a wonderful kick-off to the new academic year in a relaxed environment," said Katherine Siler, graduate program coordinator for the Department of Physics.
The Department of Physics has hosted their welcome picnic at Duke Forest's R.L. Risgbee Shelter, one of the two shelters available for rent off of NC Highway 751. The shelters can be reserved in advance and rented by the Duke community and members of the public for $45 or $50.
The R.L. Risgbee Shelter (Gate F) holds 50 people and includes a grill, electricity, outhouse, volleyball court and firepit. The Bobby Ross, Jr. Memorial Shelter (Gate C) accommodates 50 to 75 people and features a Duke stone fireplace, grill and access to the nearby Shepherd Nature Trail. Neither site provides running water.
Items such as portable toilets, tents and catering facilities are allowed but must be identified in the reservation request. Duke Forest does not allow firewood to be brought into the forest; instead, they provide it for you.
"We love giving employees, students and community members the chance to be outside and to have little life celebrations with friends and family," said Blake Tedder, communications and engagement coordinator with the Duke Forest. "It is so wonderful to offer a place to take a break and do something completely analog: a picnic in the great outdoors."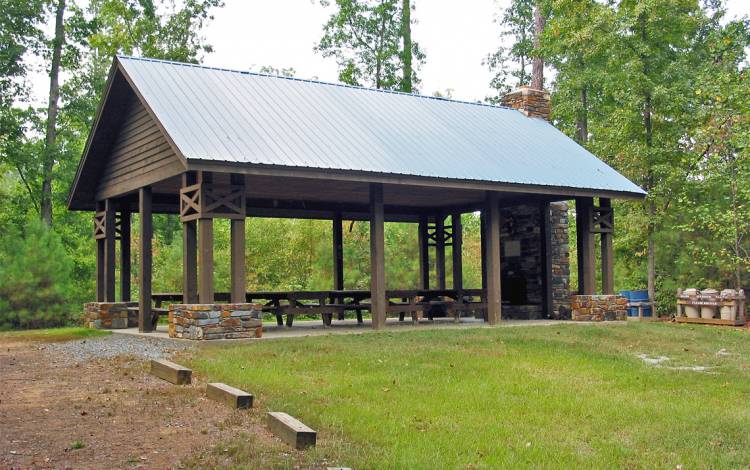 Kara Wegermann rented the Rigsbee Shelter for the Internal Medicine Residency Program's end-of-year picnic. About 30 people attended with children and dogs in tow. The group grilled hamburgers and hot dogs, played volleyball and made s'mores as the sun began to set.
"I think $50 is a total steal for the space," said Wegermann, chief resident for internal medicine at the Durham VA Medical Center. "It was a great time to just hang out with each other and celebrate the end of the academic year."
Have a story idea or news to share? Share it with Working@Duke.