How to Enjoy Duke Forest
While used for teaching and research, the 7,000-acre Duke Forest provides an opportunity for recreation and enjoyment of nature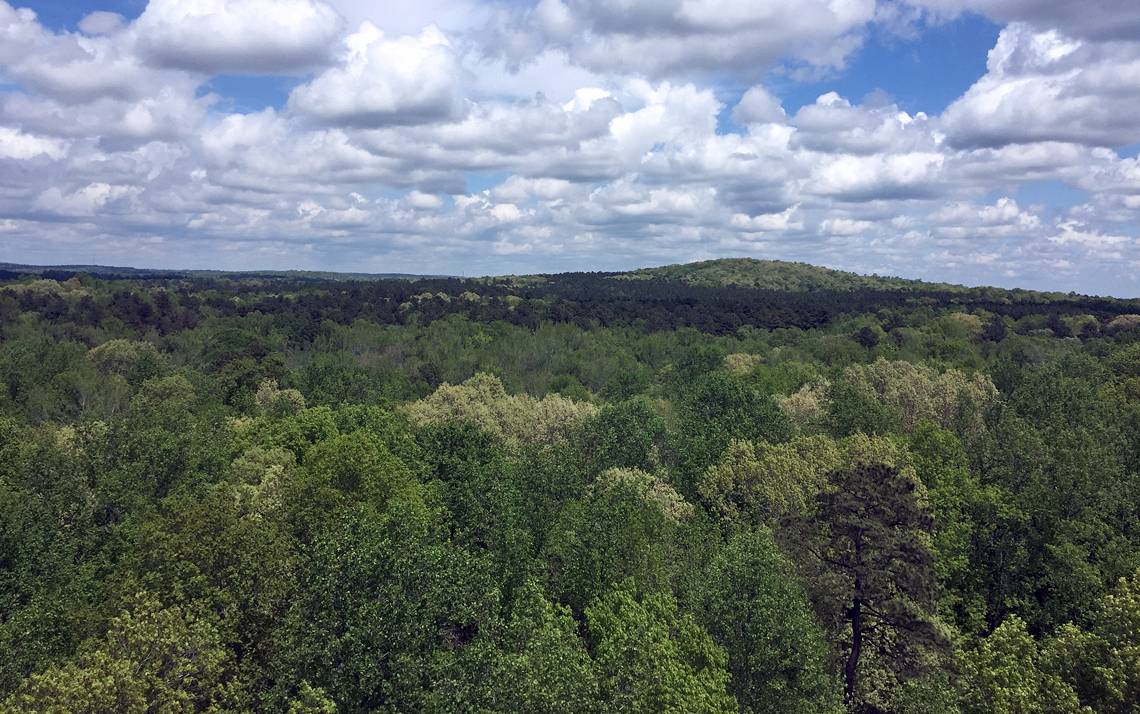 Decades ago, David Southern used to hike the trails along New Hope Creek in Duke Forest with his children. Sometimes he would even wade in the creek's clear water and carefully turn over rocks and grab a crayfish or two to show his kids.
He also explored the Forest and discovered chimneys of long-gone homes, old mills and even a stretch of cobblestone road that likely dates back to colonial times.
"We're having a tremendous population boom here right now, so to have a little bit of wilderness you can go to and be completely free of the traffic, where you can meditate and contemplate and just observe some beautiful land that's completely unspoiled, that's incredibly valuable," said Southern, a Duke University Press editor.
Covering 7,000 acres across three counties, Duke Forest has provided space for Duke students, staff and faculty to learn and conduct research since 1931. But the land also offers opportunities for Duke community members, like Southern, and many others to create lasting memories, get exercise or simply soak in the wonder of nature.
"The Forest is a chance to experience nature and to recreate in a natural setting. As long as these activities do not conflict with ongoing teaching, research, and management, it can be an oasis in our otherwise bustling and built-out urban environment.," said Sara Childs, Duke Forest director.
Here are some ways you can take advantage of the recreational resources of the Duke Forest.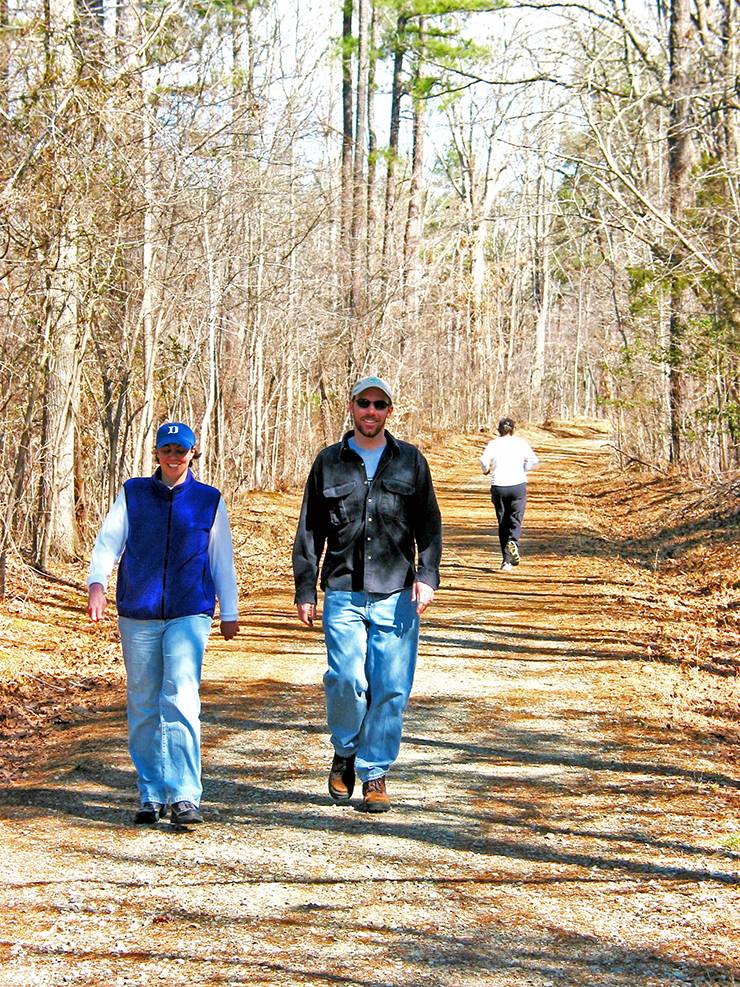 Hiking and running
Duke Forest features roughly 30 miles of gravel road and over 10 miles of dirt hiking trails.
If you're interested in hiking in Duke Forest, the Shepherd Nature Trail is a solid first step. The 0.8-mile interpretive trail, which was restored last year, offers an informative look at the Forest's history and ecology.
"If you've never been to the Forest and it feels a little daunting to explore, this trail is a short loop not far from campus with beautiful signage that introduces you to many aspects of the Duke Forest," Childs said.
While trails are marked with blue dots painted on trees, Childs strongly recommends purchasing a set of maps showing each of the Forest's divisions. The maps, which provide detailed information on the location of roads and trails authorized for recreation, and the gates used to access them, cost $8 and can be ordered online. Proceeds go to the Duke Forest Improvement Fund, which helps pay for, education and outreach programs and special projects that enhance protection of special natural areas and maintain recreational assets like trails and shelters and protects heritage areas.
Picnics and Receptions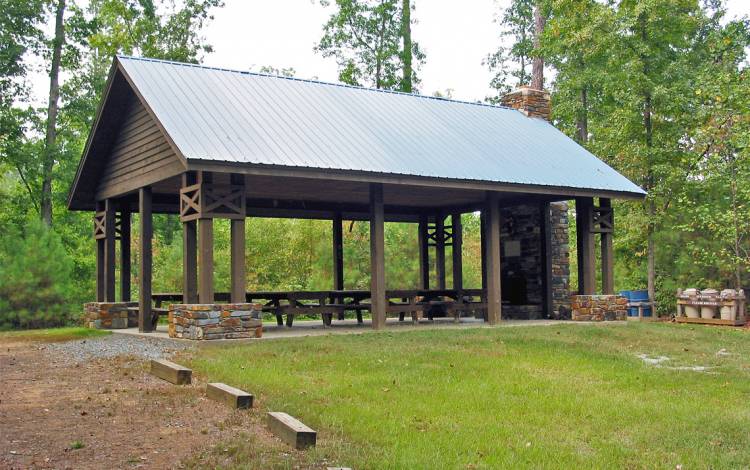 Duke Forest features two picnic shelters – both of which are off of NC Highway 751 – which can be reserved in advance and rented for $45 or $50 by members of the public.
The Bobby Ross, Jr. Memorial Shelter can accommodate 50-75 people and features a fireplace, grill and access to the nearby Shepherd Nature Trail. The R.L. Rigsbee Shelter holds 50 people and has a grill, electricity, an outhouse, a volleyball court and a fire ring.
Duke's Occupational & Environmental Safety Office (OESO) holds a staff meet-up at one of the shelters in Duke Forest each September. The event, which usually features a cookout and games, is a chance for staff to bond outside of the office.
"It's just nice to get outside of a building and enjoy the forest," said Jessica Keith, safety and health specialist for OESO.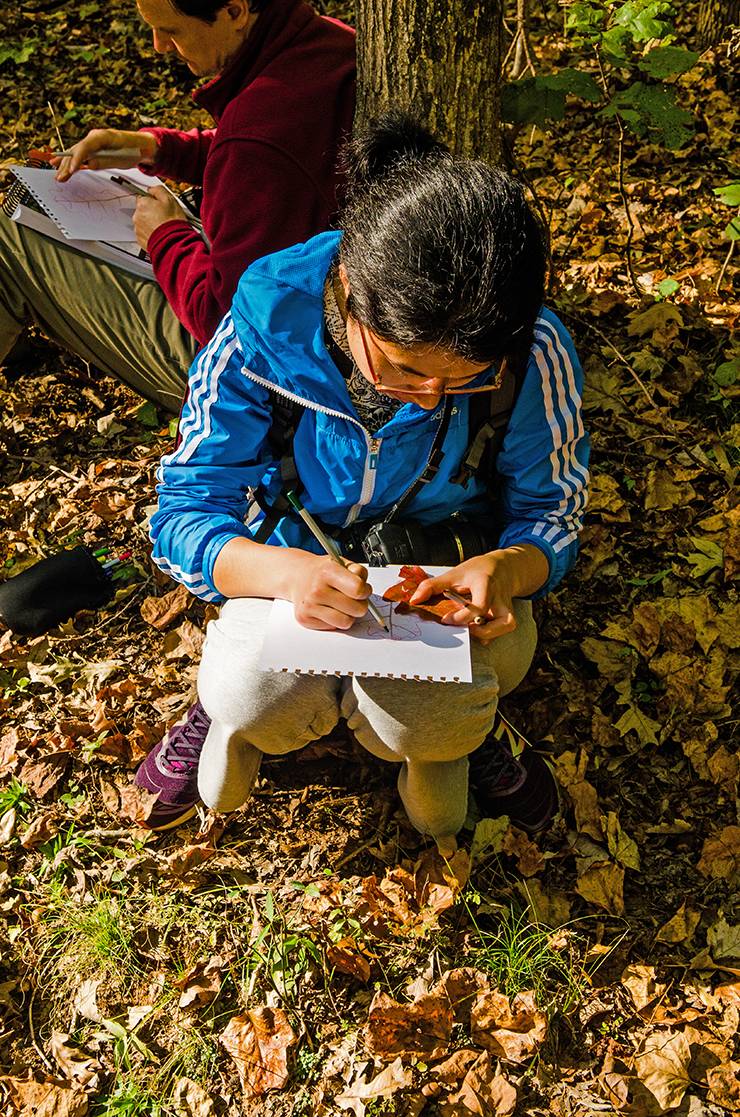 Studying Nature
No matter how you move through Duke Forest, be sure to soak in the wildlife that will envelop you. Duke Forest is home to around 900 species of plants – including 100 species of trees – as well as creatures such as wild turkeys, beavers and roughly 60 species of amphibians and reptiles.
"The Forest is such a great place for getting to know the unique individuals that make up our natural world," Childs said. "The biodiversity you encounter can be quite high compared to what you might find in a neighborhood park."
The Duke Forest Staff encourages visitors to share photos of whatever wildlife they encounter at the Forest's Facebook page or by email at dukeforest@duke.edu
Fishing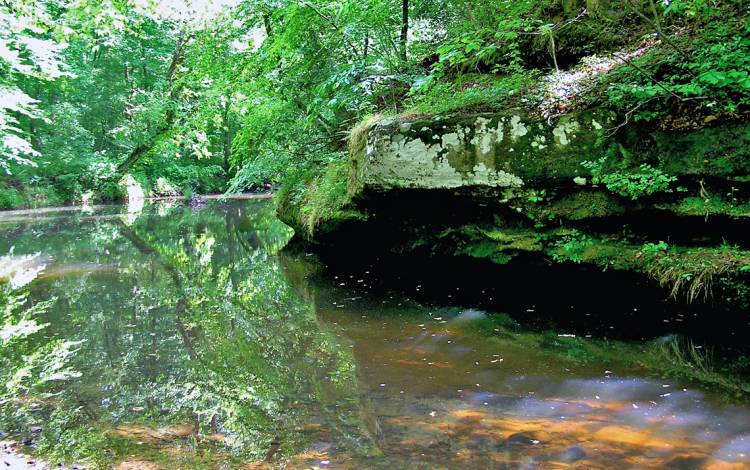 Fishing is allowed in the creeks and streams that pass through Duke Forest for anglers with a valid North Carolina fishing license. New Hope Creek, which cuts through the Korstian Division of the Forest is a popular spot.
Among the species of fish that can be found in the creek are sunfish, bluegill and small bass.
Mountain biking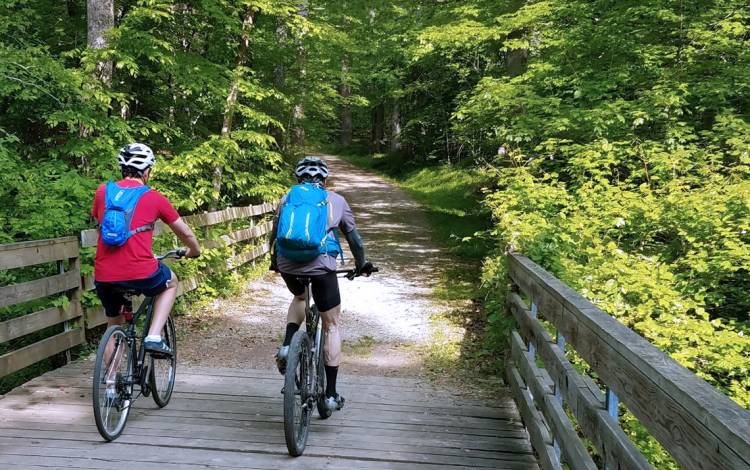 Biking is only allowed on the roughly 30 miles of graded road that cut through Duke Forest. Riding on the Forest's dirt foot trails is strictly forbidden.