Burst of Photos Starts #DukeTimeOff Contest
Staff and faculty submit about 60 photos of Memorial Day and other adventures
Chuck Givens had been to Walt Disney World, but it was the trip he took with his wife in late May that offered a prime spot to watch the nightly fireworks show at the park's Magic Kingdom.
The show begins each night around 9 p.m., and onlookers had staked out top viewing spots hours earlier. After Givens found a good vantage point, the show began and the sky exploded with color.
"It's an event," said Givens, staff assistant in the Office of the President.
Givens captured an image on his smartphone of the fireworks painting colored streaks across the darkness. The glowing castle and glowing haze give the scene an otherworldly feel. With the show coming on the last night of the couples' trip, the image served as a colorful final memory of the vacation.
"We haven't taken much time off, maybe a day here or there," Givens said. "So we'd banked our time and made sure it was worth it."
Givens is the first winner in the #DukeTimeOff photo campaign, which highlights the hobbies celebrations and summertime adventures of staff and faculty using Duke's time off benefit. For his efforts, Givens earned a Duke beach chair courtesy of Duke University Stores.
To be eligible for prizes this year, photos must be taken between May 22, 2019 and Aug. 9, 2019 and shared by current University and Health System staff and faculty during the same time period.
Check out some other submissions from the nearly 60 pictures Duke employees submitted during the first week of the contest.
Phate McCullough, a business intelligence analyst with Duke Health Technology Solutions, captured this photo of a wall of ice in Alaska's Glacier Bay during a recent cruise.
"You can hear when the ice breaks off, it sounds like an explosion," McCullough said.
In addition to a pass by Glacier Bay, the seven day trip, McCullough's second to Alaska, featured stops in the towns of Haines, Juneau and Ketchikan, as well as two days in Denali National Park and Preserve. There was also an opportunity to pull up crab pots and feast on Dungeness Crabs.
McCullough said she can't wait to get back to Alaska. That sentiment was made clearer when she returned home from Alaska – where high temperatures were in the 60s – to North Carolina's sweltering heat only to discover her home's air conditioning unit wasn't working.
"That was crazy," McCullough said with a laugh.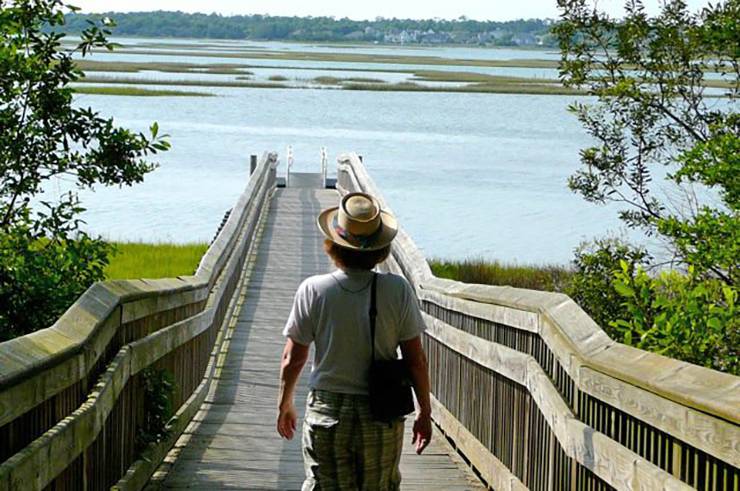 Marta Molina, staff assistant with the Blood and Marrow Transplantation Unit of Duke Pediatrics, got this picture during a trip to the southern end of Emerald Isle. She traveled to the area last week, where she said she enjoyed good food, glorious sea breezes and much-needed quiet.
"I recommend we all get away, not matter how difficult," Molina wrote. "It truly does reboot your body and soul."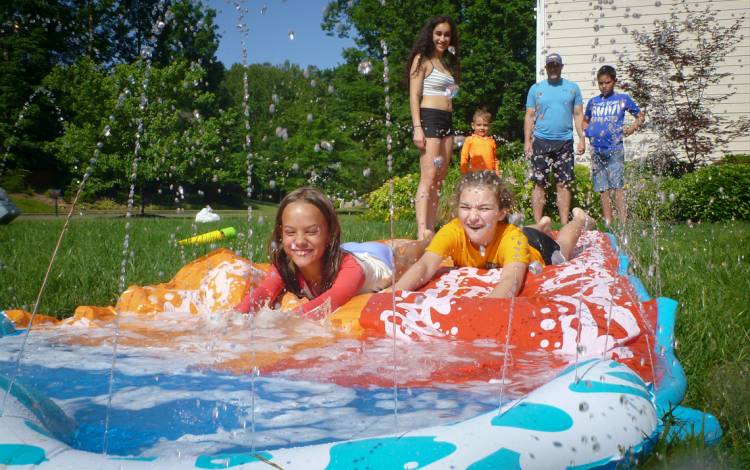 With the hectic period of commencement in the rear view, Jared Lazarus a photographer with the Office of News & Communications, enjoyed some summer fun with his sister and her family, who were visiting from Florida.
Lazarus caught this moment with a waterproof point-and-shoot camera during a Slip N' Slide race between his daughter and niece.
"The long weekend was an especially nice time to relax and enjoy family time," Lazarus wrote about the holiday weekend.
How to share your 2019 summer pictures:
Post a photo and be sure to include #DukeTimeOff on Twitter, Instagram or Facebook. Tell us what you're doing with your time away from work. Remember, use #DukeTimeOff so we see your snapshots on social media;
Post a photo and caption on the Working@Duke Facebook page: facebook.com/workingatduke;
Or, go to hr.duke.edu/DukeTimeOff2019 to upload your picture
During the campaign, the Working@Duke editorial team will award Duke-themed beach chairs, towels, water bottles and frisbees from Duke University Stores. Grand prizes awarded at the end of the campaign include:
One overnight stay with breakfast for two at the JB Duke Hotel
Dinner for two at the Washington Duke Inn's Fairview Dining Room
Have a story idea or news to share? Share it with Working@Duke