Share Your 2019 Summer Duke Time Off Photos
Prizes include a stay at JB Duke Hotel, dinner at the Washington Duke Inn and Duke Stores swag
Through mid-August, Working@Duke invites all Duke staff and faculty to share photos as part of the Duke Time Off campaign to highlight hobbies, fun times, and big and small summer adventures.
Last year, employees shared about 700 photos, including pictures of local fishing trips and overseas adventures to paddling on Falls Lake and sights at Yellowstone National Park.
To be eligible for prizes this year, photos must be taken between May 22, 2019 and Aug. 9, 2019 and shared by current University and Health System staff and faculty during the same time period. Deadline for submissions is 12 p.m. Aug. 9. Winners will be announced in late August.
How to share your 2019 summer pictures:
Post a photo and be sure to include #DukeTimeOff on Twitter, Instagram or Facebook. Tell us what you're doing with your time away from work. Remember, use #DukeTimeOff so we see your snapshots on social media;
Post a photo and caption on the Working@Duke Facebook page: facebook.com/workingatduke;
Or, go to hr.duke.edu/DukeTimeOff2019 to upload your picture
During the campaign, the Working@Duke editorial team will award Duke-themed beach chairs, towels, water bottles and frisbees from Duke University Stores. Grand prizes awarded at the end of the campaign include:
One overnight stay with breakfast for two at the JB Duke Hotel
Dinner for two at the Washington Duke Inn's Fairview Dining Room
Terry Nicotra, assistant director for Duke's Personal Assistance Service, said taking time off helps reduce stress.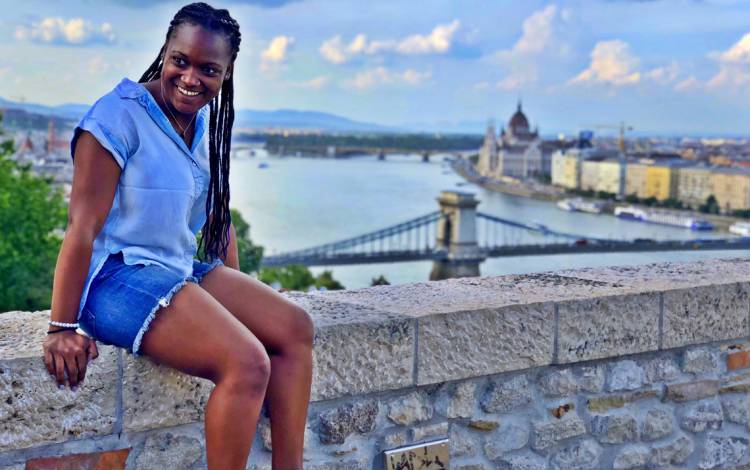 "Time off is important in order to maintain and be mindful of balance in our lives," he said. "It allows us to be mindful of our connections with loved ones and activities."
Tay-Lea Clayton uses her time off to catch up with loved ones. A physician assistant for Duke Medical Oncology, she traveled to Budapest, Hungary, for a week with friends last year. She loved the architecture and explored Budapest's Parliament Building and Chain Bridge.
"Time off also allows me to decompress from my normal work routine and enjoy valuable time with family and friends," she said. "When I return to work I'm happier and more attentive."
Have a story idea or news to share? Share it with Working@Duke.