Understanding Solar Power at Duke
Logic and logistics cloud prospects of powering campus with the sun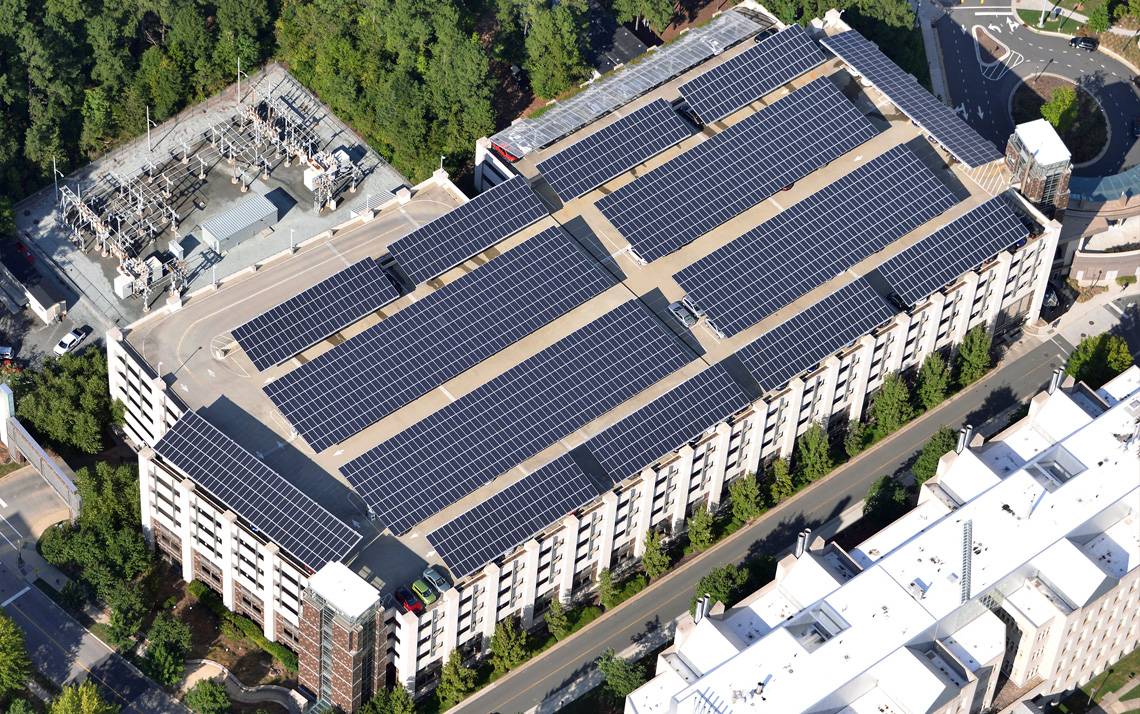 With rainwater collection tanks and an energy efficient heating system, the Duke Smart Home showcases plenty of sustainable technologies.
But when Duke senior Emilia Chojkiewicz, co-president of Duke Smart Home Club, shows visitors around the student residence, the solar panels attract the most attention.
"When you walk up, you see the solar panels right there," Chojkiewicz said. "For the general public, solar is an obvious sustainability choice."
While they create lots of conversation, the panels only account for around 15 percent of the energy needed to power the home. Likewise, for Duke University, which aims to be carbon neutral by 2024, solar energy is a small piece to a much larger emission-reduction equation.
"Duke's strategy is that, if we can do it, we're going to go after it," said Casey Collins, energy manager for Duke Facilities Management. "But we have to do it in a way that aligns with operational and economic realities."
While renewable energy sources will be prominent in the future, there are reasons why home-grown solar energy has yet to become a larger part of Duke's approach.
Using around 460,000 megawatt hours per year – roughly equivalent to 40,000 typical homes – Duke's energy needs are enormous. And right now, finding other ways to reduce that demand is a more effective and economical way to progress toward Duke's climate-neutrality goals than large, on-campus solar projects.
Duke recently replaced lights in 14 campus buildings with more efficient LEDs, saving around 3 million kilowatt hours per year. That project cost roughly the same as a solar system recently installed atop Research Drive Parking Garage but produced more than twice the energy savings.
"Our money is going further with LED retrofits than with renewable energy right now," Collins said.
While Duke produces solar energy at three sites on campus – the Research Drive Parking Garage, Grainger Hall and the Duke Smart Home – the overall contribution to Duke's energy portfolio is modest. The sites combine to produce a little more than one megawatt.
State regulations cap the amount of solar energy Duke can produce at five megawatts. If Duke produced as much as it could, it would still account for less than two percent of overall campus needs.
"On campus, you just can't make enough energy," Collins said.
Still, while solar energy is a minor piece of Duke's emission reduction plan now, its importance will grow. Duke is currently evaluating potential sites for future solar projects and looking for ways to connect them to the existing energy grid on campus.
"We hope to not just have a plan for what we can do now," Collins said. "We want it to be a living thing, so as situations change, we can adjust."
For more Duke sustainability news, visit sustainability.duke.edu