How to Make the Most out of Your Lunch Break
Learn why you shouldn't skip a midday break and get ideas on how to spend it
Lee Walls joined Duke in the summer of 2014, meaning that, for the first few months of his time here, the weather was nice.
When it came time for lunch, he started taking walks from his office in Trent Hall, where he's an IT analyst for multimedia-equipped classroom support for Duke Global Health Institute and Trinity College of Arts & Sciences, to the many pretty spots on West Campus.
"It originally just started with me getting out and learning campus," said Walls, who is often dispatched to various corners of campus to repair classroom technology. "It took me a little while to learn the lay of the land. But once I did, I just kind of kept on doing it."
Walls' habit is one that experts say more employees should embrace. While a 2018 survey said that 38 percent of American workers don't feel they can take lunch breaks at work, the same survey showed that 90 percent of workers who did felt more productive and focused for the rest of the day.
"If you don't allow your brain to rest, it has no ability to recharge itself for the things that you really need to be attentive to," said Lori Knutson, associate vice president for Health and Wellness for Duke University Health System. "It is a biological fact that we need to have a break in the middle of the day to recharge our brains through both rest and nutrition."
With that in mind, there are many ways to spend your break at Duke to enrich your mind and body. Check out some ideas for a midday respite.
Nourish Your Mind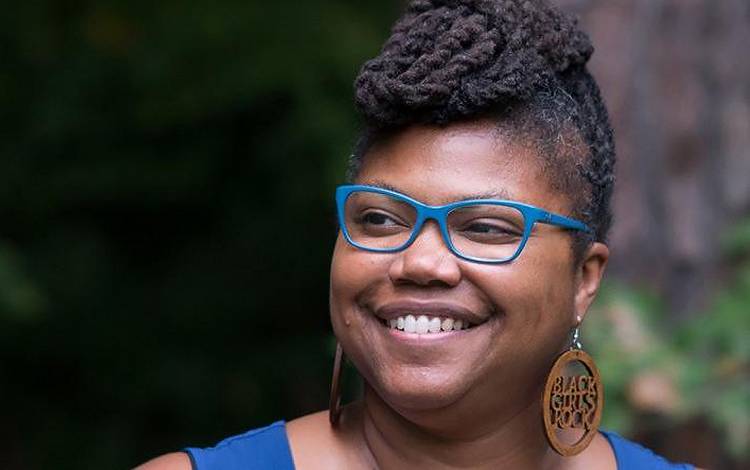 Patty Chase, digital content manager at Duke University Press, keeps a close watch on the Duke Event Calendar. She's a frequent visitor to the online schedules of the Forum for Scholars and Publics and many other areas of Duke that offer thought-provoking lunchtime presentations.
She recently attended a fascinating presentation at the Duke Divinity School on racial equity and another put on by the Forum for Scholars and Publics on sexual harassment in the restaurant industry.
"Sometimes I don't know anything about an event, but it just sounds interesting," Chase said. "So I'll just go over there and take a listen just to hear what people have to say. I feel very fortunate and grateful that I'm able to go to things that are close by and do enhance my understanding of what's happening at Duke and the life of the mind."
And some events have more practical applications. For instance, the Learn IT @ Lunch series, which is presented by the Duke Office of Information Technology, offers the Duke community free advice on popular topics relating to the digital life at Duke with topics ranging from social media to security and software.
"The Learn IT @ Lunch things are great because they give me pointers and tips for things that I could learn to do better," Chase said. "I use a lot of tools, but there's always value in learning more."
Move Your Body

Lee Walls said he often mixes up his walking routes on West campus so nothing gets stale.
With Duke Pond, Sarah P. Duke Gardens and West Campus itself offering a variety of terrain and scenery, good walks aren't hard to find.
"Most of the time, I'll end up walking from my office over to the Wallace Wade area and walk back," Walls said. "I can get over there in about 25 minutes and get back in about 25 minutes."
Walking is a welcome option for most Duke employees as the 1.5-mile loop around East Campus and the sidewalks of Campus Drive are popular walking routes for employees not based near West Campus.
For another way to get moving during your break is with yoga sessions around midday on Wednesdays and Thursdays at the Student Wellness Center on West Campus. Sessions are free and open to Duke students, staff and faculty.
Savor the Arts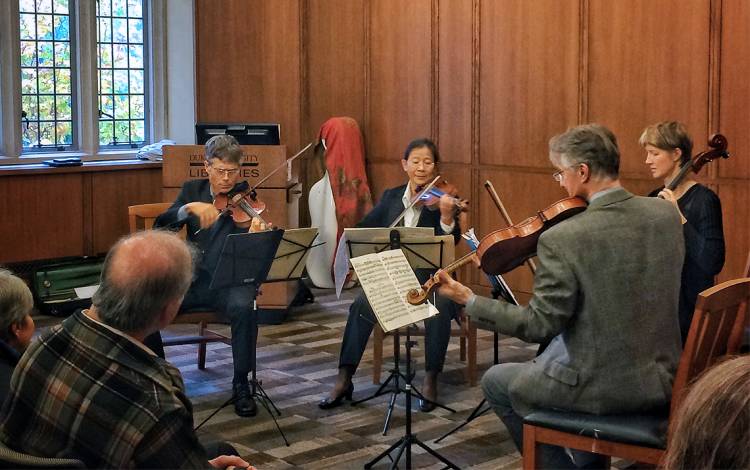 The Ciompi Quartet, Duke's four-piece all-faculty chamber music ensemble, will perform at noon Feb. 13 in the Holsti-Anderson Room in the Rubenstein Rare Book & Manuscript Library. Part of a series of performances by the group in the library, the event is open to the public and is one of many opportunities to experience music at Duke.
"I think that helps us all with our creativity to take a break," said Laura Cappelletti, director of information technology services at Duke University Libraries and a fan of the lunchtime cultural events found on campus. "I work in the IT field and the work is very detailed and difficult, so being able to go attend a concert and think about something different, outside of the realm of our day-to-day tasks is refreshing."
Admission to the Nasher Museum of Art is free for Duke students, staff and faculty, making lunchtime visits easy. And the museum's calendar features a variety of daytime events, such as specialized tours and opportunities to hear from artists.
The Rubenstein Arts Center's Ruby Fridays provide opportunities to hear from both professional artists and students about their work and enjoy the fruits of their creative process.
Have a story idea or news to share? Share it with Working@Duke.