Working While Walking – On a Treadmill
A treadmill meeting room is just one way employees fit in fitness during work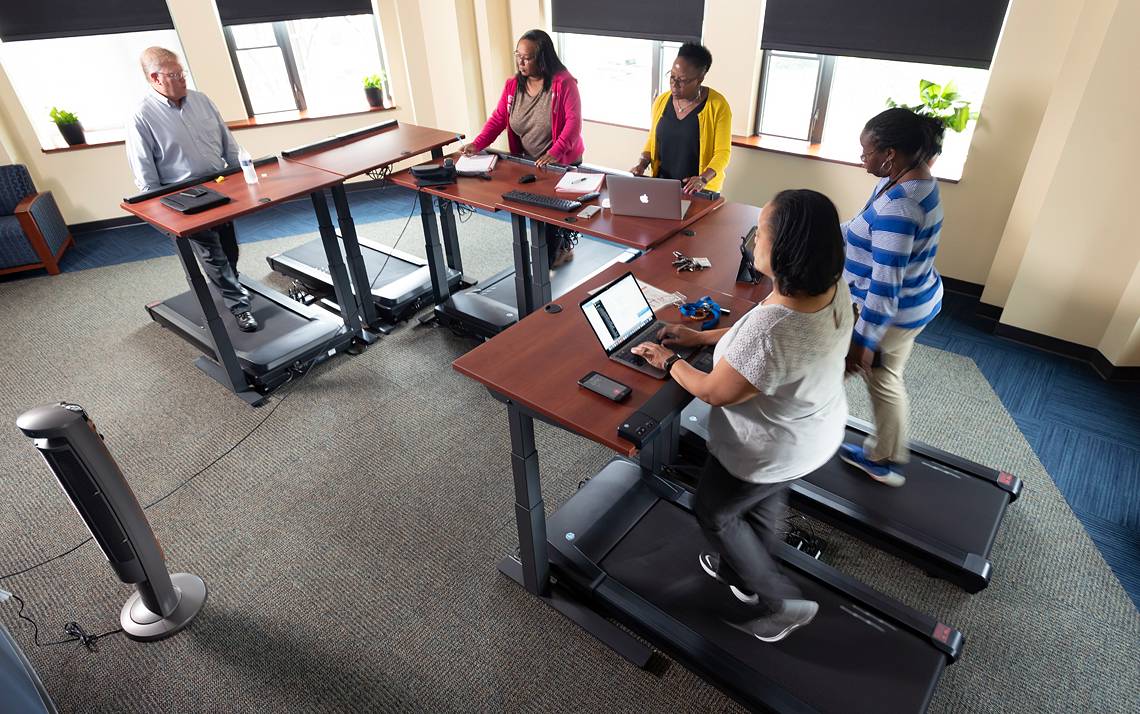 Five minutes into a meeting about a new learning management system, Tina Johnson reduced the speed on her treadmill, allowing her to go from a brisk to slow walk.
She grabbed a pen and paper and jotted notes on a work surface in front of her as four colleagues listened, talked and walked on treadmills in a conference room in Duke's School of Nursing.
"Walking helps me stay more alert in meetings," said Johnson, instructional technology specialist with the School of Nursing. "I feel energized and can think clearer."
Over the summer, the School of Nursing installed six treadmills to promote an alternative to stationary meetings. The machines are arranged in a U-shape and face a monitor with standard conference room A/V functionality. 
David Bowersox, associate dean for finance and administration, said the School of Nursing added the feature as part of its strategic plan, which includes enhancing employee wellness. 
"People are so busy right now trying to fit in work, family, wellness and everything else," said Bowersox, a member of the School of Nursing's Wellness Committee. "If you can have a meeting a day where you're walking an hour, that's a great thing."
Here's how some employees find ways to practice office fitness.
Stretch It Out
The tables and chairs in Perkins Library room 217 were lined to a side as a dozen Duke employees switched between poses during a lunchtime yoga class. 
The weekly session is part of "Remote Fitness Classes," instructor-led workouts offered by LIVE FOR LIFE, Duke's employee wellness program. Fitness classes like yoga, Zumba and Pilates are available to groups across the University and Health System. Sessions last 10 weeks; each class is $3 to $4. 
Elise Mueller, senior consultant for Duke Learning Innovation, attends yoga class each week. 
"Having it right at my front door is perfect," Mueller said. "I appreciate Duke and the library's willingness to support the mental and physical health of their employees."
Visit hr.duke.edu/remotefitness to arrange a class. 
Walk with Friends
There's a moment on Stephanie Galloway's walk when the pace for her and four coworkers drops as they reach a utility box. The box marks the turnaround point for the two-mile walk outside their University Tower office. 
"We get work done on a lot of these walks," said Galloway, physician marketing specialist for Duke Health. "The fresh air helps us talk through problems." 
Galloway started the walking routine earlier this year when she joined a team for Duke's Get Moving Challenge, the annual fitness competition. 
Get moving this January: hr.duke.edu/getmoving