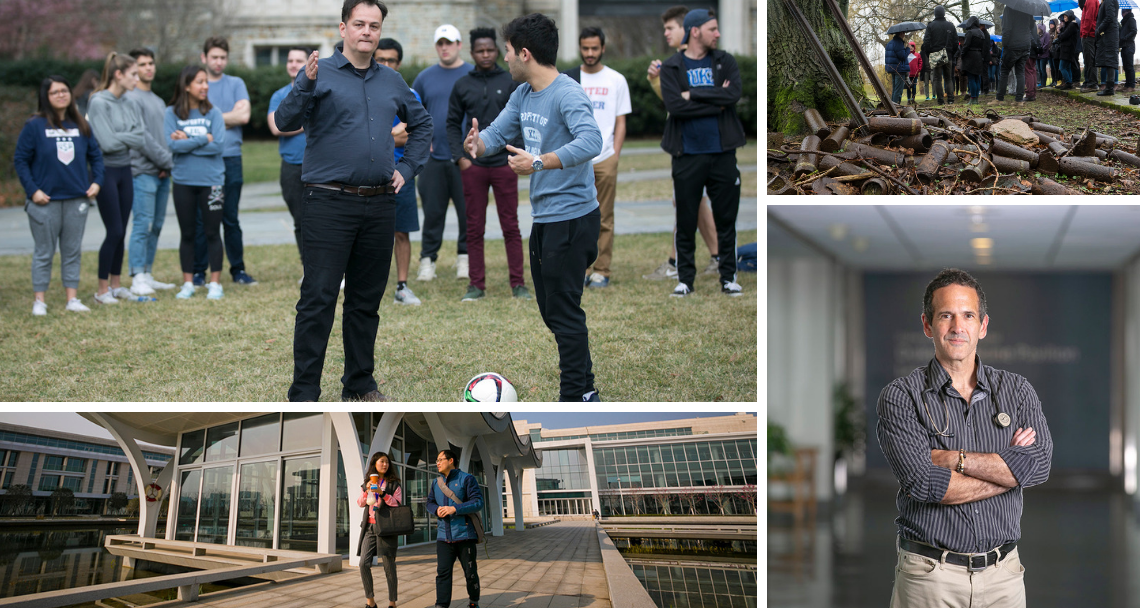 Duke is filled with teachers and learning experiences we wish we had while in college. Here are some of the best classroom learning stories of 2018:
Using the 'Beautiful Game' to Study Politics, History and Culture
Soccer isn't just a metaphor. In a class taught in four languages, Laurent Dubois and others use the sport as a prism to better understand colonialism, race relations and other large issues. Read More.
A New Way to Prepare Future Physicians
Dr. Ray Barfield almost walked away from medicine. Now he wants to prevent doctor burnout – and to reshape pre-medical education. Read More.
Puppet Mastery
Students challenge themselves to explore new artistic skills and ways of storytelling by diving into an ancient art form. Read More.
Why You Didn't Do That Thing You Think You Did
You say you got that scar from a childhood skating accident. Are you sure? Philosopher Felipe De Brigard explores why it's so hard for us to keep our memories honest. Read More.
The Duke Kunshan Difference
Given the opportunity to build a new faculty and curriculum from scratch, the leaders of Duke Kunshan University took care to look toward the needs of the future. Read More.
Learning on the Battlefield
What was it like to crawl out of the trenches at the Somme and cross a mile of flat land covered with barbed wire and dead bodies while under constant artillery and machine gun fire? Who were the people who did that and who ordered them? For answers, Peter Feaver took his American Grand Strategy class on a "staff ride" across the battlefields of World War I. Read More.
Supporting Refugee Learners in Berlin
For young refugees, finding safety in a foreign country is just a start. They need a future. In Berlin, many young refugees are finding just that through an online learning program involving Duke students. Read More.
Inspiring Engineers: A New First Year Course Gets Students Deep Into Design
An innovative course puts new Pratt students in teams to design, prototype and deliver solutions to meet real community needs. Read More.
The Stranger Career of a Race Scholar
For 25 years, acclaimed sociologist Eduardo Bonilla-Silva has in his classes and books such as "Racism Without Racists" inspired students with his studies of structural inequalities. But first he had to convince his academic colleagues. Read More.