How to Eat Healthy on a Budget
Plan meals in advance, swap beans for meat and freeze fresh produce
During a healthy shopping tour at a local grocery store, Lisa Martin asked a group of Duke employees to select a box of cereal they typically purchase.
Among the boxes collected: Quaker Oatmeal Squares, Raisin Bran and Cheerios.
No one picked a store-brand cereal. That's when Martin, a dietician with LIVE FOR LIFE, Duke's employee wellness program, delivered the kicker.
"There's almost never a nutritional difference between name brand and store brand," Martin said. "You're generally paying extra because of the name on the box."
Martin led the tour as part of LIVE FOR LIFE's new Grocery Store Tour Series to supply staff and faculty with information and advice to help them become more savvy and healthy shoppers. The tours, which range in theme from shopping on a budget to making educated choices, are held each month as part of the Healthy Duke initiative.
"This is a great way for Duke employees to discover small adjustments they can make to eat better and save money," said Esther Granville, manager of health coaching and nutrition programs for LIVE FOR LIFE.
Here are four ways to shop healthy on a budget:
Save money with a plan
Jodi Belanger was always a little intimidated by meal planning.
She didn't know how much food to get or how long prepping meals would take. So, Belanger signed up for a grocery store tour with LIVE FOR LIFE to get over the hurdle.
"I often went to the grocery store after work when I was a little bit tired," said Belanger, administrative assistant to the chair of Duke Cell Biology. "I would derail and buy a lot of pre-prepped food. It's good in a pinch but not super healthy."
On the tour, Belanger learned about the mobile app "Mealime," which supplies meal plans based on dietary needs and provides a grocery list based on the number of people you are feeding. Since the tour, Belanger has used Mealime to plan meals in advance and shops on Sundays.
"I realized that when I went into the grocery without a plan I spent a lot more money," Belanger said. "I now stick to my list and stay away from impulse purchases."
Keep produce longer
Tobi Pledger would hesitate to buy containers of mixed greens at the grocery store. She and her husband never seem to eat the entire container before the greens to start to wilt. During the grocery tour, she learned a trick.
Place a paper towel in the container to absorb moisture.
"Usually, the greens started getting slimy before we could eat even half the container," said Pledger, staff assistant for Duke Department of Pediatrics. "The paper towel trick affords my husband and me a few extra days to eat our greens."
Karen Bean, a dietician with LIVE FOR LIFE and Duke Diet and Fitness Center, recommends freezing fruit to preserve it. Bean will buy berries when they are in season, and cheaper, then store half in the freezer.
"If you freeze produce at their peak, they retain their taste pretty well" she said. "Freezing doesn't decrease the nutritional value."
Bean noted that buying frozen fruits and vegetables is preferable to canned goods because they don't have added salt or sugar.
Utilize unit price
Esther Granville goes straight to the unit price when deciding how much oatmeal and coffee to buy at the grocery store.
The unit price, typically found next to the actual cost, shows an item's price based on cost per ounce, pound or other measurement.
"It's difficult to make out what the more expensive item is without looking at the unit price," said Granville, manager of health coaching and nutrition programs for LIVE FOR LIFE. "Typically, it's cheaper to buy in bulk, so think about what items you can buy in larger quantities that won't expire."
Replace meat with beans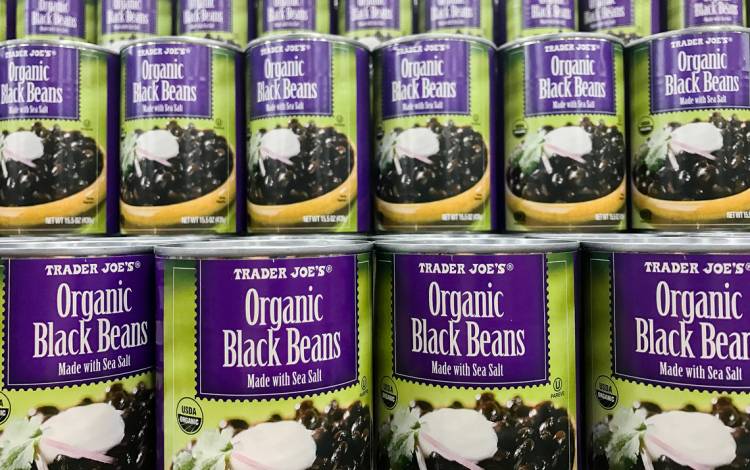 Karen Bean's husband has a phrase he's fond of at dinner: "This would be good with chicken in it."
His saying has become a running joke in the family because Bean prepares a meatless dinner twice a week. Generally, she replaces the meat with low-sodium options of chickpeas, kidney beans or other types of beans.
"Beans are economical and have a nice amount of fiber and protein," she said. "Plus, there's a large variety where you can select one with a flavor you like the most."
Want to go on a LIVE FOR LIFE grocery store tour? Send an email to Esther Granville, manager of nutrition and health coaching programs for LIVE FOR LIFE. Space is limited.
Got a story to share about your health and fitness efforts? Share your news with Working@Duke.