Duke in Pics: Prepping Campus for the Class of 2022
Some scenes of the work that's gone into getting Duke ready for student move in
The sidewalks of West Campus were mostly empty as the late-summer, midday heat began to settle in on a recent Thursday. Breaking the relative quiet was the trio of Duke Facilities Management staff members Kenny Blanding, Rodolph Rojas and Julian Sidberry, who moved from oak tree to oak tree, spreading mulch beneath the tree's thick trunks.
"For us, it's crunch time," Sidberry said
It was roughly a week before students returned to campus to start the academic year, so Sidberry and his colleagues had plenty of work to do. And they weren't alone. Across Duke University, staff members in several areas have spent the past few weeks prepping campus for students who arrive this week.
For Bryan Hooks, director of landscape services for Duke Facilities Management, this week represents the deadline that shapes most of his unit's summer. Making sure the grass and plantings across campus are beautiful for this week – while also accounting for several outdoor events and the unpredictability of summer weather – meant Hooks and his crew have to be extremely organized.
"We make our plan of attack based on when we can get in places, when things have to get done and the schedule of events" Hooks said. "There's a lot of coordination. Everything's got to be ready for move-in."
Here are some scenes of the work that's gone into getting Duke ready for this week.
Planting sod at Crowell Quad
For roughly a year, Crowell Quad on West Campus was closed while undergoing a significant renovation. The complex reopens for students this fall. But one of the final tasks involved in getting it ready for move-in was to install 12 pallets of sod in the Crowell Quad courtyard.
"Getting to this point, where you're putting the finishing touches on a project is extremely satisfying," said Dudley Willis, assistant director of project management for Duke Facilities Management. "We're very happy to get this done."
Replacing carpet in Perkins Library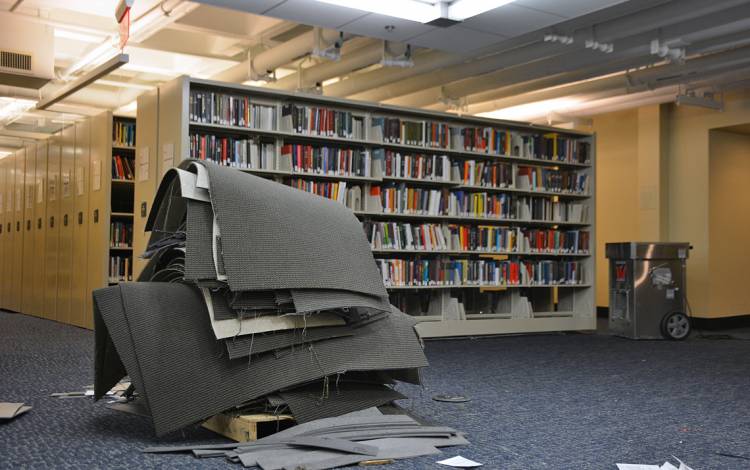 Perkins Library has been remodeling its lowest level since a water main break forced the floor to close in April. Brighter lighting has been installed, the carpet was replaced and the walls were repainted on Lower Level 2 this summer.
David Burroughs, senior material control supervisor for Duke Libraries, said when the break happened, the floor was covered in one to two inches of water in minutes.
"The water was just rushing out," he said. "We were lucky someone caught it quickly."
Lighting in the stacks
For the Duke Facilities Management's general maintenance mechanics, the weeks before students arrive is when they tend to repairs that may be trickier to address once students arrive.
Among the tasks for Chip Meade and Rickie Baker on a recent day was fixing a few malfunctioning lights above the stacks in the Goodson Law Library.
"Once the students get back, it'll be harder to get in here without disturbing anyone," Meade said.
Prepping for a picnic with 6,500 guests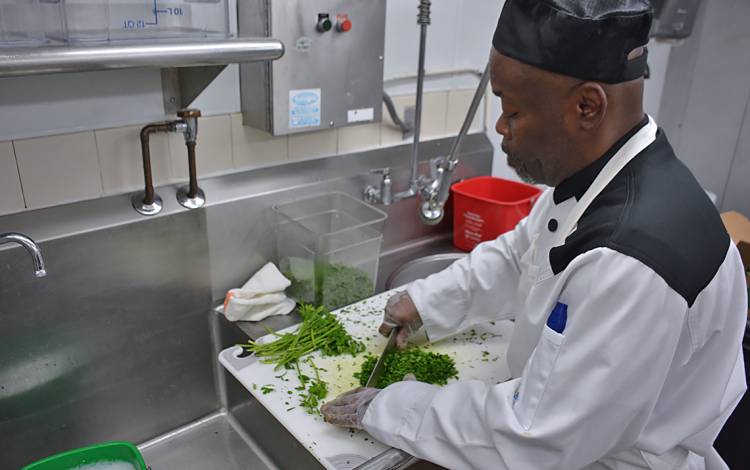 Dining Services is preparing to feed about 6,500 people on Tuesday's picnic for first-year students and their families. The menu, which features food exclusively from North Carolina, includes: barbecue, hamburgers, fried catfish, watermelon, blueberry shortcake and more.
"We're itchy to get started," said Mark Turner, executive chef for Dining Services. "We're ready to go and welcome back the students."
Handing out keys to a new home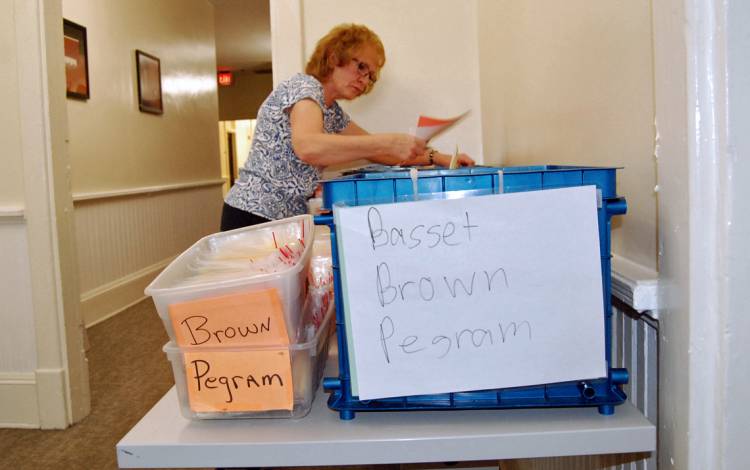 For the past six years, Sherry Reynolds, a staff assistant with Residential Life, has handed out keys to students arriving on East Campus. Late last week, the rush began with international student arrivals.
After checking students' names, retrieving keys and forms in need of signing, Reynolds went over some move-in protocol and then sent each student on their way toward their new home.
"You're excited for them," Reynolds said. "They worked very hard to get here. I love this part."
Welcoming the new class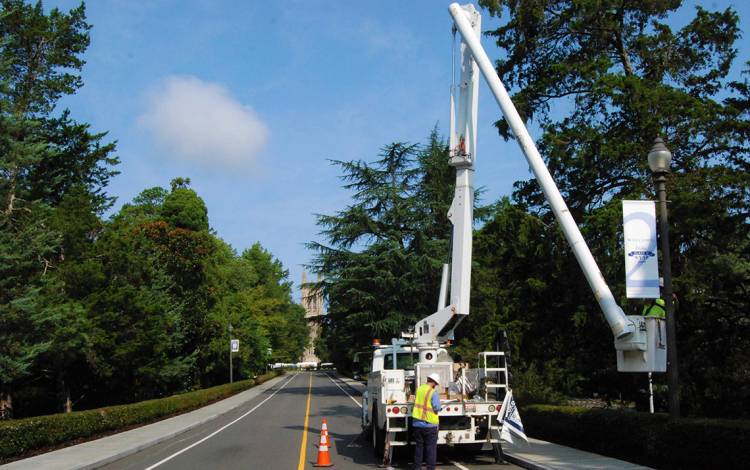 On Monday morning, some final touches were put on Duke's campus as 20 banners welcoming the Class of 2022 were hung from the light poles that line Campus and Chapel drives. Christian Solis, left, and Steve Sanford, right, members of Duke Facilities Management's High Voltage team, handled the work.