[UPDATED 7/27] Phail Wynn, a Tireless Advocate for Durham and Duke, Dies Tuesday
Phail Wynn, whose nearly 40 years of combined service as Duke's first vice president for Durham and Regional Affairs and president of Durham Technical Community College greatly benefitted his adopted hometown, died suddenly of natural causes Tuesday at his home. He was 70.
Wynn retired last month after representing Duke for more than 10 years in its relationship with Durham and the surrounding region. Duke has lowered its flag to half-staff in his memory. His funeral will be Monday and will be streamed live.
"Phail was a remarkable, generous and wise soul, whose energy made us all feel like he would live forever," said Duke President Vincent Price. "He was committed to this community up to the very end of his tenure as our first vice president for Durham and regional affairs, and his legacy at Duke and in Durham will be felt for a long time to come."
In a Duke Today story in January, former longtime Durham Mayor Bill Bell said of Wynn:
"He and his staff were great in being accessible and involved in activities of the Durham community, such as affordable housing, Habitat for Humanity, Gang Reduction Strategy Steering Committee and certain investments in the city's neighborhood revitalization efforts."

In the same story, Durham City Manager Tom Bonfield, with whom Wynn worked to boost local bus service, among other projects, credited Wynn with helping to improve Durham neighborhoods.
"Phail Wynn's unique knowledge and relationships in Durham, coupled with his significant academic administration background, has greatly benefited the Office of Durham and Regional Affairs and advanced the mission and goals of the Duke-Durham Neighborhood Partnership," Bonfield said. "The city and I personally appreciate his passion for Durham and the close working relationship he has fostered with us over the last 10 years."
An Oklahoma native, Wynn received his undergraduate degree from the University of Oklahoma, and then served six years as an officer in the U.S. Army, including a combat tour in Vietnam. He earned his master's and Ph.D. degrees from North Carolina State University and his MBA from the Kenan-Flagler School of Business at the University of North Carolina in Chapel Hill. He was inducted into Beta Gamma Sigma, the national business honor society.
When Wynn was named president of Durham Tech in 1980, he became the first African-American community college president in the North Carolina system. Under his leadership, Durham Tech became known for its training and instruction in various high-technology areas.
"Phail Wynn's impact on this community, through his service at Duke and at Durham Tech, cannot be overstated," Bill Ingram, president of Durham Tech, said in the Duke Today story.
"Phail was a remarkable, generous and wise soul, whose energy made us all feel like he would live forever."
-- Vincent Price
"In his work at those two institutions he has touched the lives of countless thousands of Durham and area residents -- from the drop-out who received a second chance with a high school equivalency credential to the person who realized a life-long ambition to become a registered nurse; from the elementary school student whose reading level soared because of a Duke tutor to the clients of a local nonprofit whose executive staff benefitted from Duke's support and guidance."
At the time of his retirement, Wynn was a member of the board of directors of the Triangle Community Foundation, a member of the board of governors of Research Triangle Institute and a member of the corporate board of directors of SunTrust Banks and N.C. Mutual Life Insurance Company.
He was a founding trustee of the Kenan Institute for Engineering, Technology and Science at N.C. State and also served on the board of directors of the Research Triangle Foundation of North Carolina and The Forest at Duke.
Wynn is also credited with helping develop leaders in the community, including at the Triangle Community Foundation, which supports nonprofit organizations and provides scholarships in Durham, Orange and Wake counties.
Wynn "worked tirelessly throughout his career to ensure that the Durham nonprofit community works together to achieve successful outcomes for all of its residents," said Lori O'Keefe, president and CEO of the foundation, in the Duke Today story. Wynn had been chair of the foundation and led the nonprofit for 18 months during a transition period.
"He is the ultimate leader and a mentor for everyone who works with him -- sharing his dedication, knowledge and passion for our community. It would take me a year to describe all he's done for me and for Triangle Community Foundation."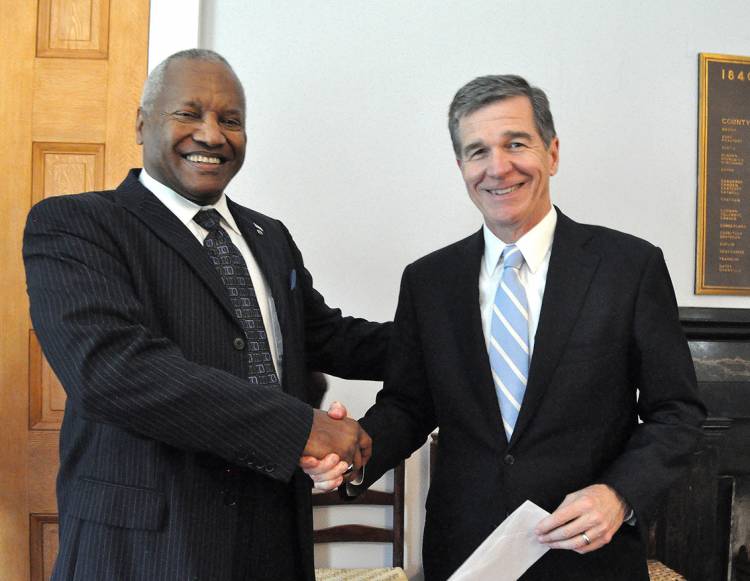 A report released in late 2017, "Our First 10 Years," highlighted many of Wynn's achievements during his time at Duke, including improved relations with the city and county, programs that helped public school students, home-buying assistance and even hybrid bus service.
When asked to reflect on his time at Duke, Wynn told Duke Today: "What I'm overall most proud of is reestablishing trust between Duke and all the various constituencies."
Wynn is survived by his mother, Valree Fletcher Wynn, his wife, Peggy, and son, This article will be updated as new information becomes available.
A funeral for Phail Wynn will be held at 11 a.m. Monday, July 30, in Duke University Chapel. Doors to the chapel will open at 10 a.m. Details about parking and traffic can be found here.