After Several Tries, Phail Wynn Set To Retire
Vice president of Duke's Office of Durham and Regional Affairs stepping down after spring semester
Two days after he retired from three decades at Durham Tech, 28 of those years as president, Phail Wynn started a job as vice president of Duke's Office of Durham and Regional Affairs, in part to help the university and Durham mend their relationship after the lacrosse scandal.
That stint, which began in 2008, was to last five years.
"After the first five years, (former) President (Richard) Brodhead and I looked over things and I felt there was still more work to be done," says Wynn, a former Army Special Forces officer and Vietnam veteran.
So Wynn agreed to stay on until the end of 2017.
But once again, retirement would have to wait.
"President (Vincent) Price asked me to stay until the end of this academic year," Wynn says, and he agreed to remain at Duke until June 30.
Now 70 with a desire to travel, work on his golf game, "resume dabbling in piano" and dust off some 15 years of accumulated reading, the Harley-riding, good-humored Wynn is retiring at the end of the spring semester.
Improved relations with the city and county, programs that help public school students, home-buying assistance and even hybrid bus service are among the highlights of Wynn's accomplishments. They are highlighted in a new report, "Our First 10 Years."
"I think as I walk away, what I'm overall most proud of is reestablishing trust between Duke and all the various constituencies," Wynn says.
Former Durham Mayor Bill Bell credits Wynn with improving Duke-Durham relations.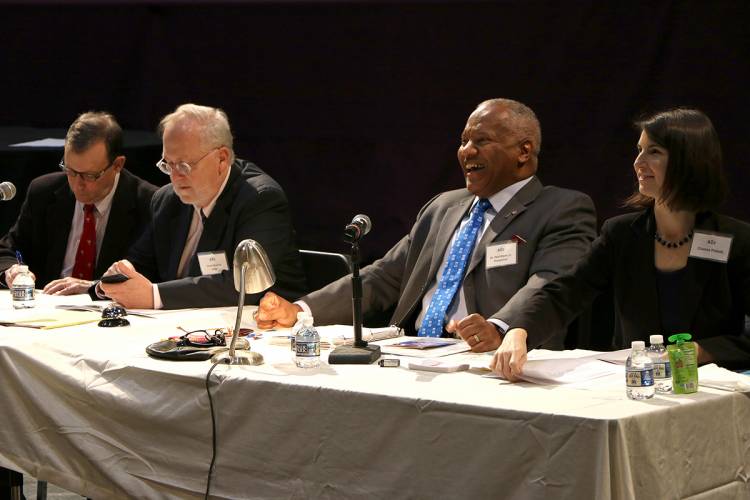 "He and his staff were great in being accessible and involved in activities of the Durham community, such as affordable housing, Habitat for Humanity, Gang Reduction Strategy Steering Committee and certain investments in the city's neighborhood revitalization efforts," Bell says.
Wynn achieved this in part by holding regular meetings with the city manager and because of his access to the Duke president, "where appropriate issues could be communicated directly to the president's attention," Bell says.
Durham City Manager Tom Bonfield, with whom Wynn worked to boost local bus service, among other projects, credits Wynn with helping to improve Durham neighborhoods.
"Phail Wynn's unique knowledge and relationships in Durham, coupled with his significant academic administration background, has greatly benefited the Office of Durham and Regional Affairs and advanced the mission and goals of the Duke-Durham Neighborhood Partnership," Bonfield says. "The city and I personally appreciate his passion for Durham and the close working relationship he has fostered with us over the last 10 years."
Wynn says the groundwork for this success stems from spending his first year at Duke meeting with community leaders, school board members, city and county government and civic leaders, and "doing patient, emphatic listening to reconnect to them and listen to their concerns about Duke and about Durham."
The priorities he heard over and over were the need to help youth, K-12 education and economic development.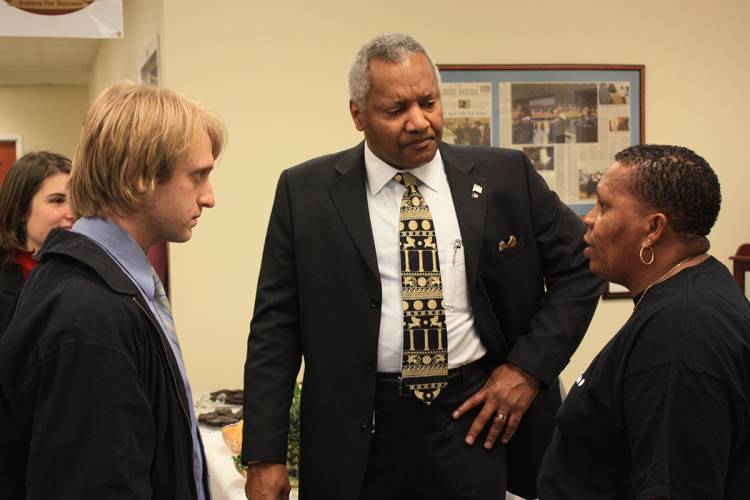 Local leaders say he's achieved all three – and more.
"As a direct result of Dr. Wynn's efforts we have successfully implemented a One Book One School initiative in which the entire school community reads and discusses one book in order to not only strengthen reading skills, but to strengthen a sense of togetherness and community," says Kecia Leathers Rogers, principal of Rogers-Herr Middle School in Durham.
"In addition, over the years our partnership with Duke has resulted in the implementation of a boys mentoring program, professional development opportunities for our teachers, numerous teacher appreciation initiatives and more."
An Oklahoma native, Wynn received his undergraduate degree from the University of Oklahoma, and then served six years as an officer in the U.S. Army, including a combat tour in Vietnam. He earned his master's and Ph.D. degrees from North Carolina State University and his MBA from the Kenan-Flagler School of Business at the University of North Carolina in Chapel Hill. He was inducted into Beta Gamma Sigma, the national business honor society.
When Wynn was named president of Durham Technical Community College in 1980, he became the first African-American community college president in the North Carolina system. Under his leadership, Durham Tech became known for its training and instruction in various high-technology areas.
Today, Wynn is a member of the board of directors of the Triangle Community Foundation, a member of the board of governors of Research Triangle Institute and a member of the corporate board of directors of SunTrust Banks and N.C. Mutual Life Insurance Company.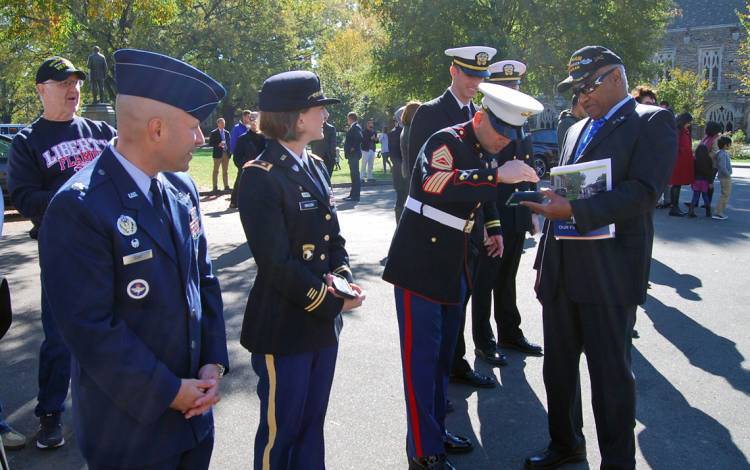 He is a founding trustee of the Kenan Institute for Engineering, Technology and Science at N.C. State and also serves on the board of directors of the Research Triangle Foundation of North Carolina and The Forest at Duke.
"Phail Wynn's impact on this community, through his service at Duke and at Durham Tech, cannot be overstated," says Bill Ingram, president of Durham Tech.
"In his work at those two institutions he has touched the lives of countless thousands of Durham and area residents -- from the drop-out who received a second chance with a high school equivalency credential to the person who realized a life-long ambition to become a registered nurse; from the elementary school student whose reading level soared because of a Duke tutor to the clients of a local nonprofit whose executive staff benefitted from Duke's support and guidance."
Ingram says one of Wynn's many strengths is that "he holds himself and everyone around him to a high standard of excellence. Mediocre is not a word in Phail's dictionary."
But Wynn is not all business, all the time.
Sam Miglarese, assistant vice president and director of the Duke-Durham Neighborhood Partnership, which is part of Wynn's office, says Wynn once arrived at a holiday party on his Harley-Davidson in full biker regalia, "revved up his engine and we all came out to greet him for photo ops and much fun seeing our VP really out of context!"
"He has a way of bringing humor to the table, which is much needed at times," adds Seth J. Jernigan, president of the Rotary Club of Durham, who has worked with Wynn for more than a decade on Rotary and other nonprofit projects.
"He has such a great understanding of the political and social landscape in Durham. He can help connect dots that need to be connected in order for a cause to move forward. He's also an excellent public speaker -- always fun and entertaining to listen to."
MaryAnn Black, associate vice president for community relations at the Duke University Health System, praises Wynn for his leadership style.
Wynn "is a creative and thoughtful leader. He understands the complex issue of developing education systems and programs that address diverse populations," Black says.
Wynn is also credited with helping develop leaders in the community, including at the Triangle Community Foundation, which supports nonprofit organizations and provides scholarships in Durham, Orange and Wake counties.
Wynn "has worked tirelessly throughout his career to ensure that the Durham nonprofit community works together to achieve successful outcomes for all of its residents," says Lori O'Keefe, president and CEO of the foundation, where Wynn has been chair and led the nonprofit for 18 months during a transition period.
"He is the ultimate leader and a mentor for everyone who works with him -- sharing his dedication, knowledge and passion for our community. It would take me a year to describe all he's done for me and for Triangle Community Foundation. We are all truly lucky to have him in our lives."
Looking back, Wynn says he does not have any disappointments.
"The big challenge was the more you do, the more you realize what needs to be done," he says. "I would suggest my successor spend that first year doing very patient and empathetic listening."
In 2013, Wynn went back and touched base with the people and groups with whom he'd met with during his first year at Duke. "They told me our work was right on track," he says.
But you can't just rest on that success; it has to be nurtured, Wynn adds.
"That's part of the frustration of an Oklahoma dairy farmer," he says. "Cows will not stay milked. You have to be repetitive and redundant in your efforts."