How Healthy Are You?
Assess your health with the new "My Health" portal and biometric screenings
Ever since Marilyn Mendez donated a kidney to her mother in 2013, she's been extra careful about her health.
Mendez avoids rare meat, takes a 45-minute walk every day around her Sanford home and schedules a physical every year. So, she didn't need to be convinced to sign up for a free biometric screening when roving Duke nurses visited her office. Mendez received a clean bill of health.  
"Since I only have one kidney, I just want to make sure my blood pressure and cholesterol aren't too high," said Mendez, a customer service representative for Duke's Patient Revenue Management Organization. "To have a free health screening brought to our office was really great and convenient." 
The screening is part of the Healthy Duke initiative's new wellness portal, My Health, which helps you assess, track and calculate your health and lifestyle choices that influence your overall wellness. 
Here's what's available through the My Health portal:
Duke staff and faculty can set a wellness goal and get an action guide for healthy behaviors. For example, if increasing physical activity is your goal, you'll get a "Health Action Guide" that includes, among other resources, a personal activity plan and activity log.
There's a health assessment – a lifestyle questionnaire that, when completed, provides a health summary report on measures like physical activity, nutrition, sleep and stress. 
Information is provided on how to get a free, in-person biometric screenings during scheduled times around the University and Health System. Roving nurses measure blood pressure, height and weight, and body mass index at the screenings. A thumb prick is also required to measure cholesterol and glucose. 
Based on the results of the questionnaire and biometric screening, you receive an "Overall Wellness Score." The score, ranging from 0 to 100, represents your lifestyle choices and how they impact your physical health. 
Health coaching is available to employees who achieve an overall wellness score (OWS) of 73 or less upon completion of the online health assessment and biometric screening.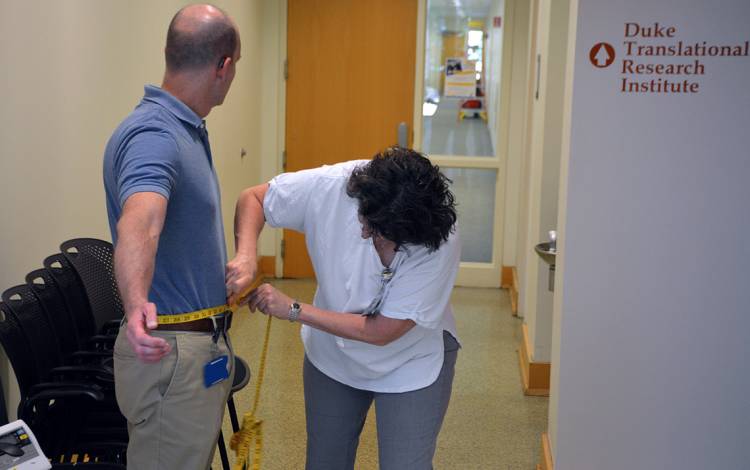 "Everybody has a different definition of what health is to them," said Julie Joyner, program coordinator for Healthy Duke. "We're hoping people can use the information they get from My Health to make a positive change in their life. It can be nutrition, fitness or something holistic." 
For Dennis Madden, health means taking the initiative to improve physical well-being, which, he said, results in a more positive outlook on life and relationships.  
He completed the questionnaire through the "My Health" portal and then made it to an in-person biometric screening in April in Duke South. Madden has been trying to build on healthier habits ever since taking his job as an intraoperative neuromonitoring technologist in Duke's Neurodiagnostics Lab a few years ago. 
When Madden started in the position, he used the opportunity to make healthier choices. He stopped smoking, quit drinking beer and works out nearly every day, including biking 6 miles roundtrip to work. 
During the biometric screening, Madden discovered his blood pressure dropped from the mid 130s to just below 110. 
"It's a huge convenience to have this pop-up screening," he said. "It's an enriched interaction. It's short and sweet and beneficial. The screening staff encouraged me to keep doing what I'm doing. It was exciting to share with someone the progress I've made."
If you have questions about the program or are interested in scheduling an on-site biometric screening for your work location, please contact Julie Joyner at 919-681-0503 or julie.joyner@duke.edu. 
Watch this short video from a recent on-site biometric screening: