Sustainability Award Winners Embrace Duke's Green Goals
Students, staff and faculty members lauded for commitment to a more sustainable campus
Duke's sustainability story is often told through lofty figures about decreased energy and water use and reduced greenhouse gas emissions. But alongside those numbers, there are members of the Duke community who use their ingenuity and determination to advance Duke's sustainability mission on other fronts.
From cutting down campus food waste to nurturing the curiosity of tomorrow's environmental leaders, the 2018 Duke University Sustainability Award winners play important parts in Duke living out its green goals.
"We all have to own this mission," said Tim Profeta, director of the Nicholas School for Environmental Policy Solutions told the audience Tuesday during the 2018 awards ceremony at the Sarah P. Duke Gardens. "These ambitions we have, only get off the page if people at every level of the university own the mission and take action on it. I think these are examples of people who owned it and did something about it."
Here are this year's winners:
Outstanding Leadership in Sustainability – Staff
Robert Coffey, Executive Director, Duke Dining
Since taking the reins at Duke Dining, Coffey has made sustainability a major part of the department's mission. He involves the Duke Dining team in crafting and refining the unit's sustainability plan, which runs from sourcing of ingredients to logistics of service.
He also helped create two venues in the Brodhead Center that align with sustainability goals: the locally and responsibly sourced Farmstead and the vegan and vegetarian-focused Sprout.
From less-wasteful bulk condiments to signage highlighting environmentally friendly behaviors, there are many ways Coffey's commitment to sustainability shows up in the Duke Dining mealtime experience.
"Robert believes that being sustainable isn't optional for Duke Dining and says, 'It's who we are and how we define ourselves,'" wrote Kirsten Marinko, Coffey's nominator and a marketing research specialist with Duke Dining.
Outstanding Leadership in Sustainability – Staff
Stacy Peterson, Senior Education Program Coordinator, Duke Energy Initiative
Peterson has become a champion for energy innovation and sustainability on campus. She embraces the role of planning campus events, such as the "Power Lunches" that link energy industry leaders with students. Through her work with students, she helps spark and nurture the curiosity that builds energy careers.
"I am someone who was brought into the energy community by Stacy," wrote Duke student Angela Chen, who nominated Peterson. "She introduced me to Duke Energy Club, helped me to plan out courses in energy and reviewed my resume when I needed career help. By helping students like myself, she has contributed tremendously to developing future leaders in sustainability."
Outstanding Leadership in Sustainability – Faculty
Nicki Cagle, Lecturer, Nicholas School of the Environment
Cagle has been lauded by colleagues for both bringing new voices into the sustainability conversation and for taking that conversation to new fronts. For instance, during Duke's construction boom – in which many new glass buildings were added – Cagle led a study of bird-window collisions, bringing light to an issue that hadn't been fully explored. And in her role as director of the Environmental Science Summer Program, she secured grants that made the two-week program free for area high school students.
"She is an innately conscientious and compassionate leader, and naturally considers the complex environmental, social and economic factors at play in her work as a teacher, scientist, and naturalist," wrote Cagle's nominator Sara Childs, the director of Duke Forest.
Outstanding Leadership in Sustainability – Student
Claire Wang, student
As a leader in the Campus Climate Coalition, Wang, who is studying abroad this semester, helped increase dialog between students and Duke University leadership on sustainability issues. Through her efforts, Duke's student body has become more aware of the potential environmental impacts of Duke University's activities.
"Claire will no doubt have a very bright future as an environmental lawyer and leader," wrote Ryke Longest, clinical professor of law and director of Duke's Environmental Policy and Law Clinic. "Her commitment to transparency, fairness and inclusiveness bodes well for a better and more sustainable future."
Outstanding Leadership in Sustainability – Student
Ted Maynard, student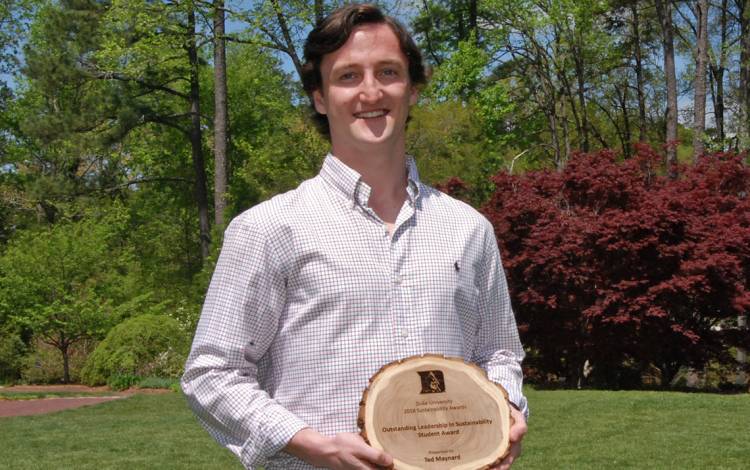 Maynard is the president of Duke's chapter of the Food Recovery Network, which fights on-campus food waste and donates surplus food to community non-profits that serve the food insecure. Under his leadership, the group has deepened its connection to the university and the outside groups and held several popular events.
"Ted has been instrumental in building meaningful relationships both on campus and in the community," wrote Neil Hoefs, program coordinator with the Office of Durham and Regional Affairs and Maynard's nominator. "Since its founding in the fall of 2015, Duke's Food Recovery Network has recovered and delivered over 96,000 pounds of food at Duke to the surrounding community. Thanks to Ted's leadership, just this past fall, they recovered 22,249 pounds of food from Duke's dining facilities."
Outstanding Leadership in Waste Reduction
Adam Long, student
A masters student in the Nicholas School of the Environment, Long has dedicated himself to reducing waste at Duke Hospital through his role as a leader with the Hospital Green Team. That role led to him helping put together a pilot program that is working to provide patients with reusable pitchers in order to reduce the amount of Styrofoam waste created by the hospital.
Long has also been a valuable volunteer for the Zero Waste Game Day initiatives and serves as mentor for the Green Devils student group.
"He has constantly served as a model for students for successful project implementation," wrote nominator and fellow masters student Madison Barnes, who won a Sustainability Award last year. "His legacy of communication, payback period analysis and problem solving will live on with the students after Adam's time at Duke has ended."