5 Easy Ways to Practice Mindfulness
Walk the Gardens, practice guided meditation, knit a scarf and more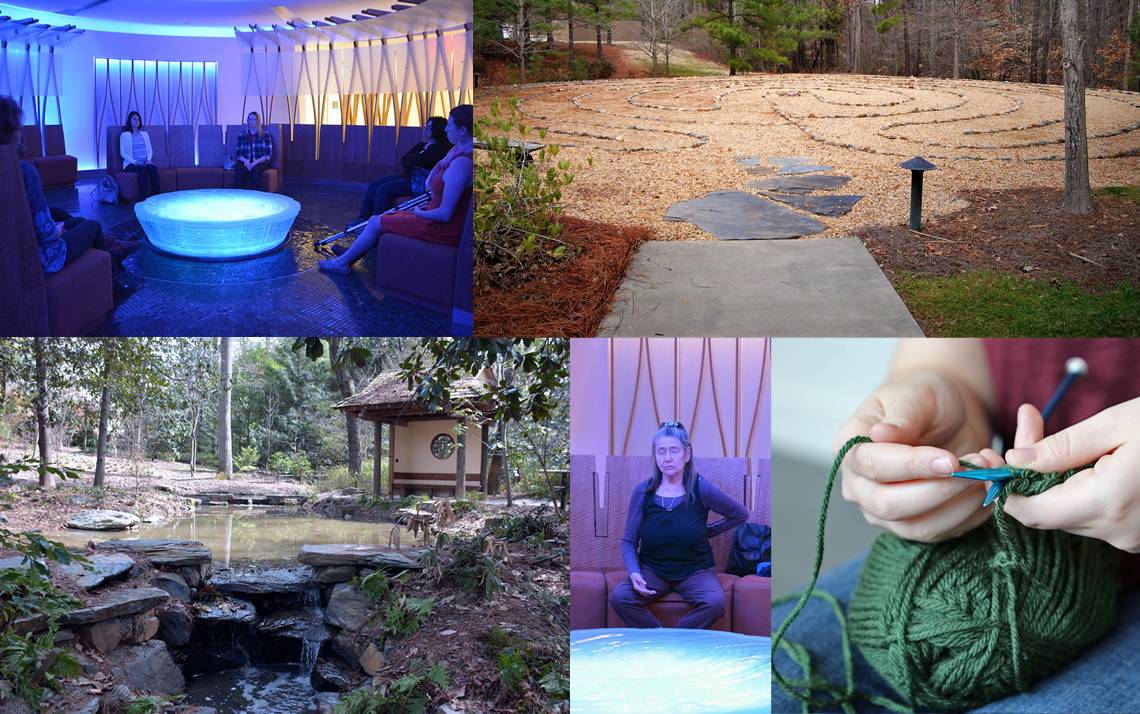 J Caldwell has a standing appointment at Sarah P. Duke Gardens first thing every weekday morning.
That's when Caldwell wanders through the gardens, taking in blooming flowers at the Terrace Gardens and the cherry blossoms near the red, Japanese-style arched bridge.
"You're just engulfed in the beauty of the gardens," said Caldwell, a photographer for the Nasher Museum of Art at Duke. "When things vary from day to day in my life, the gardens are this treat that gives me a sense of peace and togetherness."
From private walks through Sarah P. Duke Gardens to meditating, there are many ways you can practice being fully present – or mindful – at Duke.
"Mindfulness is a very effective stress management tool," said Holly Rogers, a staff psychiatrist with Counseling & Psychological Services at Duke. "Stress can manifest at work when our mind starts thinking about everything we have to do rather than focusing on one task. Mindfulness teaches you to take a breath and ease that building pressure."
Here's how you can practice mindfulness:
Meander through blooming plants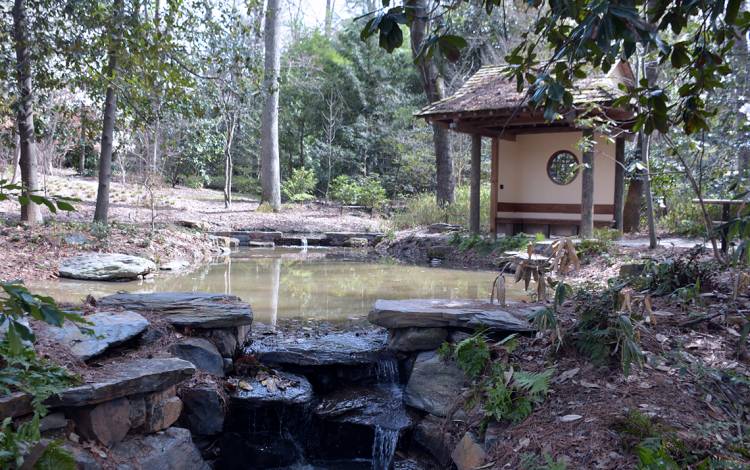 Open from 8 a.m. to dusk 365 days a year, Sarah P. Duke Gardens offers peaceful corners to practice mindfulness. Listen to the babbling Woodland Garden Stream or sit away from the walking paths within the Gardens for Peace.  
In his daily strolls through the Gardens, Caldwell has seen families picnicking on the South Lawn, birdwatchers and others just sitting quietly by the Asiatic Pond. His favorite spot in early spring is the large magnolia tree blooming with pink petals next to the South Lawn.
"There's such a brightness to it and the rest of the gardens," Caldwell said. "It just feels good to visit."
Find inner peace by quieting thoughts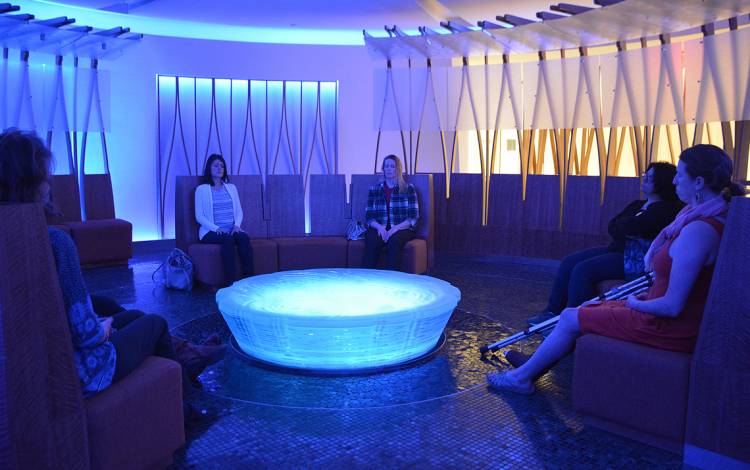 Every Monday, the Quiet Room in Duke Cancer Center turns into a hub for guided meditation.
From 12:30 to 1 p.m., Duke staff, faculty, students and visitors interested in spiritual health, coping with stress and fostering compassion can participate in a free meditation session.
Nancy Hedrick, manager of the Cancer Center Infusion Pharmacy, has been attending the sessions for the past year. Hedrick, who attends the class to relieve stress, has learned new skills for meditating on her own when she misses a class. 
"It's a very convenient way to spend 30 minutes of your lunch every week," she said. "I didn't think I was built to relax. I'm typically moving, thinking or problem solving most of the day, but by practicing meditation I've learned how to put things in perspective."
Annette Olsen, a chaplain for Duke Health, leads the class.
"Mindfulness-based stress reduction techniques are frequently woven into our weekly sessions because they help us release stressors and calm the mind," Olsen said. "Even beginners feel they can totally relax and go on a journey of discovery that lifts spirits."
Blend mind and body through movement
After abdominal surgery, Anne Bostick struggled to keep herself upright.  
Needing to find a solution, she stopped by a tai chi class in the Quiet Room in Duke Cancer Center on a Friday afternoon. She's been practicing the movements ever since.
"I can't say enough good things about the class," said Bostick, a volunteer with the Duke Cancer Center Patient Support Program. "It's like a Jacuzzi for the entire body, including the mind."
Tai chi classes are held every Friday in the Quiet Room. Tai chi is seated at 2 p.m. and standing at 3 p.m.
John Hillson, a clinical nurse in Duke's Radiation Oncology who leads the class, said tai chi is beneficial to mindfulness because the practice combines elements of movement and breathing.
"The mind and body are coming together," he said. "Breathing is a vital biological function that we can exercise control over. Just as our emotional state affects our breath, mindful breathing can affect our emotional state."
Nurture well-being through craft
As a self-described introvert, Duke sophomore Natalie Benderly wanted to create an opportunity for other introverts to meet each other. After a bit of research, she decided knitting would tie them together.
"Close-Knit" is a weekly knitting gathering from 7 to 8 p.m. Wednesdays in Oasis West on the first floor of the Student Wellness Center. Close-Knit is open to all staff, faculty and students.
"It's just a good feeling to watch yourself produce something tangible," she said. "It's very rewarding and peaceful."
Participants in Close-Knit have made bookmarks, coasters, scarves, hats, sweaters and shirts. The class is open to all skill levels, and Benderly will help first-time knitters get the hang of the activity.
"You're just figuring things out as you make them," she said. "It's not supposed to be this perfectionist thing, so it's very relaxing."
Solve a problem by walking a labyrinth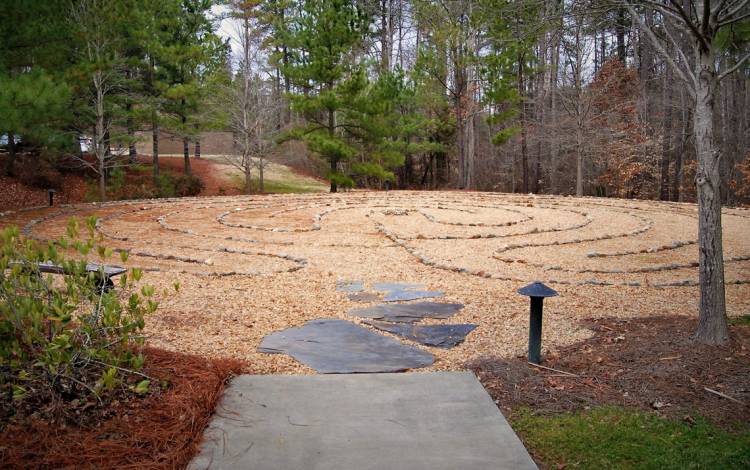 Located on the grounds of Duke Integrative Medicine is a walking labyrinth, a winding stone path. The path is meant to be taken at a slow pace and allows guests to find their emotional center. At the center of the labyrinth, some people leave behind small trinkets like stones, coins and buttons.
The path is open to the public from 8 a.m. to 6:30 p.m. Monday, Tuesday, Thursday and Friday; 8 a.m. to 8:30 p.m. on Wednesdays; and 9 a.m. to 2:30 p.m. on Saturdays.