Find Your Pace at Duke's Run/Walk Club
Registration is open for the spring session, which begins March 12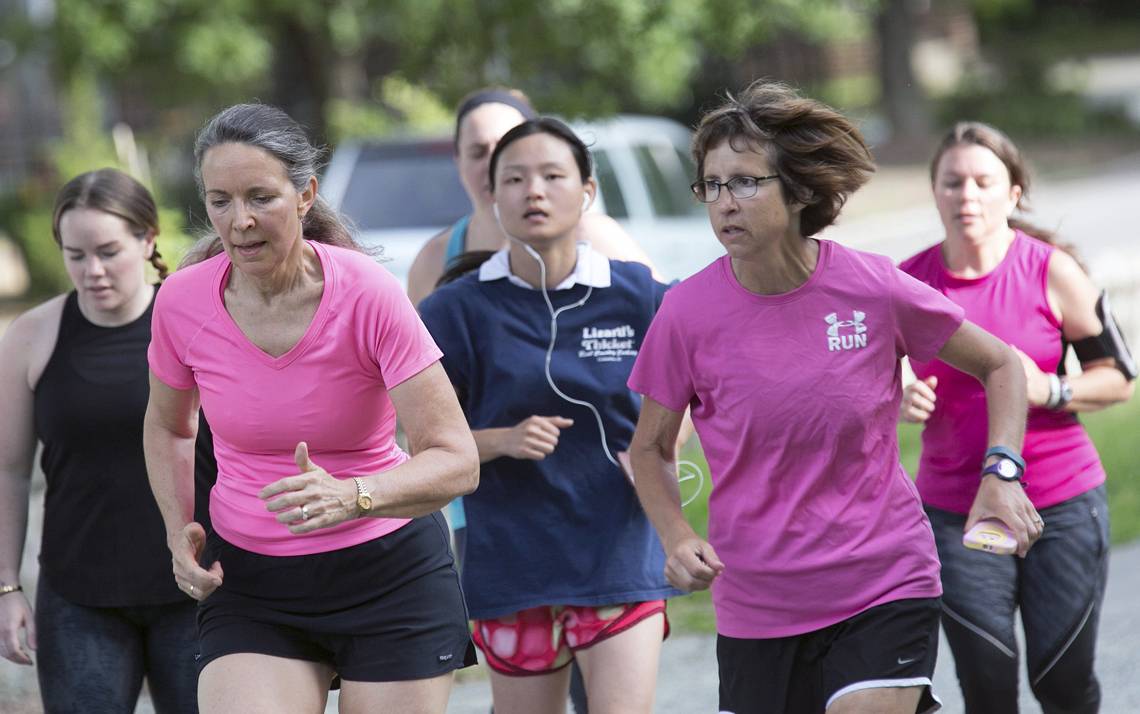 Andrea Doughty found herself at the back of a group of about dozen employees during a meeting of the Duke Run/Walk Club on the Al Buehler Trail, but she didn't mind.
Over two years with the Duke Run/Walk Club, she had worked her way up to the more difficult Buehler trail from the mostly flat path around East Campus.
"The course is steeper and everyone is a little bit faster, but it felt like an accomplishment to challenge myself to a harder course." said Doughty, assistant director for compensation for Duke Human Resources. "You have the opportunity to work out in a way that suits your fitness level."
The Duke Run/Walk Club is a low-pressure workout group that meets on Mondays and Wednesdays on East Campus and at the Al Buehler Trail on West Campus. Employees at all fitness levels can participate in the free club, which is organized by LIVE FOR LIFE, Duke's employee wellness program. The season runs March 12 to May 30.
The club meets at the following locations:
East Campus: 5:30 p.m. Mondays and Wednesdays. Meet at the section of wall across from Whole Foods (beginner and intermediate walkers and runners)
Al Buehler Trail on West Campus: 5:30 p.m. Mondays and Wednesdays. Meet at the Green Zone Al Buehler jogging trail lot off 751/Cameron Boulevard. (advanced walkers and runners)
Duke Raleigh Hospital: 11:30 a.m. Thursdays at Duke Raleigh Hospital (walkers and beginning runners)
Taylor Leach Ingersoll, LIVE FOR LIFE fitness specialist, said the Duke Run/Walk Club offers individualized help for everyone to meet fitness goals.
"There are coaches onsite for every fitness level to motivate you through your exercise routine," she said. "Everyone can gain something from this program."
In addition to the weekly run/walk sessions, participants have access to yoga classes and strength training.
Employees can participate in the program remotely by tracking progress online.
Ethan Hertz, who's been part of the Duke Run/Walk Club since 2012, typically walks about four miles twice a week on the American Tobacco Trail. He then logs his walks on the website.
"Logging your numbers makes you feel accountable," said Hertz, a clinical engineer with Duke University Health System's Clinical Engineering Department. "I'd get lazy if I didn't have this program keeping me moving."
All participants in the Run/Walk Club receive weekly emails with tips, motivation, information about races in the area and local discounts.
Tia Jones, a compliance auditor for Duke University Health System, has participated in the Run/Walk Club since the fall of 2016. A longtime walker, Jones wants a program that holds her accountable. Every season, she sets a goal to jog two laps around the East Campus wall, which is about 3.2 miles.
"It's really valuable that Duke provides this program," Jones said. "It allows us time to destress, which makes us better employees."
For more information about the Run/Walk Club and to register, visit the program's website.