Crisco Kids. Chafin' the Dream. Oh, the Humanities! It's All in The Name
Get Moving Challenge teams match fitness with humor in 2018 competition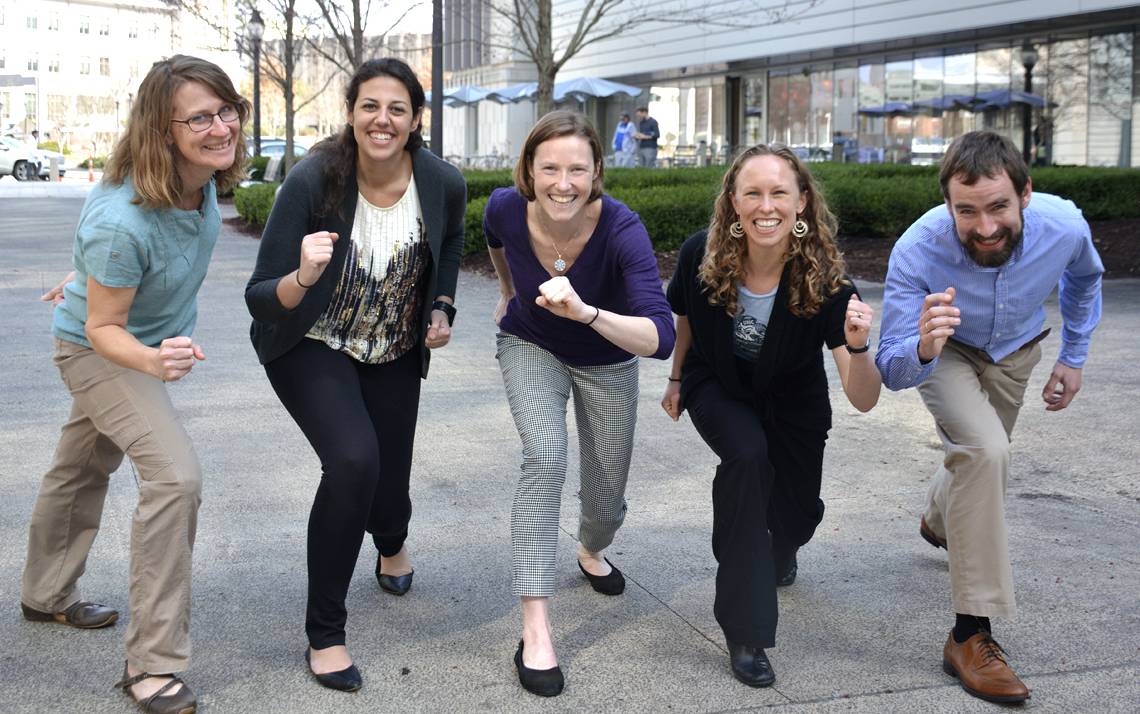 Dry skin. Lard. Rock bands.
These seemingly unconnected words are inspiration for some clever team names in Duke's Get Moving Challenge, which drew 341 teams and 3,288 participants to the 2018 competition. The annual contest, which ends March 18, challenges University and Health System employees and students to take the most steps, exercise the most minutes and lose the most weight.
"Every week I check the leaderboard and I crack up reading some funny team name I haven't noticed before," said Nick Beresic, health promotion manager with LIVE FOR LIFE, Duke's employee wellness program. "I think coming up with the most creative team name has unofficially become one of the main goals of the program."
Here are some of our favorite team names:
Chafin' the Dream

With races like "The Georgia Death Race" and the "Umstead 100" on the horizon for some of team members, there was a common thread among Chafin' the Dream.
"We're all training for races or taking a lot of fitness classes, which means our skin is suffering," said Stephanie Bryant, a clinical trials coordinator for Duke Clinical Research Institute. "It's good to laugh through the pain."
Chafing is when something restrictive rubs against skin, causing irritation.
The team of five is comprised of employees from Duke Clinical Research Institute, Duke Center for Childhood Obesity, the Global Health Institute and the Duke Human Vaccine Institute. As of this writing, Chafin' the Dream sits in first place in the Get Moving Challenge with an average of 881,605 steps and 3,757 exercise minutes.
Crisco Kids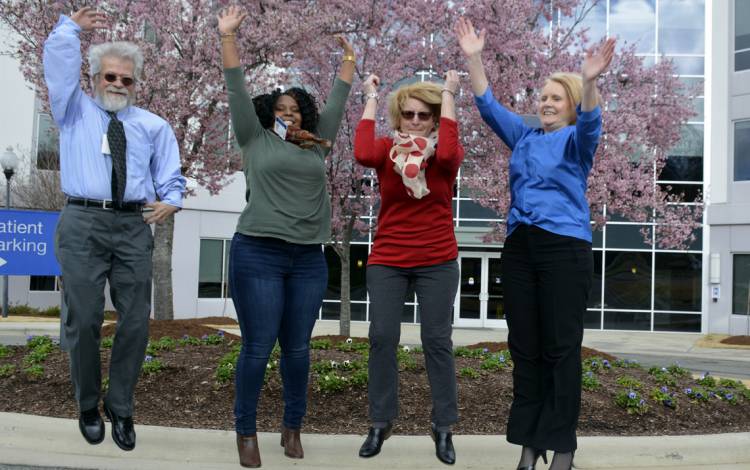 A group of Patient Revenue Management Organization (PRMO) staff members had one goal by the end of the Get Moving Challenge: Avoid "looking like lard."
"We have pretty sedentary jobs, so Crisco Kids is a good reminder of what could happen if we don't get up and move," said Thomas Beach, compliance specialist for PRMO.
The nine employees who make up Crisco Kids work remotely three days a week so they send emails to encourage each other to get outside and exercise. Each member tries to take a one-mile walk twice a day.
Red Hot Chili Steppers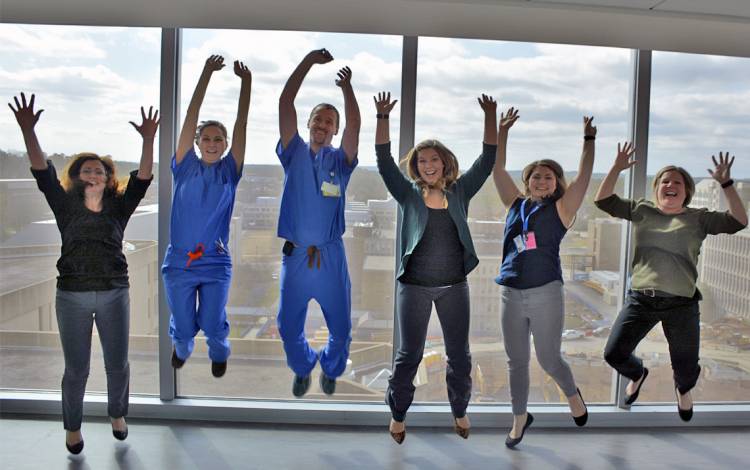 A fan of puns, Jessica Burkhart did a brainstorming session with her team before deciding on the name, Red Hot Chili Steppers.
"My team kept turning down all my ideas down, so I finally searched for a bunch of walking puns and we all settled on this one," said Burkhart, program coordinator for Duke's Department of Anesthesiology.
The Red Hot Chili Steppers is made up of 11 staff members from the Department of Anesthesiology. The team members get their steps in by taking the stairs to their fifth floor office in Duke Medicine Pavilion. Burkhart has also scheduled 20-minute breaks for speed walking sessions around the Medical Center.
"We are really encouraging each other," Burkhart said.
The Walking Deadlines

Darcy Lewis, a grant and contracts administrator for the Department of Medicine, first suggested "Exercise Your Budgets Off."
But she and her 11 teammates, all from within the same department, settled on "The Walking Deadlines," inspired by the television show "The Walking Dead." The name had previously been thrown around when team members considered signing up for a 5K last year.
"It's nice for all of us to be able to do this together," Lewis said. "Yes, it's a competition, but it's also a chance to support one another."
Team members have logged exercise by taking the stairs to their eighth floor office. Others are cycling and practicing yoga.
Oh, the Humanities!

A cry of anguish has turned into one of motivation. Oh, the Humanities!, a team of employees within Duke's Arts & Humanities departments, pulled its name from the infamous broadcast of the Hindenburg disaster.
In 1937, the Hindenburg zeppelin caught on fire shortly after its launch. Herbert Morrison, a radio journalist covering the launch, gave an eyewitness report, at one point yelling "Oh, the humanity."
"We've tried to turn it into more of a cheer," said Jill Wuenschel, business manager for the Department of Classical Studies.
Wuenschel is joined by six other employees who get their steps in by walking dogs, walking on lunch breaks and taking the stairs whenever possible.
Share your exercise pictures on social media using #GetMovingDuke and #HealthyDuke.