Duke Neurosurgeons Lose 205 Pounds Through Teamwork
Six colleagues motivate each other to improve health and well-being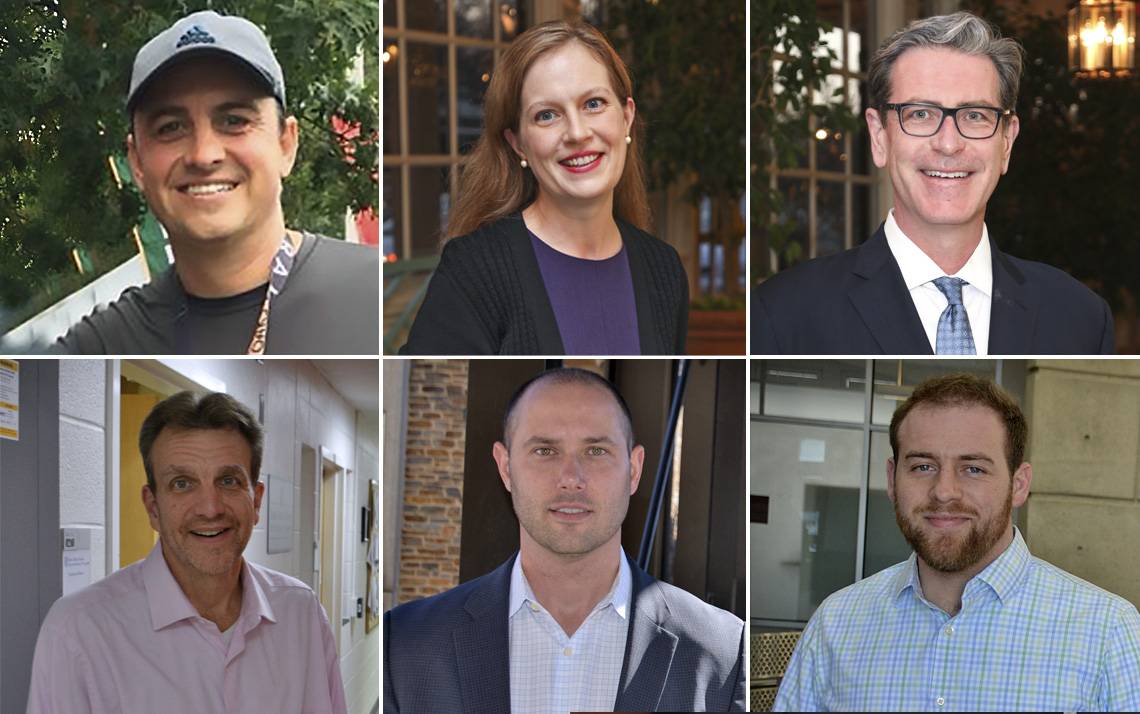 John Sampson's life changed with a message from Dr. A. Eugene Washington, chancellor for Health Affairs at Duke University and president and CEO of Duke University Health System.
The message, delivered last April as part of the Healthy Duke launch, encouraged staff and faculty across Duke to "model the type of change we want others to emulate" around health and well-being. Sampson took Washington's words and ran with them. Or, in this case, he biked, practiced yoga and eliminated carbs.
"The issue was changing my habits," said Sampson, Robert H., MD, and Gloria Wilkins Professor of Neurosurgery and Chair of the Duke Department of Neurosurgery. "I decided not to worry about weight, but just workout and see what happens."
Within weeks, colleagues Gary Archer and Peter Fecci joined Sampson for some friendly competition, texting them updates on weight loss and work outs. Then Anna Terry and Peter Grossi, neurosurgeons in Duke Raleigh Hospital, joined in. And finally, Kyle Walsh, who started working at Duke last July.
"It became a department-wide conversation to be healthier and commit to being happier," Sampson said.
In total, the team of Duke neurosurgeons and researchers lost 205 pounds together and enhanced their well-being. Here are their stories:
Gary Archer
Assistant Professor of Neurosurgery
Weight Lost: 25 pounds
Archer's weight loss started at the golf course. An avid golfer most of his life, he was struggling with flexibility and core strength.
To help improve those areas, he created new exercise habits.
Archer's alarm goes off at 5 a.m. for a 45-minute workout on his stationary bike. On weekends, he cycles 10 to 20 miles around Orange County. He also attends hot yoga with Sampson.
"I'm a list maker, so if I check off a box that says I work out or ate healthy, then I feel good," Archer said.
To keep track of eating habits, Archer participated in Maintain Don't Gain, a self-directed LIVE FOR LIFE employee wellness program that helps staff and faculty maintain or lose weight during the winter holidays.
His efforts have helped him drop 25 pounds and as a result, his blood pressure medication has been reduced from 40 milligrams to 10 milligrams a day.
"I don't want to be helpless in my old age. I don't want to just exist," said Archer, 61. "I want to live."
Anna Terry
Assistant Professor of Neurosurgery
Weight Lost: 40 pounds
Terry's goal of improving her health started after an acquaintance mistakenly asked her if she was pregnant.
"It was a little bit of a spark to my motivation," Terry said. "I decided to take an honest look at my diet and lifestyle."
She started by clearing beer from her fridge, adding more protein to her diet and eliminating sugars. She introduced resistance training and lifted weights twice a week. She also swims for 1,200 meters once a week.
Terry, 40, said she now has more energy during the day and notices she's not as sore after spine surgeries that can take as long as four hours.
"My job has actually become easier as a result," Terry said. "My outlook, energy and strength have all improved."
Peter Fecci
Assistant Professor of Neurosurgery
Weight Lost: 30 pounds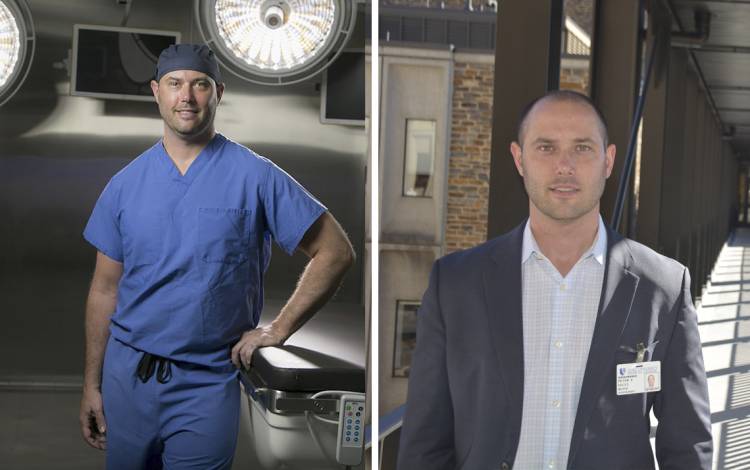 When Andrew Parsa, chairman of neurological surgery at Northwestern University, passed away from a heart attack at the age of 48, Fecci was shocked.
"It sent a ripple throughout the field," said Fecci, 40. "It made you realize everything we work for can come crashing down if we don't take care of ourselves."
With the passing of Parsa, a friend and mentor, on his mind and the competitive nature of Sampson, who often texts him updates on workouts and weight loss, Fecci set a goal of working out at least half of the days in each month.
He alternates between running, riding a stationary bike and lifting weights. Outside of gym time, he cut out beer, dessert and most carbs. Fecci also sets aside time every night to relax and decompress for at least 30 minutes before going to bed.
"Neurosurgeons tend to kill ourselves from a stress standpoint," he said. "But now my temperament feels different and my body is holding up after long surgeries."
Peter Grossi
Assistant Professor of Neurosurgery
Weight Lost: 35 pounds
By the fall of 2016, Grossi knew something in his life had to change. With persistent feelings of stress and weariness from balancing his job and personal life, Grossi attended a burnout seminar.
"As neurosurgeons, we are some of the people least likely to take care of ourselves," Grossi said. "There's a good deal of martyrdom to who's the most miserable."
Grossi, 42, decided to push morning meetings back about twice a week to set aside time to work out. About six months into jogging regularly and interval training, Grossi cut out carbs and set a goal to run the Raleigh City of Oaks 10K in November 2017.
Don O'Malley, assistant professor of orthopaedic surgery, kept him motivated by challenging Grossi to a "Bones Versus Brains" team challenge. More than 20 employees participated and Grossi is proud to say he and the neurology team won the competition.
Grossi has since purchased an indoor exercise bike to get cardio workouts in from home at least twice a week in addition to running and time in the gym.
"We're all friends to start with so it was good to talk and help each other out," Grossi said. "I also think it's a good culture shift for the whole department that we can embrace being healthy and happy."
Kyle Walsh
Associate Professor of Neurosurgery
Weight Lost: 25 pounds
In July of 2017, Walsh made a cross country move with his family from San Francisco to start working at Duke. He figured it was as good of time as ever to start breaking bad habits. Plus, he noticed his new coworkers had, in his words, "gotten skinny."
Walsh hikes regularly at the Carolina North Forest with his wife, year-old daughter and dog. He tries to fit in a five-mile hike about twice a week.
Another big change was Walsh, finally, got a grill. About every weekend he grills chicken or steak, pizza and a bunch of vegetables.
"We didn't have room for one in San Francisco," Walsh said. "I got grill obsessed. I was doing all of my cooking on it for the week. It helped me become conscious what I was putting on my plate."
John Sampson
Title: Robert H., MD, and Gloria Wilkins Professor of Neurosurgery and Chair of the Duke Department of Neurosurgery
Weight Lost: 50 pounds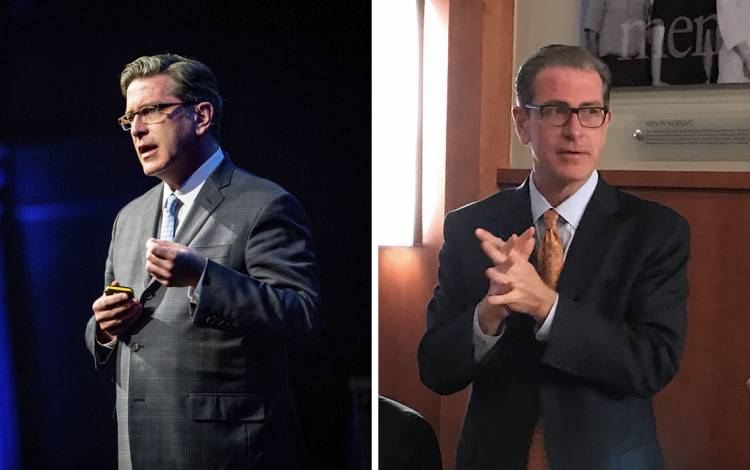 As part of his regimen, Sampson committed to working out 30 days in a row. He used a Peloton exercise bike, cut carbs and began meditating. He also started jogging on the Al Buehler Trail, using a mobile app called "Couch to 5K" to help him get into running shape.
Sampson lost 40 pounds and his resting pulse went from the high 80s to the mid 50s. Within neurosurgery, he's noticed more smiles and less anxiety.
"We're changing the culture of our department," said Sampson, 51. "If you work hard at the office, then work hard with biking or running. That's a more positive scenario then coming home and doing nothing."
Got a Healthy Duke story? Please share it with us.