Feeding the Faithful
Kosher kitchen at the Freeman Center for Jewish Life feeds sense of community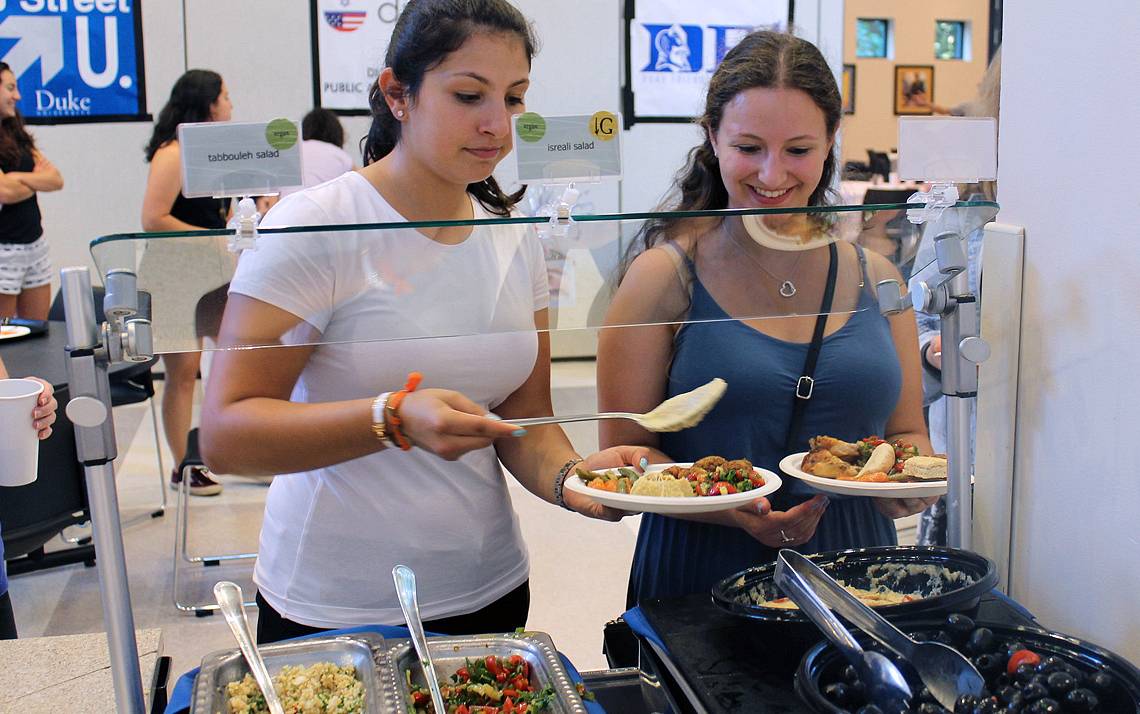 Saundra Bullock knows the students she helps feed at Duke's Freeman Center for Jewish Life appreciate what she and the Duke Dining team do.
For proof, Bullock, the assistant manager for Duke Dining who helps oversee food service at the Freeman Center, points to Duke's annual Family Weekend.
"We can tell the kids talk about us because their parents know who we are before they get here," Bullock said. "We know they care."
For nearly 20 years, the Freeman Center has been the on-campus home of Duke's Jewish community. And from a kitchen on the ground floor of the modern brick building on Central Campus, Duke Dining staff members have provided the kosher food that has fed their bodies and their faith.
Kosher dietary laws come from the Torah, Judaism's central text. Among the most well-known rules are not eating pork and shellfish. The rule that shapes life in a kosher kitchen the most is the mandatory separation of meat and dairy.
"You cannot cross those at all," said Mark Turner, Duke Dining's executive chef.
Named in honor of a now-retired cook, Henry's Place, which is in the Freeman Center's Heyman Dining Hall, offers an all-you-care-to-eat kosher buffet Monday-through-Thursday evenings that's open to students and the public. Some features of the buffet include oven-roasted beef brisket, blackened tofu and – the popular Thursday night special – macaroni and cheese. The kitchen also makes kosher lunches of grilled chicken and salads that are boxed and sold at facilities across campus such as Trinity Café and the Brodhead Center.
On Friday nights, the Freeman Center is the site of traditional Shabbat dinners, which are preceded by a ritual prayer and often feature student favorites such as matzo ball soup and chocolate chip cookies. And according to kosher tradition, all cooking for a Shabbat dinner must be completed before sundown.
"It helps build community on a special night at the end of the week," said Rebecca Simons, director for Jewish Life at Duke. "We want students to feel connected to other Jewish students as well as their Judaism."
The Freeman Center's L-shaped kitchen was designed with the rule of separation of meat and dairy in mind. At one end there is a kitchen used specifically for meat, where the tools and dishes are marked with red. At the other end is the portion for dairy, where everything is marked with blue. When one side is in use, the other is roped off, not to be touched.
In the middle is the pareve, or neutral area for items that can be used for both dairy meals and meat meals.
For senior Albert Antar, having a dining facility that offered kosher food was a factor in his decision to pick Duke. Four years later, he's a regular diner at the Freeman Center and has built a strong bond with the staff.
"It's better than some of the food I eat at home," said the Brooklyn native. "They know my preferences better than my own mother."
While Antar said he appreciates the dining staff working in some of his favorite menu items more frequently – he said the baked chicken wings with honey mustard sauce is his favorite – he said the bond goes beyond simply food. When he was in the market for a motorcycle, Bullock got him in touch with a friend who helped guide his purchase.
"The students who come regularly are very much attached to the staff," Simons said. "They're very interested in making sure the students have what they need. … I think it just shows how Duke values all communities on campus and really wants students to take advantage of everything that Duke has to offer."