Duke in Pics: Making a Thanksgiving Meal for 1,600
Duke Dining team serves up turkey, lobster and more for "Thanksgiving at Dinner Marketplace"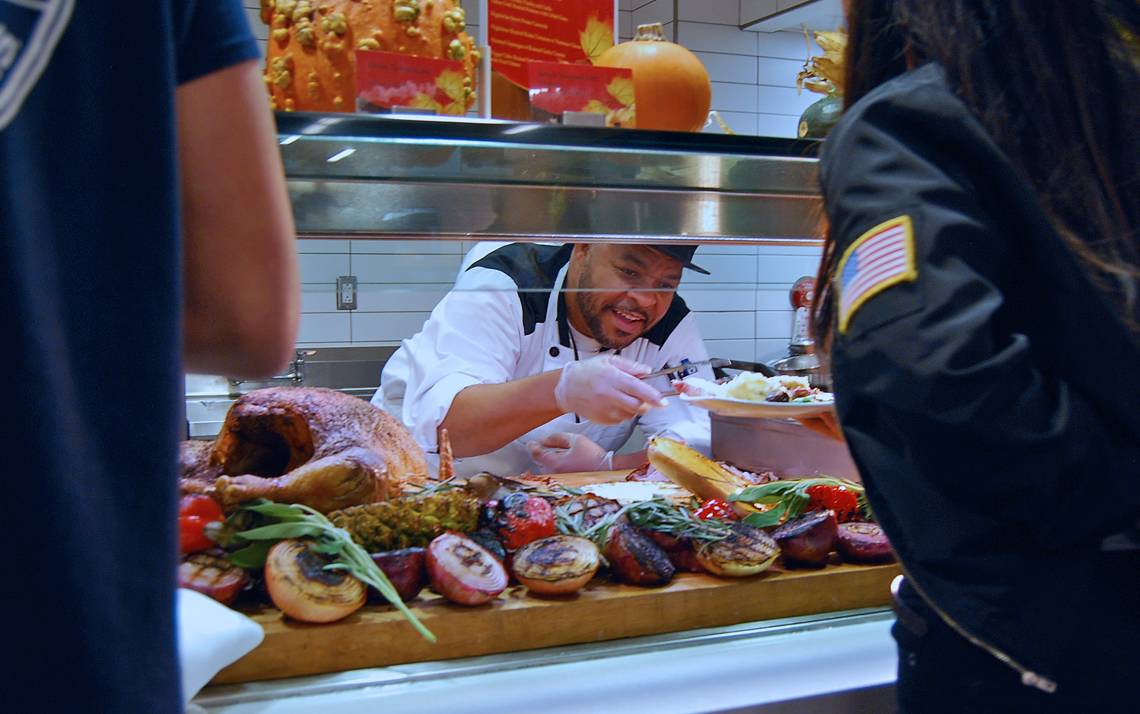 Early Wednesday evening, Barbara Stokes stood amid the chaos in the serving area of East Campus Marketplace and cracked a smile.
The "Thanksgiving Dinner at Marketplace" service was only about 20 minutes old, but a swarm of giddy, hungry students was already zipping from station to station.
"When every station is ready, when we open the doors, then I'm relaxed," said Stokes, director of residential dining services.
Wednesday's meal was the culmination of weeks of planning and days of preparation by Duke Dining staff members. While the team at the Marketplace holds special meals each month, this one, which comes a few days before students head home for Thanksgiving, is one of the most elaborate. Pulling off the meal, which attracts around 1,600 diners, requires organization, teamwork and creativity, something Stokes said her staff has plenty of.
Here's a look at some of the work that went into pulling off Wednesday's feast.
It's 31 hours before the doors open for Wednesday's dinner service, but the prep work is already in full swing. At left, Adrian Snipes cuts 500 lobster tails in half lengthwise. On Wednesday, they'll be grilled and basted in butter. At right, Tony Smith helps slice 1,250 pieces of salmon, which come meal time, will be seared and served with a lemon beurre blanc.
Elsewhere in the kitchen on Tuesday morning, staff members cut vegetables, keep an eye on simmering soups and mix dough for bread. With a big menu that caters to the diners' wide variety of tastes, the importance of getting tasks completed in advance is paramount.
"There's a lot to this puzzle," said Executive Chef Mark Turner.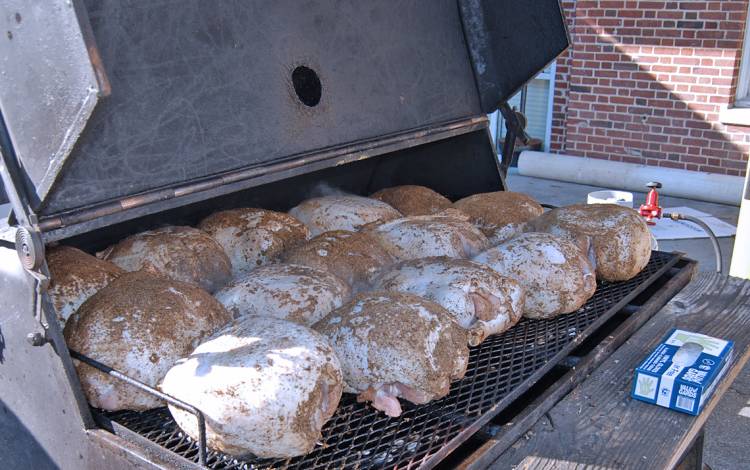 Getting so much food prepared in a short window of time is a challenge. So too is getting it done in a working kitchen that's tight on space.
That's why some of the cooking ends up being done outside. With 38 turkeys – each weighing around 32 pounds – there's simply not enough oven space. So two pig cookers – which can handle 15 turkeys each - are brought in. For six hours, the turkeys will roast on the cookers. Meanwhile, eight more turkeys and nine hams are in the ovens inside the crowded and busy kitchen.
As Food Service Manager Valerie Williams explains the frenzied action taking place in the Marketplace's serving area two hours before doors open, she stops at the bread station where Beverly Fullard, shown above, arranges triangles of focaccia and long baguettes on an auburn crushed velvet table cloth.
"This is Beverly, she can decorate anything," Williams said.
Fullard, a food service manager, has been through many of these meals. Over the years, making the presentations pretty has become one of her specialties.
"I like putting stuff together and making it look beautiful," Fullard said.
While Wednesday's dinner has been the focus for a few days, the kitchen at the Marketplace has still had to crank out meals. Earlier in the day, it made breakfast for 750 and lunch for around 550. So the final few hours, when the schedule is cleared for dinner, the kitchen becomes controlled chaos.
Among the things that need to be prepared are 10 gallons of butternut squash soup, 10 gallons of clam chowder – which will be 15 once potatoes are added, 60 pounds of chicken salad, 200 pounds of green beans, 64 gallons of mulled cider, 200 pounds of mashed potatoes and 250 pounds of sweet potato casserole.
Executive Sous Chef Todd Dumke points to a list taped to the wall. With typed menu items, quantities and tasks to be completed, this the guide for the afternoon's action. As the afternoon wears on, more and more red and black pen marks strike through the tasks that have been completed.
"It might look like chicken scratch, but it works," Dumke said of the system.
Around 45 minutes before the doors open at 5 p.m. Wednesday, the line outside the Marketplace was already spilling out into the East Campus Quad. Just before the service began, it nearly reached the steps of Lilly Library.
After Stokes made one final check with group of staff members, she makes the call that dinner is ready to be served. Just before 5 p.m., the doors open and the first students – some running to the dining area in order to lock down a prime table – begin to walk in.
The first thing they see is the dessert table, which is a show-stopper. There's pumpkin pie with spiced whipped topping, apple pie with salted caramel drizzle, dark chocolate mousse cake and cheesecake with fresh berry compote.
"Oh my goodness, there's so many things!" one student said as she walked in.
"I'm in heaven," exclaimed another.
Once the flood of diners washes into the Marketplace, the evening is a whirlwind. For staff members like Smith, shown carving turkey, the rest of the dinner service consists of delighting a constant stream of appreciative students.
"The team did a great job," Stokes said while watching the scene. "Throughout all of this, I asked what I could do to help. They just said 'We've got it.' And they did."