The Health of a Higher Calling
Less than one in five adults worldwide have a strong sense of purpose and well-being; how spiritual practices contribute to overall health and well-being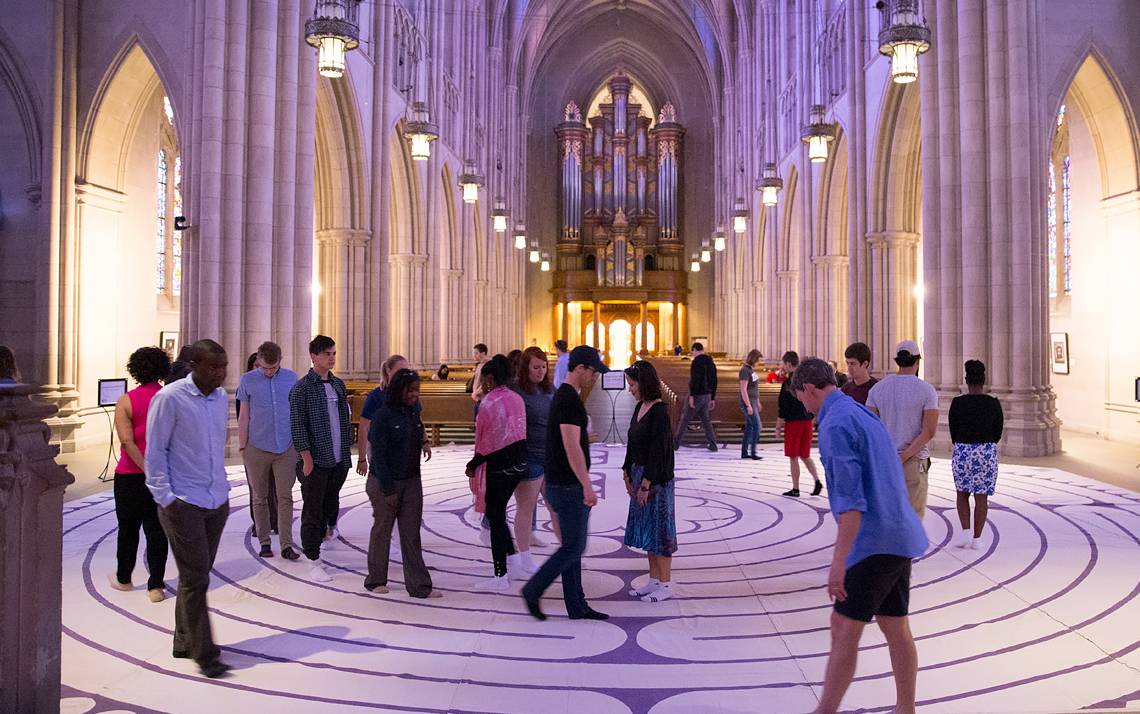 What is your life's purpose? Why are you here?
Luke Powery, dean of Duke Chapel, doesn't have the answer, but he understands the significance of these questions and their influence on health
and well-being.
"Regardless of where people are coming from, we are all seeking the answer to the question, 'Why am I here? What am I supposed to do?'" he said. "We are living a life, but it may not be the life that wants to live in and through us. When there is a lack of purpose or fulfillment in life, the struggle can create physical, mental, emotional, and spiritual challenges."
According to a 2013 Gallup survey, less than one in five adults worldwide have a strong sense of purpose and well-being. This helps explain why "Fulfillment & Purpose" is one of five core themes of the Healthy Duke initiative, which was launched this year to help faculty, staff and students live healthier, improve quality of life and realize their full potential.
While purpose and fulfillment can be sought through work, service, art, music and other endeavors, many Duke community members find connections by engaging in a range of spiritual and religious communities on campus.
Powery, who serves on the Fulfillment & Purpose working group for Healthy Duke, oversees the staff and programs of Duke University Chapel as well as organizations on campus that comprise Religious Life at Duke.
"Faith is literally at the center of the campus," said Powery, sitting in his Duke Chapel office in the heart of campus. "There is something about the culture, the ethos, the history of this place. But it's not just historical; it's actual and ongoing. There is still a vibrant spiritual life here."
Working@Duke talked with several faculty and staff who are active in faith communities on campus about how their religious and spiritual practices contribute to overall health and well-being.
Seeking understanding
Last year, Jesse Summers heard about a student whose mother died. The student had arranged with Rabbi Elana Friedman, the Campus Rabbi for Jewish Life at Duke, to host a daily prayer service with 10 Jewish adults as part of her mourning. Summers was among seven faculty and staff who rotated in attendance at the service each weekday in a room in the Brodhead Center.
"I thought, what is more important than helping someone grieve the loss of her mother?" said Summers, an academic dean in Arts and Sciences.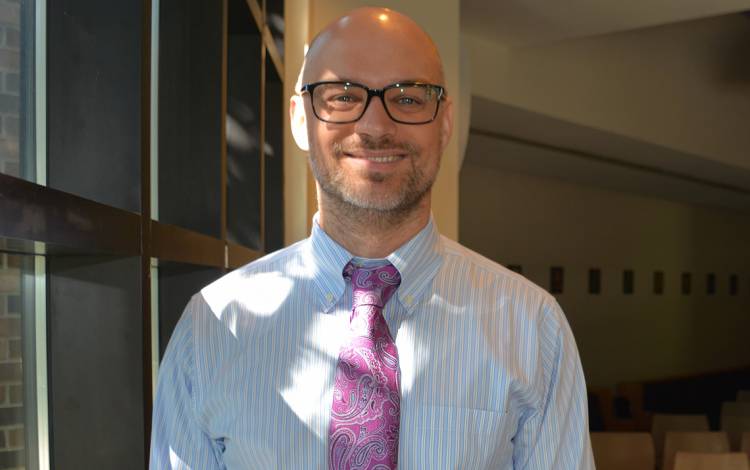 Each morning, Summers also devotes time to recite prescribed prayers in the Jewish liturgy.
"People often look to religion for premade meaning they can adopt, but I think it's more about participating in a regular practice where you notice variation," he said. "It's like yoga: You practice the same poses every day, but some days are harder than others. Things often become more meaningful over time, and you end up with a deeper understanding about yourself."
For Rabbi Friedman, understanding is at the heart of many conversations. She engages students, faculty and staff in discussions on purpose and meaning by posing questions.
"Some people say to me, 'I'm spiritual, but not religious,'" she said. "I like to explore that by asking questions about their purpose in life, the divine, and what role these things play in their life. Those are religious questions. I believe that in moments of discomfort, growth can happen. When we wrestle with things we are unsure of and push through the discomfort, that struggle is how we grow as people."
Maintaining balance
Omid Safi struck a cultural chord when his blog post, "The Disease of Being Busy," topped four million views in a weekend.
"It's about balance," said Safi, professor in the Department of Asian and Middle Eastern Studies. "In Islam, we talk about the wisdom of having, in each day, eight hours of work, eight hours of sleep, and eight hours with friends and family."
He said balance is difficult when the first thing people reach for in the morning and the last thing they put down at night is a smartphone.
Safi said Islam's daily prayers offer an example for a healthier balance.
"Someone once asked Muhammad, 'Why not just do the five daily prayers in a row?' and Muhammad answered, 'How many times a year do you take a shower? Why not shower 50 times in a row instead?'" Safi said. "The same thing that happens to your body happens to your heart when you go awhile without praying."
The heart is a frequent analogy in Islam, he said, because of how it reflects broader rhythms of life.
"The heart expands and contracts," Safi said. "It's actually that dance that sends blood and life all throughout the body. You need that time for activity, and you need time for reflection, silence, and solitude. I want to make asking and leaving room to answer questions of purpose something that seems normal and not just a weird bonding exercise in some seminar."
Finding purpose
Rosie Canizares works as a physical therapist in the Student Wellness Center, but she doesn't consider it a job.
"I love what I do," she said. "I don't consider it work. I've never really thought about it from a theological sense, but I'm doing what I was born to do. I'm using my gifts and talents for the good of others."
She described her work with students as a calling that reflects her religious beliefs of "doing unto others as you would have them do unto you."
Father Michael Martin, director of Duke's Catholic Campus Ministry, said that discovering one's purpose is at the center of the Catholic faith.
"In our faith tradition, we believe we are called for a purpose," he said. "Our lives are not just random acts. The purpose of our lives should reflect the divine purpose. The moment people put false parameters around their purpose, it creates discord."
Father Martin said he talks with many students and others at Duke who struggle with big questions.
"I'm no guru," he said. "I don't have the answers, but I try to ask questions to guide people to their own answers."
Religious Life Campus Groups
The Congregation at Duke Chapel
Connect with Catholic faculty and staff and the broader Duke Catholic community here or write fr.mike@duke.edu.
For a full list, visit the Religious Life Directory.