Behind the Inauguration
From ordering 4,000 chairs to aligning camera angles for a live steam, cooperation drives work of putting on Price inauguration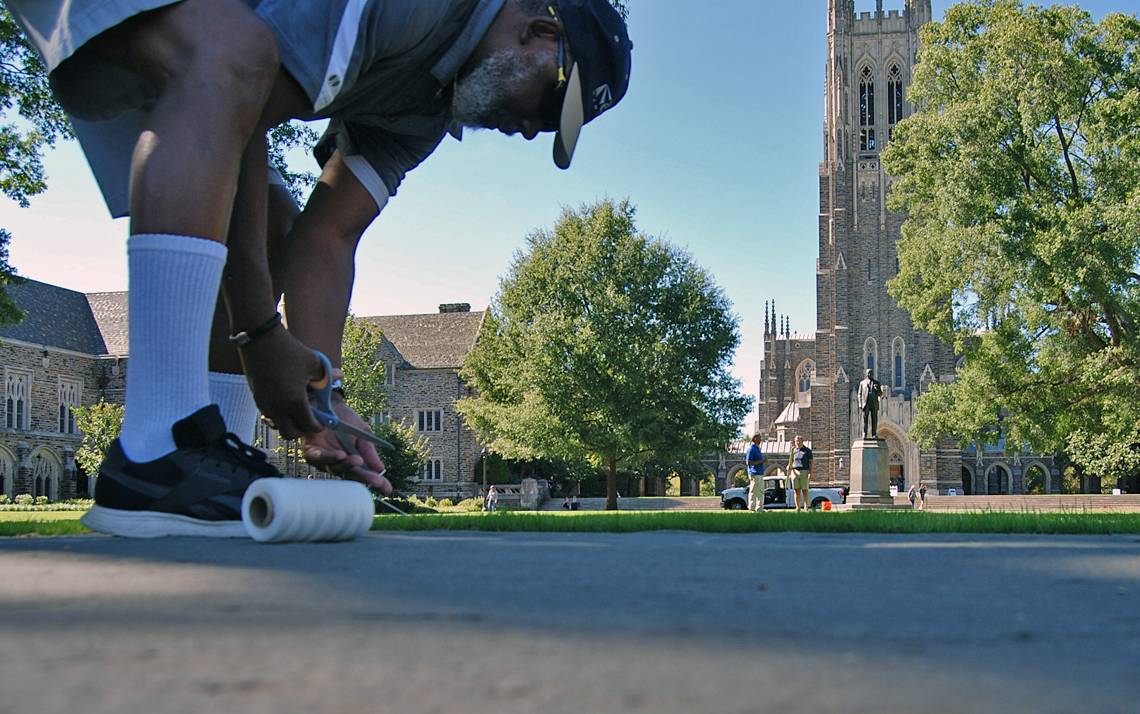 After 35 years helping to organize special events at Duke, Windy Jacobs can orchestrate many by memory. While commencements involve plenty of work, presidential inaugurations – of which Duke has had nine – are different.
She's been here for three of those inaugurations and began readying months ago for Thursday's official welcoming of Duke's 10th president, Vincent E. Price. One of Jacob's first moves involved digging out a hefty folder, filled with schedules, vendor lists, set-up diagrams and work orders from past inaugurations.
"All of the events that we work on are important, but this one takes on a different feel," said Jacobs, assistant manager for conference and event services with University Center Activities and Events (UCAE). "We don't do it often. It really is a big celebration. It's a historic moment for the university. Everyone is touching this event in some way."
Across Duke, staff and faculty are working behind the scenes on one of Duke's biggest celebrations, ensuring every detail is in place – from the 4,000 chairs that will sit on Chapel Quad and the cameras for a live stream, to the food and landscape plantings and much more.
The work began last summer when then-president Richard H. Brodhead announced his plans to retire at the end of June 2017 after serving 13 years. Just as the search for a successor gained steam, Senior Director Terry Chambliss, Program Coordinator Kaitlin Briggs and the rest of the team at the Office of Special Events and University Ceremonies, began working on celebrating the arrival of whoever that person would be.
"Once we knew that President Brodhead was leaving, we knew we had to be thinking about this," Chambliss said.
Among the first steps was to scour schedules for potential inauguration dates and reserve event space on campus. During the 14 months that followed, Chambliss and her team – working with several committees and Price – crafted a plan for inauguration events, including PricePalooza on Wednesday on East Campus and the faculty symposium in the Bryan Center and inauguration ceremony on Abele Quad on Thursday.
Much of the work involved with making the plans a reality has been overseen by UCAE, which is part of Student Affairs.
Jim Hodges, director of conference and event services, said inauguration events have been a top priority for his office for several months. His team is tasked with solving potentially thorny logistical problems, such as creating a detailed schedule to allow preparation to go smoothly and ensuring entities such as Duke University Police and Parking and Transportation Services are aware of any issue that might arise.
His group has also been working on post-ceremony fireworks, the dramatic lighting that will shade West Campus' buildings in blue, and the setting up of the stage and the chairs on Abele Quad. Hodges' team will also oversee five carnival rides for PricePalooza, Wednesday evening's East Campus celebration that is open to the Duke community and was conceptualized by UCAE's Student Activities Team.
"It was kind of funny, someone asked me to attend a meeting Wednesday and I said I couldn't because I had a Ferris wheel coming in," Hodges said. "Not often do I get to use that excuse for missing a meeting."
For PricePalooza, Duke Dining will supply barbecue and low country seafood boils for an expected crowd of 5,000, and in keeping with a carnival theme, there will be treats such as funnel cakes and chocolate-dipped cheesecakes. A menu of 27 hors d'oeuvres is in the works for the community reception at the Brodhead Center following the inauguration ceremony.
"We know these don't happen very often," said Robert Coffey, director for Duke Dining. "These kinds of things are fun. You get to come together as a team with other players on campus that you don't work with every day. … We know it's going to be a lot of work, but there is a lot of excitement about it."
On inauguration day, Landscape Services and University Environmental Services will ensure everything they've worked on continues to look pristine, and staff from Landscape Services will hand out programs and water during the ceremony. Other members of the Duke Facilities Management Department have tackled logistical challenges relating to safely and efficiently bringing power to the ceremony site in front of Duke University Chapel.
Community members near and far will be able to watch the inauguration ceremony live, thanks to the work of Technical and Media Services. An online live stream of the inauguration will begin at 4:15 p.m. Thursday. Four cameras and nearly 30 microphones will capture the speeches, music and pageantry of the event. The ceremony will be broadcast on loudspeakers and two large video screens to the crowd on Abele Quad.
Selden Smith, manager of Technical and Media Services, said preparing for the event has been the top priority for his seven-person team since spring commencement wrapped up five months ago.
Having been involved with the production of two previous inaugurations, Smith said the thrill of having a role in another one of Duke's defining moments hasn't worn off.
"One of the rewarding things about our job is being a part of the culture of the university," Smith said. "… The longer I've been around, the more I've enjoyed having a bit of a historical mindset about it."