Blue Devil of the Week: A Backstage Story
Behind the curtain, Special Events Technician Austin Powers helps bring performances to life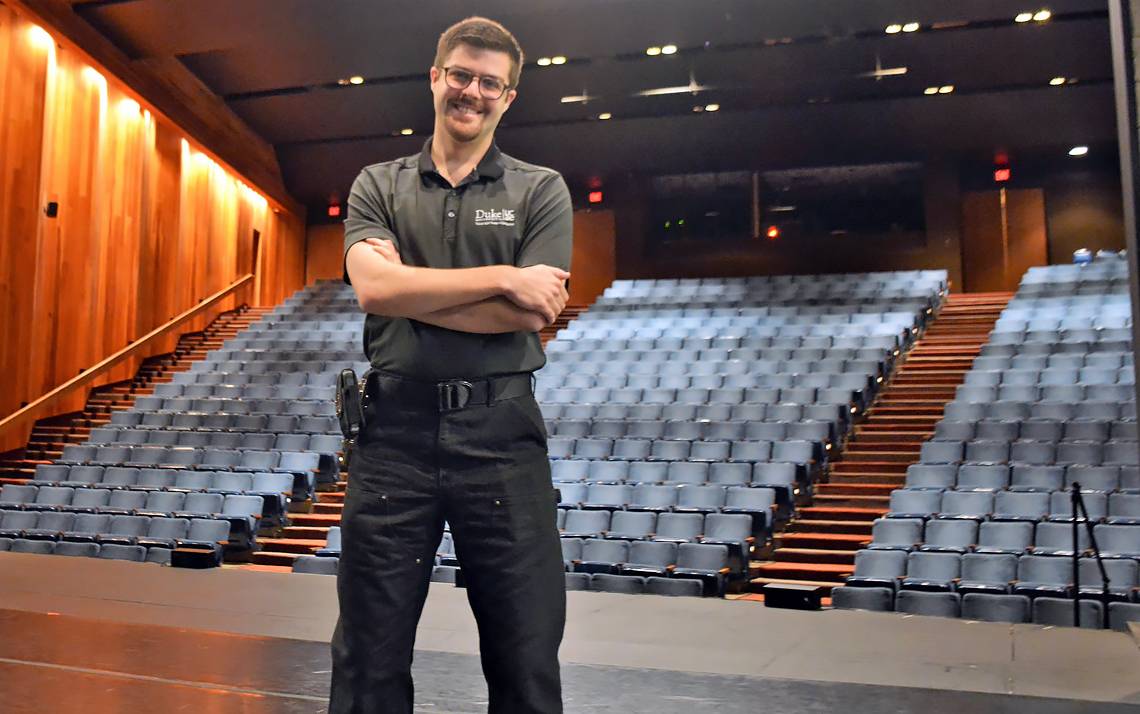 Austin Powers
Position: Senior Special Events Theater Technician with the University Center Activities & Events (UCAE) department.
Years at Duke: Two years at Duke as an employee. Graduated from Duke with an undergraduate degree in theater studies in 2015.
What I do at Duke: "We work from the basement to the roof of the theater building. We're the first to show up and the last to go home," Powers said, as he took a break in the green room of the Reynolds Industries Theater. Powers and five other full-time technicians share backstage duties at Reynolds and Duke's Page Auditorium, Griffith Film Theater, Sheafer Lab Theater and Baldwin Auditorium. A theater technician's job runs a gamut of skills, from setting up lighting and sound for performances, to hauling, maintaining and deconstructing props and musical instruments in workdays that can exceed 12 hours during a performance schedule. "This is the sign you've made it: the big key ring," Powers jokes as he jangles a large set of keys at the side of his all-black uniform. The keys symbolize the responsibilities that don't end after performances. During non-performance days, Powers and other technicians maintain and make repairs backstage or start organizing details for upcoming shows.
What I love about Duke: "What brought me to Duke as a student was the promise of finding many talented and driven people in the same place," Powers said. He now finds the same promise as a Duke employee. "I get to work with world-class people from around the world. I get paid to do what other people pay to attend. It's almost euphoric when you pull off a really complicated show," he said. Technicians have been busy prepping for performances of the American Dance Festival, which runs to July 29.
A memorable day at work: Powers' job gets him up close with performers, often at intimate rehearsal sessions. In 2015, he watched jazz singer Cécile McLorin Salvant rehearse before a show at Baldwin Auditorium. "She just has this fantastic voice. It was entrancing," Powers said of the Miami-based singer.
First ever job: A young entrepreneur, Powers worked as a bar mitzvah videographer during middle school in his native Boca Raton, Fla. Powers has participated in video and television clubs and classes since elementary school. In high school, he found backstage theater work, which utilized many of the same skills as television and video, but combined them with the thrill of live performance. Powers has also acted in high school plays, but considers acting a hobby and now leaves professional acting "to those who consider it a calling," he said.
Best advice ever received: "Read to your children. I don't have children but I benefitted from my parents reading to me," said Powers, 24.
Name game: Powers already achieved Duke fame as a student – through his name. Powers shares his name with the British spy character created by comedian Mike Myers in the 1990s. Even more of a coincidence? One of Powers' good friends and a fellow theater studies major was named Mike Myers. Both were honored for their work – Myers for directing, Powers for theater production – before they graduated from Duke.