In general, it's "a weird life being Austin Powers." Especially when the theater studies major who is graduating on Sunday is paired with his classmate and friend Mike Myers.
The names of Myers and Powers are forever connected in popular consciousness by the three Austin Powers movies written by and starring Mike Myers, the actor and former Saturday Night Live star.
But for the past four years, two Duke students with those familiar names have been leaders in Duke's theater program and productions.  This week the department honored Myers with the Jody McAuliffe Award for Excellence in Directing, while Powers received the Kenneth J. Reardon Award for Theater Design, Management or Production.
The two have shared theater and German classes and were roommates in 2013 in the Duke in Berlin program.  Both were officers in Duke Players and the two collaborated closely on "Avenue Q" and Woody Allen's "God," with Myers directing both and Powers serving as the lighting designer.
They didn't play the connection up, but just two weeks ago for the final performance in an experimental collaborative theater class, Powers assumed the role of his character namesake to great delight.
"It has been a sometimes wacky four years being at Duke with Mike," Powers said this week.  "People couldn't even figure out how to talk about us and the characters, because of our names."
In one class, there was a lot of laughter during roll call on the first day of classes.  Professor Susanne Freytag said she did a double take when going over the class roster for her German 101 class.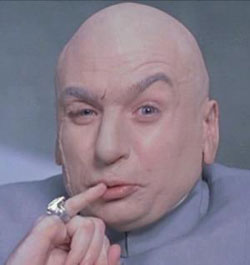 Mike Myers and Austin Powers received Theater Studies honors this semester. Dr. Evil did not.
"Before the class, I had noticed Austin's name on the roster and thought how funny that was, but hadn't noticed Mike," she said. "When I went through the roll, I came to Mike Myers first and was rather surprised, as you can imagine, followed immediately by Austin Powers." That broke the class up.
"They were great to have in class," Freytag added. "They're both great guys. The funniest part to me was that they were actually already friends."
It's less fun when Powers has to constantly provide ID to strangers to prove his name. "It's just a reflex now," he said. Or when patrons in the campus computer lab where he works walk away with his namecard as a keepsake.
The two will leave the theater program this weekend after graduating, but don't worry: Sophomore George Lucas returns to the program for two more years.
To see a full list of national, university and departmental awards, click here.