Events Get 'Green' Treatment
Duke offers sustainable certification for one-time gatherings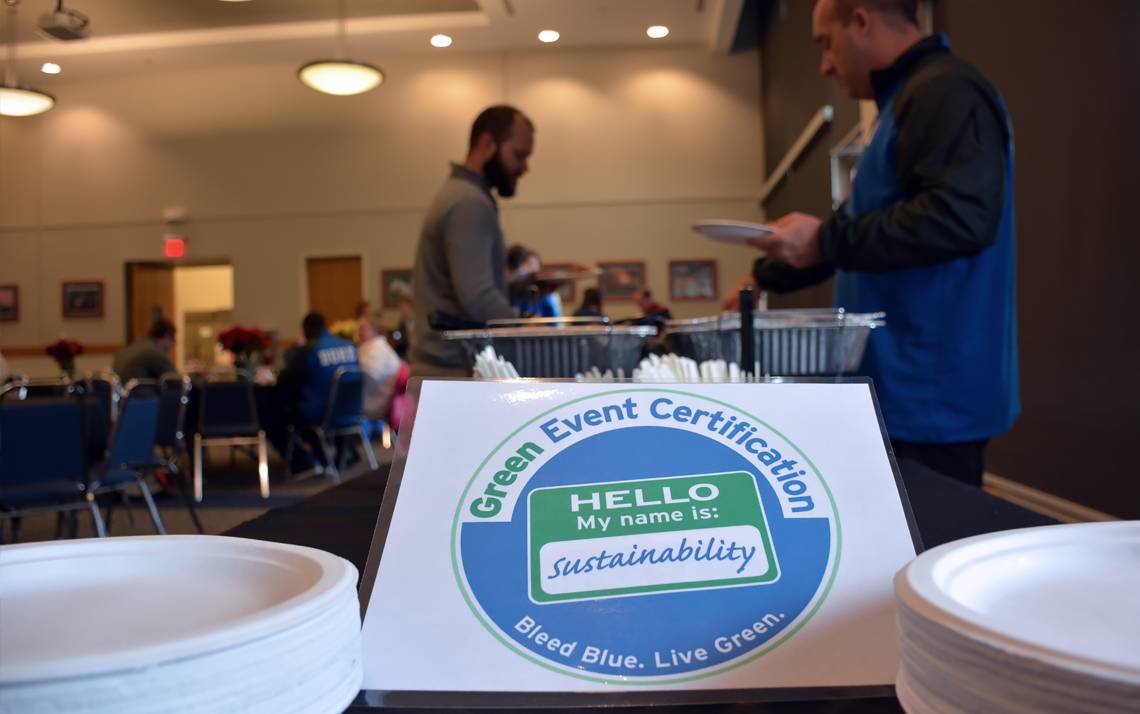 Looking to add a new twist to your office or department's next get-together? Try a sustainability theme.
Across campus, Duke community members are rethinking the source of food, dining utensils, travel and even invitations in an effort to earn a Green Event Certification. The designation is one of several Sustainable Duke recognitions that encourage faculty, staff and students to go "green" in their behaviors.
Since 2011, Duke has recognized sustainable classrooms, residence halls, labs and offices that cut water and energy use, save paper, and educate the community on Duke's goal of going carbon neutral by 2024. Green Event Certification has brought that same effort to staff meetings, speaking engagements and 5K races. In the past five years, 75 campus events, including the annual Taste of Duke picnic, have received the certification, with 16 of those in 2016.
"Events that encourage faculty, staff and students to act and live sustainably can make that thought process a regular part of day-to-day life on campus," said Becky Hoeffler, program coordinator for Sustainable Duke. "These kinds of initiatives can resonate with people who may not be familiar with Duke's overall goals and initiatives."
Earning a certification starts by submitting an online checklist at sustainability.duke.edu/greenevent at least two weeks prior to the event. The list includes tips to be implemented before, during and after an event, including scheduling gatherings in a room with energy efficient lights and electronics, using local, sustainable caterers, encouraging use of public transportation, and using recyclable materials.
Once approved, certified events receive a Green Event Certification logo, which organizers can use freely on event materials to promote their green efforts. Event organizers can also request a "Duke Green Event" banner to display during the gathering.
In December, Duke Recreation and Physical Education hosted Duke's 75th certified "green" event for its annual holiday lunch, attended by just over 100 staff members. It was the department's third certified gathering, featuring food by local barbecue restaurant The Pit with compostable plates and utensils and electronic invitations with Duke bus schedules to encourage public transportation to Scharf Hall on West Campus.
"If sustainability is important to the university, it's important to us," said Meghan Weiseman, assistant director of recreation facilities who organized the event. "We've converted all our offices to be green certified, so the natural next step was to have our events be green, too."
Weiseman said planning for sustainability is part of every biweekly staff meeting, whether it's related to maintenance at the Wilson or Brodie recreation centers or catering and recycling options.
"It's not a lot of extra work to do something good for Duke and the environment," she said.