Duke Honors its Green Champions
Sustainability Awards highlight community members who power Duke's environmental strides
Duke Sustainability Director Tavey Capps said that the crop of nominees for this year's Sustainability Awards was especially strong – so strong that two categories featured multiple winners.
"It's always amazing to see all the different projects and people that take it upon themselves in a lot of ways to work on these efforts," Capps said.
During Thursday's Sustainable Duke awards luncheon, which was co-sponsored by Sustainable Duke and Duke Sanitation and Recycling Services, Duke honored staff, faculty and students who were nominated by their peers for work that supports Duke's commitment to sustainability.
Both Capps and Tim Profeta, director of Duke's Nicholas Institute of Environmental Policy Solutions, said the winners' work took on increased meaning as political winds could lead to a shift in environmental policies.
"The world is in a place where the sustainability of our planet is a ripe topic, a topic that people are very concerned about," Profeta said during the event at Sarah P. Duke Gardens. "I think the university has a distinctive role in being a beacon of light and encouragement."
Here are this year's winners:
Outstanding Leadership in Sustainability – Staff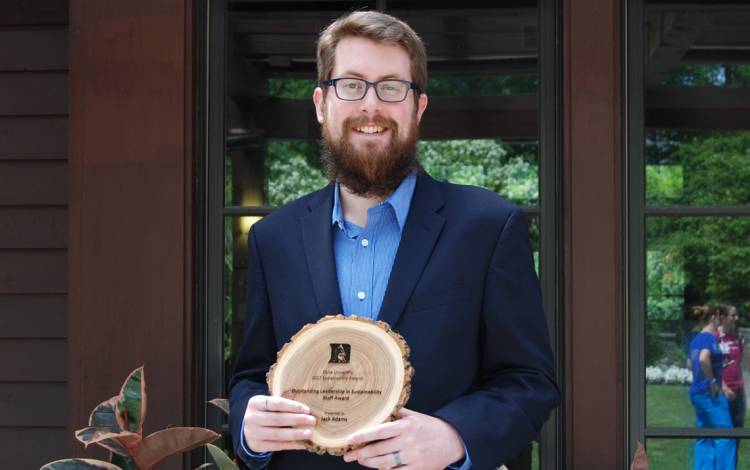 Jack Adams, Assistant to the Dean for Duke Chapel
Earlier this year, Adams organized the Green and Fair Chapel Day, which featured a showcase for green and ethical goods and policies, a panel discussion about how faith shapes environmental work and a screening of Before the Flood, a documentary about the threats of climate change.
In her nomination, Duke Divinity student Lena Connor wrote that Adams "initiated a wonderful campaign at Duke Chapel to focus on sustainability in their infrastructure and programming, which he has poured incredible amounts of time into."
Chiara Mecagni, Physical Therapist at Duke Hospital
Mecagni was the driving force behind the Adult PT/OT Inpatient Department sustainability program that earned the office a Green Workplace Certification. She's provided sustainability training for co-workers and is a leader on the hospital's Green Team.
She does her best to live a sustainable life away from work as she bikes to work and gives her time to a variety of environmental causes.
Co-worker Laura Schwark, who nominated Mecagni, said that Mecagni "is truly dedicated to educate anyone who is interested in how to make Duke and Durham more sustainable."
Outstanding Leadership in Sustainability – Faculty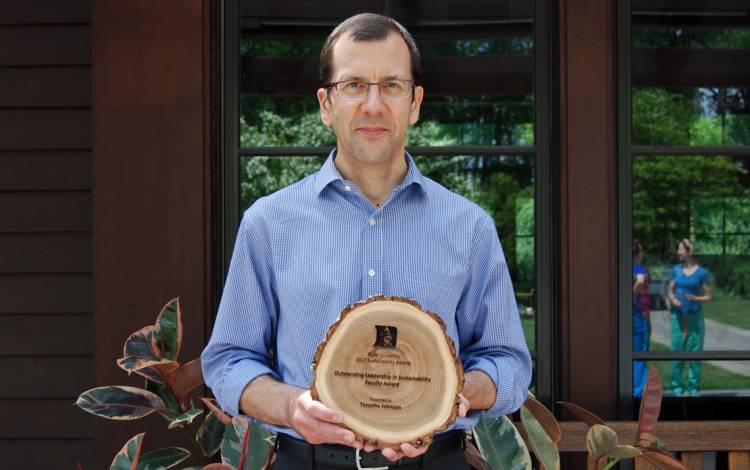 Dr. Timothy Johnson, Associate Professor of the Practice in Energy and the Environment, Nicholas School of the Environment
In addition to teaching courses that focus on innovative technologies and ideas that could lead to energy independence and lower carbon emissions, Johnson has lent his expertise to student groups hoping to learn more about sustainability.
He was nominated by student Lin Zuo, a member of the Duke Green Devils, who enjoyed a presentation on alternative transportation that Johnson gave to the group.
"Professor Johnson gave a group of freshmen the chance to learn about a unique technology from an expert," she said. "It was really exciting to connect with the grad school professor over dinner and a good discussion."
Outstanding Leadership in Sustainability – Student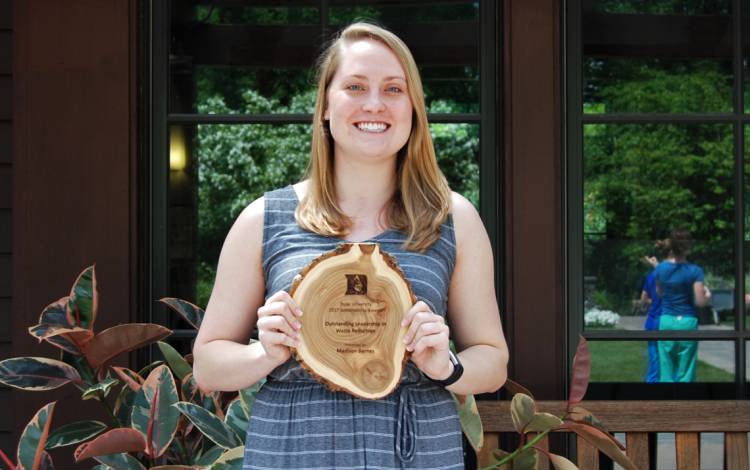 Madison Barnes, junior
Barnes, a member of the Students for Sustainable Living recycling team, brought energy and initiative to student-led waste reduction efforts. She led volunteers during Duke's Zero Waste Game Day programs during football season and helped relaunch the Duke Free Store, which gives the community the option to reuse supplies instead of buying new ones.
"Madison has been heavily involved in waste reduction on campus during her time at Duke," said Adam Long, a graduate assistant for Students for Sustainable Living and the person who nominated Barnes.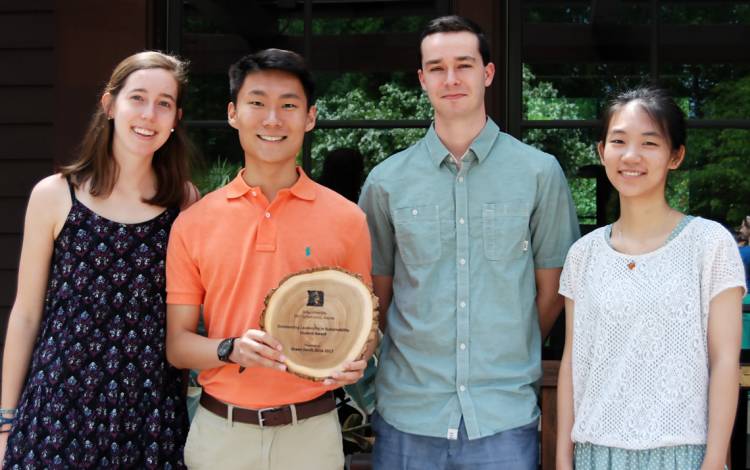 Duke Green Devils
"The Green Devils are committed to improving sustainability on East Campus," said nominator and Sustainable Duke graduate assistant Laura Bader.
The group's 16 members helped educate fellow students about making more sustainable choices by distributing a Green Dorm Checklist. They also set up a reusable bag program and promoted alternative transportation options. They gathered information on the use of to-go containers and shower times and championed the Devils against Disposables campaign, which awarded students reusable mugs if they pledged to reduce their reliance on single-use cups. They even organized a sustainable gift swap before the holidays.