Duke's Unsung Heroes
Students respond to 9-1-1 calls for Duke EMS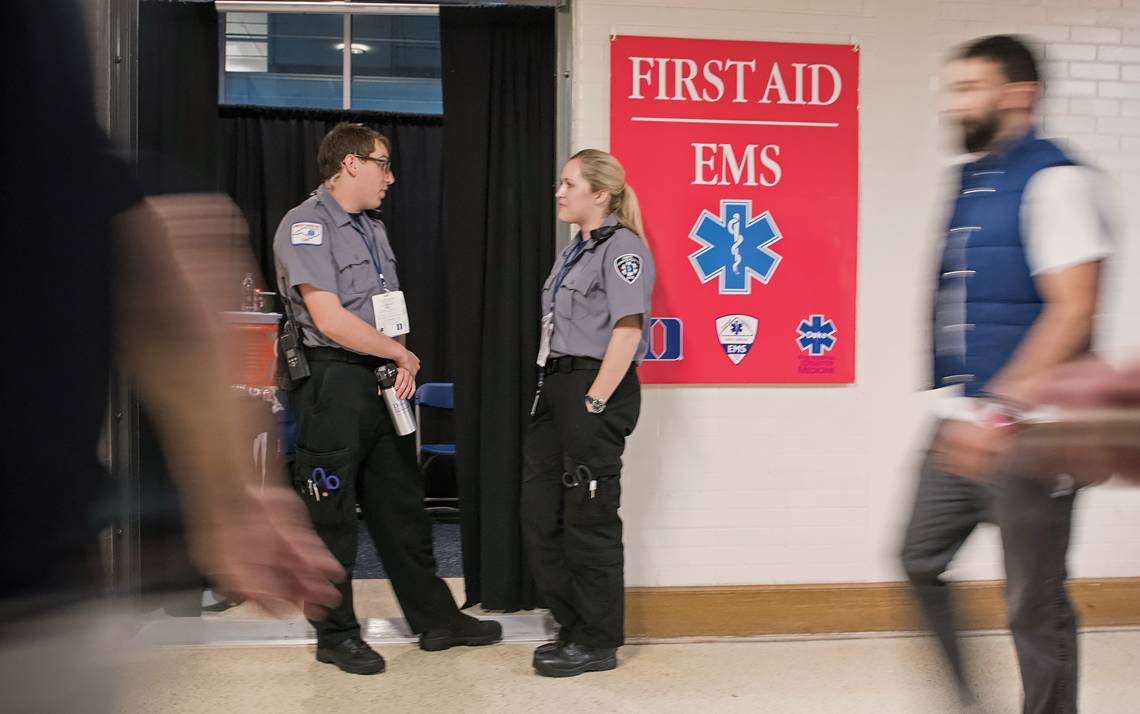 During a Marketing Club meeting with Duke students in late 2015, George Grody, the club's adviser and a markets and management professor, turned white and unresponsive in Perkins Library.
"Does anyone know CPR?" a student in the library shouted.
Three students studying nearby ran to Grody, who was leaning back in a chair, and moved him to the floor. Two students took turns pushing on his chest, administering compressions, while two others ran for an automated external defibrillator.
When the students reunited at the scene in the library classroom, each one had a role: one pushed on Grody's chest, another squeezed a bag valve mask to get air in and out of his lungs, another inserted a temporary tube down his throat to help him breathe, and another attached automated external defibrillator pads to Grody's chest.
Three shocks from the automated external defibrillator brought Grody back to life.
Later in the hospital, Grody learned he had a heart attack and that Duke students helped save him.
"I retired to come back and teach and be with students and help them," said Grody, 58. "So when I needed help, they returned the favor."

Duke professor George Grody, center, stands with Duke EMS student volunteers who helped save his life in Perkins Library in 2015. From left to right are Kirsten Bonawitz, Ritika Patil and Kevin Labagnara.
The students were part of Duke University Emergency Medical Services, known as Duke EMS, a 30-member squad of Duke student volunteers who respond to 9-1-1 calls and provide basic life support for the Duke community and visitors. Established in 1994, Duke EMS responded to nearly 600 emergency calls on campus last year, arriving at most scenes within 4.5 minutes.
Kyle Cavanaugh, vice president for administration, said that over the past several years, Duke has provided increased budgetary support for the Duke EMS program, including for the purchase of a new vehicle.
"Overall, the services provided by Duke EMS are an integral part of keeping the campus safe," Cavanaugh said.
Most students on the Duke EMS squad are pre-med and manage classes and social lives with on-call shifts that take them to emergency calls ranging from chest pains to seizures across the university and medical campuses. They also provide first responder services at special events such as basketball games and train hundreds of students and employees in CPR.
"One of the biggest benefits of Duke EMS is just the concept of helping your own," said Dr. Susan Schreffler, Duke's medical director of prehospital medicine and Durham County EMS' medical director who helps oversee Duke EMS. "A good portion of the students want to do it because they want to help the community. They want to feel a part of the school and a part of the university in a way that these kinds of organizations promote. It gives them a sense of school pride."
On call at home base
Michael Mayer, a Duke senior, is juggling 13 medical school interviews, class assignments and intramural soccer with two Duke EMS shifts per week.
At the Duke EMS home base, a two-bedroom Central Campus apartment, he types potential interview questions on a laptop and rehearses responses while listening for EMS service calls. His service with Duke EMS provides training and experience – a competitive edge for medical school.
"I've seen over 50 patients in my various calls. You take vital signs, take a medical history and you communicate with other medical professionals," said Mayer, who hopes to get into Northwestern University or University of Chicago. "All those experiences are clinical experiences, and that's what medical schools look for."

Duke EMS student volunteers Michael Mayer, left, and Kevin Labagnara, right, work on assignments and wait for emergency calls at the Duke EMS home base, a two-bedroom Central Campus apartment.
Duke EMS students spend much of their on-call shift, which ranges from 1.5 to 14 hours in one day, at home base. Closets store pressed Duke EMS uniforms, boxes of exam gloves and various supplies in plastic organizer bins. Students take naps on the couch, study for a biochemistry exam or watch "House of Cards" on Netflix. During holidays, they carve pumpkins or build a snowman in the parking lot.
The squad's "Quick Response Vehicle," a Ford Escape, is parked outside the apartment, at the ready, for when the emergency radio sounds: loud beeps, followed by a basic patient description, symptoms and location.
"I'm nearing my fifth or sixth year as an EMT, so I've kind of gotten used to the tone," said Duke senior and Duke EMS Director Kevin Labagnara. "I'll get kind of amped up when I hear it."
For Labagnara, a love of emergency medicine began before he arrived at Duke. Labagnara took a Basic Life Support class in New Jersey when he was 16, and later served on his hometown ambulance and rescue squad. He joined Duke EMS during the fall of his first year at Duke to gain more experience with patients.
"It's great medical experience, and it's also very satisfying just doing this job, knowing you're one of the few people out there who gets to see the patient first, sometimes even in their home or in their dorm room," he said. "You're the first person who can help. I think that's really cool.
Chest pains in Cameron
Across from Section 13 in Cameron Indoor Stadium, a black privacy screen surrounded a secluded first aid station. Inside, Duke EMS volunteers Eli Medvescek and Willa Chen sat in plastic chairs as the Duke men's basketball team pulled ahead against Augustana College.
A few Blue Devil fans popped their heads in and asked for earplugs or a Band-Aid. But at halftime, as the crowd flooded the halls and lined up for concessions, a woman slowly walked in, red-faced.
"I feel like I might pass out," said the woman, her body swaying.
She had chest pains.
In an instant, Medvescek and Chen, accompanied by Duke's medical director of event medicine, Dr. Joe Borawski, helped her to a chair. Duke EMS volunteers went through their checklist.
"The task is to rule things out," said Medvescek, a Duke biomedical engineering senior. "It's better to assume a number of things can be going wrong than to assume nothing's wrong."
Chen took the woman's temperature and blood pressure, and Medvescek recorded her blood sugar levels and personal information on a clipboard. They handed the woman baby aspirin as a Duke nurse, Life Flight first responders and Duke Athletics personnel gathered in the first aid station. They attached pads from an electrocardiograph machine to her chest and ankles. The woman's heart rhythm appeared normal, but she was placed on a stretcher and wheeled to an ambulance and taken to Duke University Hospital, where she was kept overnight.

Duke EMS student volunteer Eli Medvescek, center, records a guest's information at a men's basketball game in Cameron Indoor Stadium in November.
"The challenge is always keeping your antenna up for someone who's really sick," said Borawski, the medical director of event medicine. "In providing this service, Duke EMS students learn how to talk to people, how to take care of people, and what their strengths and weaknesses are."
Training with heart
George Grody, the professor saved by Duke EMS, became the first university faculty adviser for Duke EMS two months after his cardiac arrest and emergency bypass surgery.
Together, Grody and Duke EMS currently train Duke community members in compression-only CPR, or CPR without mouth-to-mouth resuscitation, by organizing large campus training events and small meetings with teams of student-athletes.
The goal, Grody said, is to train every Duke first-year class so that in four years, every student on campus will know CPR.
"It's a win-win for everybody," he said. "It helps Duke EMS grow as an organization. It gets them better publicity on campus for everything they're doing, because they're sort of unsung heroes."
On a recent Saturday morning, about 20 Duke Swimming and Diving teammates sat in a meeting room overlooking Taishoff pool. They were surrounded by flesh-colored manikin and automated external defibrillator training kits. A giant fan whirred, stirring around the odor of chlorine.

Duke EMS student volunteer Spencer Flynn, center of the circle, leads CPR training for Duke's Swimming and Diving team in Taishoff Aquatics Pavilion.
At the start of the session, Grody addressed the team.
"Last year after a class, I had a cardiac arrest," he told the group.
Grody said he didn't have a pulse for seven to eight minutes. Without CPR, every minute that goes by during a cardiac arrest decreases the patient's survival by 7 to 10 percent.
"So, the fact that I am here is a bit of a miracle," said Grody, his voice cracking with emotion. "That's what we're here for, is to give you some training and to help you out if this ever comes up."
The student-athletes learned how to properly administer compressions and automated external defibrillator shocks, among other live-saving measures.
At the end of the session, Grody, Duke EMS students and the Swimming and Diving team joined hands in the center of the room.
"One, two three…Swim Dive saves lives!" they shouted in unison.