Lift Weights to Maintain Strength While Aging
A Duke study shows that weight training can combat muscle loss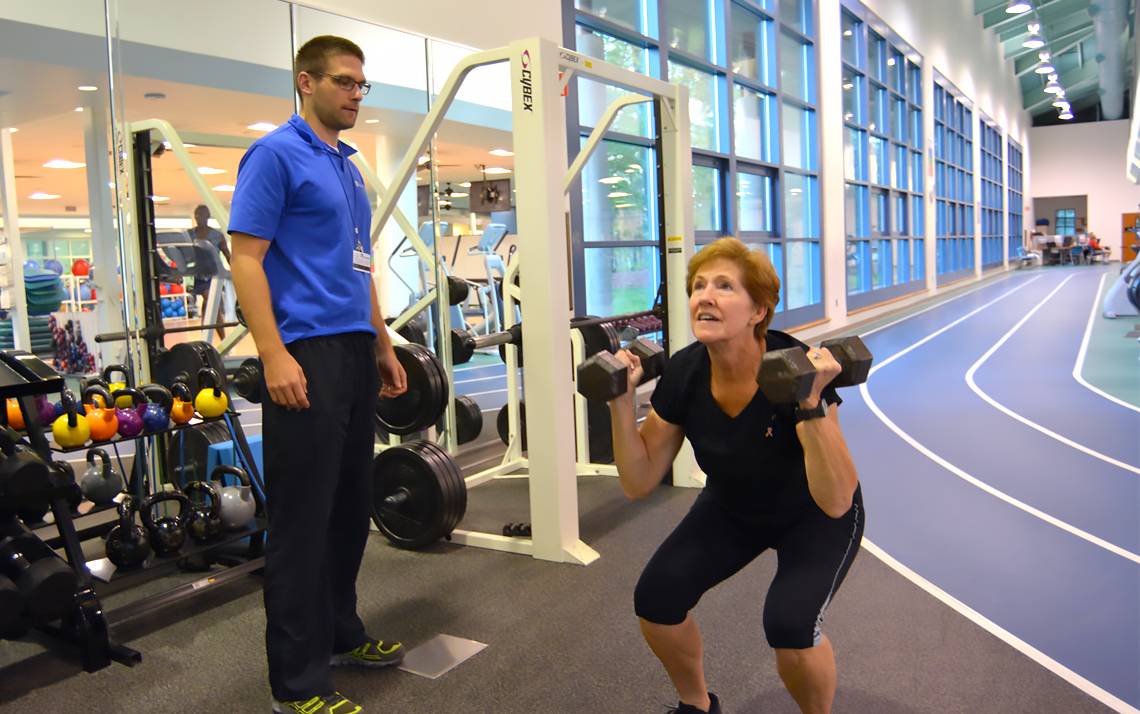 It's not uncommon to slip, trip and fall as you get older, but a recent study by Duke researchers shows that it's still possible to delay those threats if you pay closer attention to physical activity.
Published in June 2016 in the Journals of Gerontology, the study by Duke faculty shows that physical declines often begin in the 50s, but combating the body's slowdown can be achieved by focusing on basic strength and endurance exercises in the years prior to reaching that threshold.
"Our research reinforces a life-span approach to maintaining physical ability – don't wait until you are 80 years old and cannot get out of a chair," said Katherine Hall, assistant professor of medicine at Duke. "The good news is, with proper attention and effort, the ability to function independently can often be preserved with regular exercise."
Her advice may be particularly useful for Duke faculty and staff: according to Duke Human Resources, the average employee age is 44, which falls in an ideal decade to focus on fitness to help curtail physical decline. The study, which included participants from their 30s through their 100s, showed that a physical slowdown was similar across gender and race/ethnicity as people aged.
Dealing with loss of strength and mobility is something Noah St. John works to prevent with Duke Health and Fitness Center members. As a registered dietitian and certified exercise specialist, St. John tries to highlight the importance of strength, aerobic and flexibility training.
"Aging isn't a bad thing, it's a natural part of the life cycle and beats the alternative," St. John said. "If your body is naturally declining physically, the way you slow that is by constantly giving it a challenge so it responds by increasing strength, stamina and athleticism to better handle that challenge."
St. John said the key is creating a routine that fits the level of activity necessary for an active life. If the goal is to golf 18 holes and not feel worn out, finding ways to add cardiovascular activity and weight resistance are key. You shouldn't be going to a gym and not breaking a sweat or not getting out of breath, he said. A routine should be a challenge you can barely meet. The focus should be on lifting weights and aerobic activity that makes you feel tired and puts enough stress on muscles to work but not overly strain them, he added.
"You use training to make your body adapt," St. John said. "Instead of your body feeling tired and worn out at 55, you can push that out 20 to 30 more years."
--
Duke employees are participating in the "Get Moving Challenge" through March 19. Staff and faculty can submit pictures and tips from their wellness journey here.