PUBLISHED
HackDuke Winners to Continue Work on Social Good Projects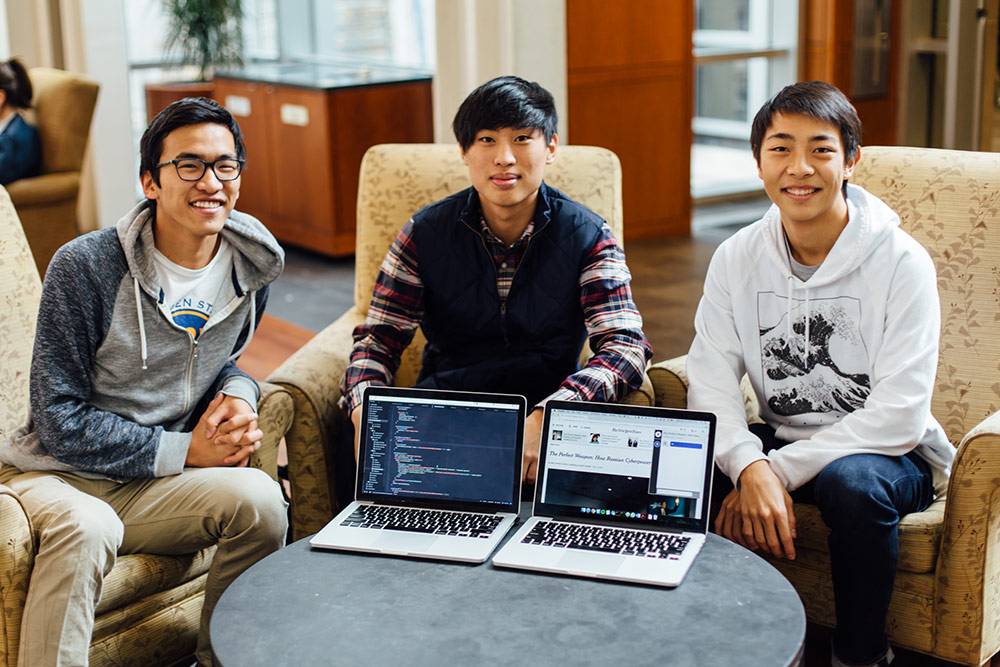 Much like other hackathons, HackDuke brings students together for 24 hours to work on coding projects. But unlike other hackathons, HackDuke focuses on social good, and that means many of the winning teams have kept on coding after the event.
A team of three sophomores from Georgia Tech created the winning project for the education track – a product they call Paizza, to be used with question-and-answer service Piazza.
All work as teaching assistants in an entry-level computer science class, and they use Piazza, an online platform where students can interact with them by asking questions and discussing solutions.
But they noticed a problem with Piazza – namely, that the search feature didn't work well and duplicate questions rolled in frequently.
At HackDuke, they built Paizza, which pulls keywords from posts and creates an index to give the user more accurate search results.
The students said HackDuke attracted them because of its focus on Code for Good tracks. "Duke ended up being the ideal venue for us," team member Marc Marone said. He added that many classes at Duke also use Piazza to communicate.
Originally, team member Alex Hirschberg said, the team planned to create a bot that would flag duplicate questions, but eventually they decided to create something more user-facing – a website with a robust search function.
The three split up tasks to successfully complete their site in the 24 hours – Hirschberg worked on user interface, while Marone and Farhan Tejani worked on the artificial intelligence piece.
Team Paizza plans to continue working on their product over the holiday break and hope to roll out a site that will be usable to students by next semester.
Although all three had been to HackGT on their campus, this was the first time they "not only made something at the hackathon, but also continued to work on it and use it once it was over," Hirschberg said.
Not all of HackDuke's winners were experienced hackers – for some, it was their first hackathon.
The winning title for the energy and environment track went to Watt, produced by five Duke first-year students: Nikhil Ravi, Shrey Gupta, Trishul Neganalli, Pranav Warman and Mihir Paithane.
After users enter data about their home and appliances, Watt crunches numbers and returns data about more energy-efficient models that could save users money in the long run.
"Most people only think about replacing their appliances when they break," Ravi said. "But there could be a much more optimal time for them to exchange them and start saving money."
The team plans to work on their project over the holiday break, cleaning up the code to make their web application more usable.
The social good component of HackDuke was also important to them because each winner received $400 to donate to the charity of his or her choice.
A Chrome extension called Kindling won the inequality track for its attempts to connect people with others who hold opposing viewpoints.
"A lot of inequality today is caused by misunderstandings among people or lack of empathy among people," said senior Danny Oh. "By making these connections, we hoped to bring people together and help foster discussion."
Kindling functions as a chat room for websites where people can discuss reactions to news stories they're reading. They can also choose to chat with someone who disagrees with them.
Seniors Alex Dao and Kevin He also worked on the project. The three will work at Facebook after graduation and focused on their love of connecting people while working on Kindling. Dao and Oh were also part of a winning HackDuke team last year, when they won the energy and environment track for their carbon footprint tracker.
But Dao said he wasn't always creating winning projects. When he participated in HackDuke his freshman year, his team didn't even finish a project.
"Don't be demoralized if you feel like you can't make something great," he said. "It's more about the learning experience."