HackDuke Successfully Codes for Social Good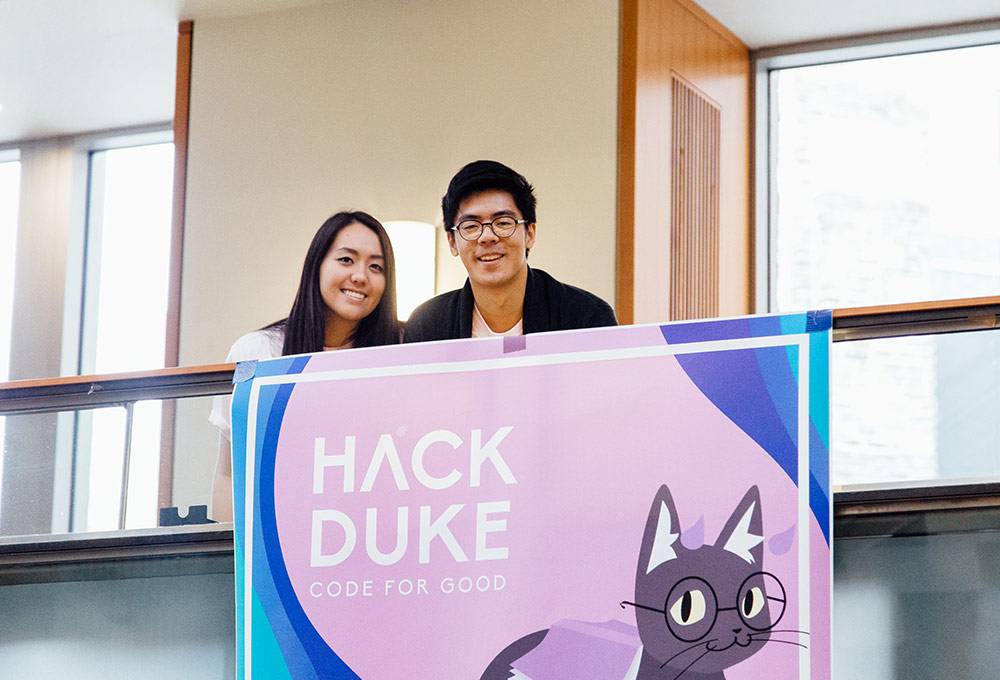 Juniors Yixin Lin and Michelle Chen both got involved with HackDuke during their first year at Duke – Yixin as a participant and Michelle as a volunteer. This weekend, their HackDuke experience came full circle as the two, now the co-directors of the 24-hour hackathon, oversaw the fourth annual HackDuke.
As the pair circulated among the three stories occupied by hackers, stopping to talk to students, sponsors and volunteers along the way, Michelle smiled.
"It's the social event of the season," she said. She was half-joking, but the energy was unmistakable as students filed into workshops, formed teams and lined up for the first of many cups of coffee.
There are hackathons at universities all over the country, but as far as Chen and Lin know, Duke's is the only one that focuses on social good. This means that student hackers must choose a specific track – inequality, health and wellness, energy and environment or education – for which to create a program, platform or app.
"It's easy to get sucked into the technology bubble," Lin said. "But we want to invite students to explore the intersection between technology and social good."
Last year, about 800 participants came to HackDuke, but this year's organizing team felt that the hackathon needed to return to its smaller roots.
This year, about 500 students from universities around the country – and even a handful of international students – attended HackDuke to code for good.
Sean Crenshaw codes for a project during the weekend event. Photo by Pilar Timpane
Chen said it's sometimes difficult to strike a balance between creating a large, exciting program while creating as great of an impact as possible and making sure that students still get the individual assistance they need.
To provide that assistance, HackDuke brings in mentors. Some can help with unfamiliar coding languages and other technological issues, while others come from other fields, such as the nonprofit sector, and have a depth of non-technological knowledge to share.
"With most hackathons, you go there, you build something for 24 hours, and there's no follow-up," Lin said. "We recognize it's impossible to change the world in 24 hours, but these partnerships will hopefully lead to real impact beyond HackDuke."
One student focused on bringing change was Sean Crenshaw, a senior computer science major at Virginia Tech.
Crenshaw and his team were developing an app that would use IBM's language processing systems to analyze Facebook messages and identify potential harassment.
If the app identifies a message as potential harassment, the user can choose to ignore it, send a prescribed warning message to the harasser or send screenshots to law enforcement.
Crenshaw has been to about 15 hackathons, and this weekend was his fourth time at HackDuke. He said HackDuke's focus on social good sets it apart from other similar events.
"That's part of what brings me back," he said. "It really promotes positive change."
At the end of the 24 hours, the hackers convened at Penn Pavilion to watch demos from the winners of each track.
Each sponsor was allowed to choose a winner, and miscellaneous prizes such as "best domain name" were also awarded.
Foodpedia, a platform to help those recovering from eating disorders, took home the prize for the novice track.
Other track winners included:
Kindling, which won the inequality track for its platform to discuss news articles with people of differing opinions in hope of building empathy;
Eyezheimer, which won the health and wellness track for its web application that is meant for easy diagnosis of Alzheimer's disease;
Watt, which won the energy and environment track for its consumer guide to help potential appliance buyers make energy-smart decisions;
Paizza, which won the education track and can be integrated into learning platform Piazza to identify duplicate questions.