Duke in Pics: Marketplace Grand Opening
East Campus' student union reopens after renovations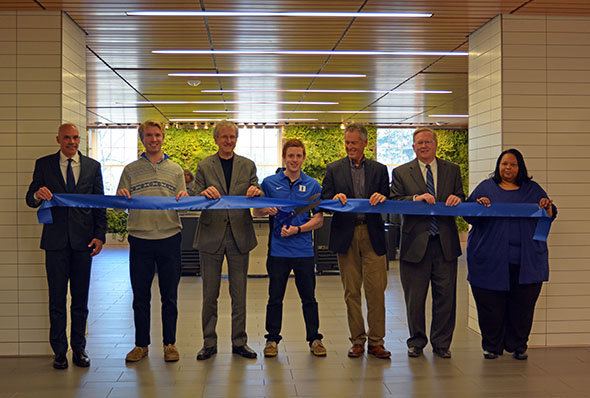 Above, students and staff gather to officially mark the opening of East Campus' Marketplace after months of renovations to update the space for the first time in 20 years.
A special event took place just before lunchtime Jan. 12, with students filing in to get their first meals in the space brightly light with natural lighting and full of aromas from open fire ovens. As part of changes to the Marketplace, Duke Dining expanded storage, increased walking space and added more seating in dining areas. The lower level of the Marketplace now features enhanced lounge spaces and meeting rooms.
"It's been a vision for two years and to see it come to reality is really exciting for me and our Duke Dining staff," said Rick Johnson, associate vice president of student affairs for Housing, Dining, and Residence Life. "We wanted to create a new kind of feel for the Marketplace."
Below are new booths in a lounge space on the lower level of the building. The area also has several TVs broadcasting sports and other entertainment.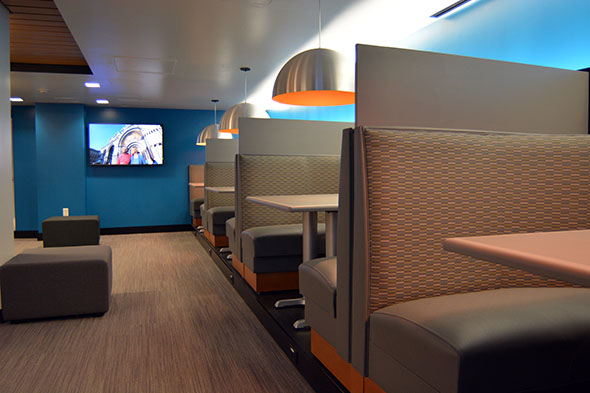 Students, faculty, staff and visitors can also take advantage of the space beyond a place to meet, as enhanced food service areas offer a variety of dining options, including stir fry, a new salad bar, deli and more.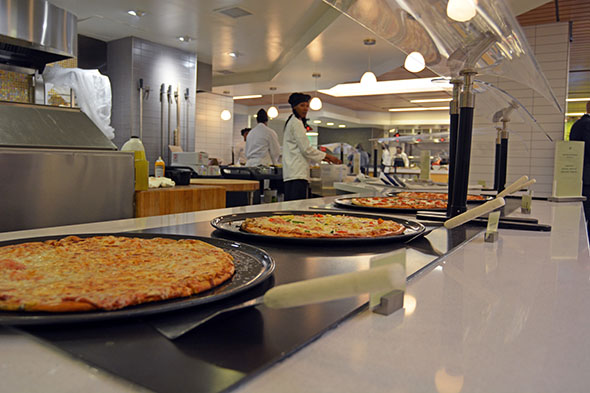 For more information about renovations, see this project summary. See more pictures of the new Marketplace on the Working@Duke Facebook page.