Building a New Era for Duke
Campus sees major construction, renovation and restoration projects
Echoes of construction rang throughout West Campus as the arms of a high-reach excavator slammed into a hollowed West Union Building. The 50-foot-tall arms came down time and time again, pulling decades-old Duke stone to the ground as part of the main demolition to the nearly 100-year-old space.
Nearly two years after the start of the renovation, a skeleton of steel beams to support the building's structure sat in place, covered with walls of Duke stone. As crews installed utility lines, pipes and other infrastructure in late 2015, West Union moved closer to once again becoming the bustling center of campus and student life.
Read More
The entire 112,000-square-foot building is expected to reopen in spring 2016, but two areas are scheduled to open in February – an outdoor seating area as well as a dining space run by Durham's Geer Street Garden, which will serve local pub fare and microbrew beer. In all, the new West Union will operate 13 restaurants serving an array of food from pizza and Indian cuisine to vegan-friendly options. A new dining room, The Commons, will include outdoor space for eating with a view of the Bryan Center Plaza.
"In keeping up with Duke's first-class reputation, the West Union Building will be one of the finest, state-of-the-art dining facilities in the country," said Robert Coffey, director of Duke Dining. "The vendors that we have selected for this facility will be capable of producing world-class, innovative food that has never been attempted in a university setting."
The renovation of West Union is one large chunk of more than $500 million worth of construction and restoration at Duke in 2015 supported by investments by the Duke Endowment and Duke Forward campaign. The commitment to modernizing facilities rivaled money spent to start Duke's campus in 1924, but Tallman Trask III, Duke's executive vice president, said the amount of work is appropriate for an 85-year-old campus, adding that the way Duke was built generations ago must now influence how it's cared for.
"Most campuses in America grew up one building at a time, but this campus grew up 20 buildings all at once," Trask said. "That means we have a different kind of schedule to worry about maintenance and care."
Over the summer of 2015 alone, 60 different projects were underway, from upgrading drainage on the West Campus quad and building a new, glass entry to the Bryan Center to renovating the East Union Marketplace for new classrooms and dining spaces.
"Every campus is different, but the useful life of a building is usually between 50 and 75 years," Trask said. "We fell in that window when many buildings needed attention."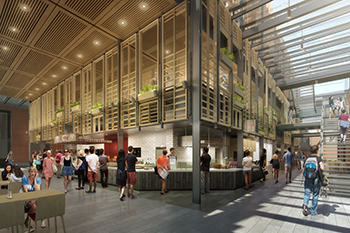 An artist rendering shows the proposed aesthetics of one of 13 eateries to be included in the renovated West Union.
According to research by College Planning & Management magazine, campus construction across the country has been ramping up over the last few years, with 2014 showing the most construction completed since the beginning of America's recession in 2008. A survey conducted by the magazine, which attempted to include all colleges and universities in the United States, estimated that $12 billion was spent on construction completed in 2014. When the report was released in February 2015, it projected colleges at the time were involved in a total of $35 billion of construction.
Paul Abramson, an analyst with Intelligence in Education, which tracks college construction, said that many higher education institutions in recent years have focused on construction and renovations in academic buildings and facilities like residence halls or dining facilities. At Duke, both areas have received attention.
"For colleges, there's a competition to get students centered around facilities and student comfort on campus," Abramson said. "Duke is a little bit different than other colleges around the country because of its reputation."
Larry Moneta, vice president of Student Affairs, said that enhanced campus facilities play an important role in creating gathering spaces where students feel comfortable and excited about being at Duke.
"In concert with all the adjacent, critically needed spaces, the West Union will offer students access to great gathering, performance, dining, hang out and community support facilities unparalleled anywhere," he said. "Add the new Student Health and Wellness building opening in early 2017, and students will enjoy an incredible 'downtown' on West Campus."
As Duke completes a variety of large-scale projects in 2016, here are some that will transform campus:
David M. Rubenstein Rare Book & Manuscript Library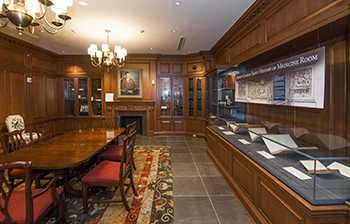 One of the newly renovated spaces in the Rubenstein Library is the Trent History of Medicine Room, which showcases surgical instruments, manuscripts and print materials. Photo courtesy of Duke Libraries.
After nearly 15 years of work, a project to modernize Duke University Libraries completed its final phase this summer with the unveiling of newly refurbished 115,000 square feet in Rubenstein Library. It now accommodates more materials in specialized storage spaces and offers better research services and study areas. It also received a Leadership in Energy & Environmental Design (LEED) gold certification.
During the fall semester, the Libraries introduced the "Archives Alive" initiative to partner with faculty and use special collection materials to support undergraduate research in a variety of disciplines, from music to women's studies, religion and more. Before renovations, instruction space for such a program didn't exist.
"These classes offer opportunities to have an authentic research experience that's breathing new life into the process of learning," said Trudi Abel, a Rubenstein Research Services archivist who is overseeing the program. "In some cases, the materials are so rare they only exist in our library."
Overall, collection storage increased by 50 percent and is now almost 50,000 square feet. Updates also extend to the Mary Duke Biddle Room and the Gothic Reading Room, where finishes, furnishings, lighting, technology infrastructure and exhibition facilities were all enhanced and can now seat 160 people.
Scott Family Pavilion
An artist rendering shows the proposed look of the Scott Family Pavilion.
Steps from Cameron Indoor Stadium and Brooks Field at Wallace Wade Stadium, 50,000 square feet of new construction will create a state-of-the-art facility that will help student-athletes train, offer a destination for Blue Devils fans and provide new workspaces for staff.
"The Scott Family Pavilion might have the biggest impact of any of our construction in regard to the student-athlete experience at Duke," said Mike Cragg, deputy director of athletics operations. "But it will be invaluable to bring staff closer together and include new fan amenities, like a new Nike store."
Olympic sport athletes will have 12,000 square feet for strength and conditioning workout space, while 21,000 square feet will provide new office and retail space across two separate floors. The goal is to create a centerpiece entry plaza for fans gathering at the basketball and football stadiums.
The new addition will act as an integral part of the Athletics precinct, complementing an enhanced gameday experience. 
Page Auditorium
Two years after the reopening of East Campus' Baldwin Auditorium, Duke unveiled upgrades to a key West Campus performance space.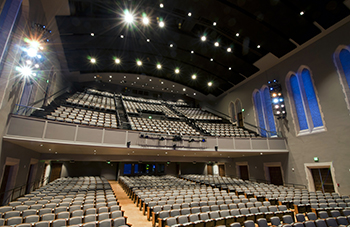 Page Auditorum received $5 million in upgrades to make its theater experience more intimate. Photo courtesy of Ray Walker.
A $5 million renovation helped enhance lighting, acoustics, seating and general aesthetics of Page Auditorium, which had occasional touchups since it was built in 1932. A year of work, which ran between summer 2014 and 2015, presented the first major renovation for the space.
Aaron Greenwald, director of Duke Performances, said the upgrades help create a more focused and intimate feel. It was a change ideal for the central performance space on West Campus. To show off changes, Page welcomed performing acts like jazz vocalist Gregory Porter, Grammy winner Rosanne Cash, and large brass bands from Serbia and Romania.
"The interaction between artist and audience is much more palpable," Greenwald said. "We've dialed in all the elements of the venue to help focus aspects of a performance to those watching it."
For all the changes made, one thing stayed the same. After the number of chairs in Page Auditorium was reduced to offer a more intimate feel, the frames of 1,100 seats were kept, with just their cushioning being refurbished.
Arts Building
Construction is just underway on a brand-new space to partner with the Nasher Museum of Art to create an "arts zone" on campus.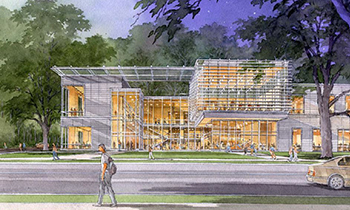 An artist rendering shows the glass-encased Arts Building, which will be constructed near the Nasher Museum of Art.
The 71,000-square-foot facility will offer a 24/7 destination for the arts on campus, including new exhibition galleries, shared spaces for multi-use performances, classrooms, and rehearsal and production studios. Whether it's painting, pottery, dance or multimedia, there will be a space for any type of art endeavor, said Scott Lindroth, vice provost for the arts. All students, regardless of major, will have access to the center. Faculty and staff will also be able to teach and take art classes through an initiative called DukeCreate.
"The space will provide a home for these initiatives, enabling vigorous and ongoing collaboration between departments, presenters, academic units and our community," Lindroth said.
Work is expected to continue on the glass-encased building at the northeast corner of Anderson Street and Campus Drive through spring 2017.
Under Construction
Here are other projects underway across campus.
East Campus MarketplaceStart: May 2015Finish: January 2016
Duke Chapel restorationStart: May 2015Finish: May 2016
Cameron Indoor Stadium lobby extensionStart: March 2015Finish: August 2016
Brooks Field at Wallace Wade Stadium Phase 2Start: December 2015Finish: August 2016
Student Health and Wellness CenterStart: April 2015Finish: December 2016
R. David Thomas Center renovationStart: April 2015Finish: April 2017
Science Drive-Cameron Boulevard Parking GarageStart: March 2015Finish: February 2017